He doesn't just walk on water, he flies over it!
Though it's hard to tell by the way he leaps so fearlessly now, this young polar bear cub was once afraid of the water.
Augo, a 6-month-old polar bear at Denmark's Aalborg Zoo, got over his fears quickly and is now showing off his amazing diving skills for visitors, as mom Malik watches from the rocks nearby.
Just two months ago, little Augo became a star for insisting on getting his head stuck inside a
bright blue bucket
. The charismatic cub is still getting everyone's attention – this time with a more acrobatic spark.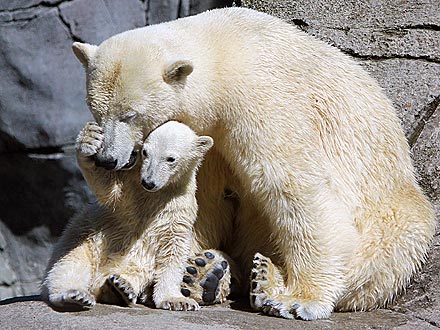 See more fun-loving baby animals on PEOPLE Pets:
Doggie Joy Ride! Chihuahua Goes Biking
Sweet Photo: Little Owls, Big Love