Can you imagine putting clothes on a cat? It sounds impossible (and dangerous!), but cat couturier Takako Iwasa has mastered the art.
For years, Iwasa (known to her fans as
Cat Prin
, Tailor of a Cat), has shown off and sold her unique feline fashions online. Now, with the help of Vice Books, Iwasa's work has been immortalized in book form in the just-released
Fashion Cats
.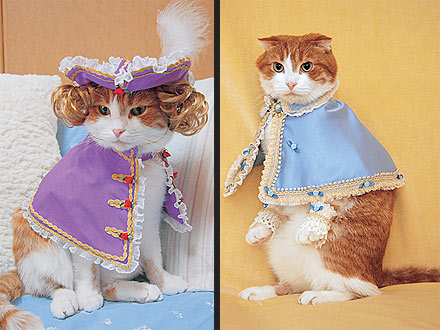 The book features 60 of Iwasa's designs, or haute "cature" pieces, which are expertly modeled by her two very well-behaved cats, Princess Prin and Prince Kotaro. It also includes a ton of other treats for Cat Prin fans, like bios on Iwasa, Prin and Kotaro;
Vice
magazine's original 2008 interview with Iwasa; special text from the cats themselves; a diary by Iwasa; and projects for the budding cat fashion designer.
"Everyone was going crazy for the book," says
Vice
associate editor Ellis Jones, who co-edited
Fashion Cats
. "Cute cats dressed up and they're looking at the camera so seriously. It's so cute, it's almost absurd."
Fashion Cats
is on sale now in stores and online.