Whitetail Golf Course
in Charleston, Me., has a very special amenity: Kayleigh, a 7-year-old golden retriever, acts as the golf cart valet.
Yes, for every golfer whose tired legs could use a break after driving around nine holes in a cart, Kayleigh is there, at your service. The friendly and energetic pup (and pet dog of Whitetail's owners, Scott and Shari Duthie) will meet you by your cart, take the keys and run them back to the clubhouse, saving you an extra trip – and earning herself a treat.
Four or five years ago, without any formal training, Kayleigh started grabbing keys in her mouth and taking them back to the clubhouse. She quickly learned that more keys meant more treats, and pretty soon, she was following every golfer.
"The people that know will just hand her the key," Scott Duthie tells PEOPLE. "The ones that don't know, she'll almost knock them down to get the key. It's kind of comical for people that have never seen it before."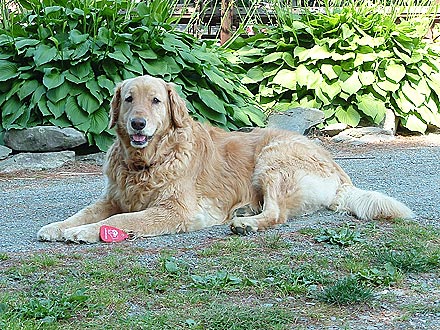 During a busy weekend, Kayleigh can bring in up to 30 keys in a day. She stays energetic through the morning and afternoon, and when she starts to tire, she waits by the parked carts to collect keys and sits there with them. "She does always bring them in at the end of the day," Duthie says.
When the golf season wraps up at the end of October and Whitetail closes for the winter, "she has a little withdrawal from not being around people," Duthie says. "She has a great personality and enjoys being in the clubhouse with people. She gets bummed out for a few weeks not having people around."