Serena and Venus Williams, Maria Sharapova, Andy Roddick, and Novak Djokovic all have something in common, and it isn't just tennis – they all love their dogs! The first-round matches at this year's U.S. Open are underway, and these pro athletes have the support of their beloved pups, some of whom are getting to be just as famous as their owners.
SERENA WILLIAMS
The youngest Williams sister has two dogs, a Jack Russell terrier named Jackie and a Maltese named
Lorelei
. Serena has had Jackie
since she was in high school
and named her after
Mariah Carey
's Jack Russell Jack.
"I take my Jack Russell everywhere," Williams
told PEOPLE
. "I am so busy with tennis and my business interests, but I wanted to be at the game to support the team, and Jackie likes to be part of everything I do."
NOVAK DJOKOVIC
Poodle
Pierre
might be more well known than his World No. 1-ranked dad. The pup has his own Twitter page and has posed with Djokovic for the cover of
L'Uomo Vogue
. Whether they're sharing a meal or vacationing together, this pair is inseparable.
VENUS WILLIAMS
Venus has three dogs: two Cavalier King Charles spaniels and a Havanese named
Harold
. "You're out there on your own and you need a friend who's there for you – wins, losses – and who really cares for you," she said last year in a U.S. Open promo clip. "I've recently found that someone, and that's Harold." The pup frequently travels with Venus and knows his Aunt Serena and her dogs very well.
MARIA SHARAPOVA
In 2007, Sharapova starred in a series of Canon PowerShot TV spots featuring a caramel-coated Pomeranian named Dolce. While the dog in the commercials was an
actor dog named Beowulf
, Sharapova really does own a Pomeranian named Dolce – and she really
does
take "tons of photos" of her little guy.
ANDY RODDICK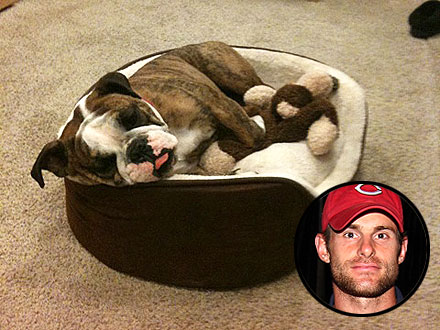 Courtesy Andy Roddick; Inset: Jay West / WireImage
Roddick, who turned 29 today, named his English bulldog Billie Jean after the tennis legend Billie Jean King. He shares the pup with his supermodel wife, Brooklyn Decker. The couple spends a great deal of quality time with Billie, but sometimes it just isn't possible. "You know, we've had to keep up her self-esteem, because the airlines have deemed her too fat to fit on a plane," Roddick
told ESPN
. "So we have to constantly shower her with love and build up that self-esteem and tell her she's beautiful."
Aww
!