It took an encouraging nudge, but Happy Feet is now swimming in the Southern Ocean again.
The young emperor penguin wandered 2,000 miles from Antarctica to New Zealand two months ago and was found disoriented on a beach with sand in his belly. After undergoing multiple procedures to remove the sand, Happy Feet recuperated enough for officials to release him back into the wild.
He
got a lift
aboard the research ship
Tangaroa
last week, and on Sunday was launched into the Southern Ocean about 1,600 miles from the penguin colony at McMurdo Sound in Antarctica.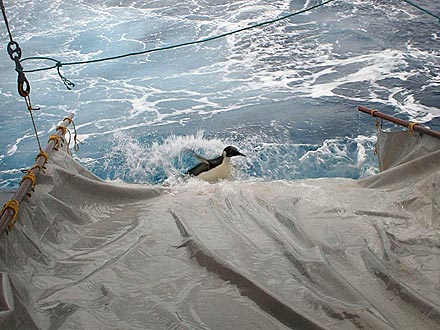 New Zealand National institute of Water and Atmospheric Research / Landov
Conditions were too rough for Happy Feet to get released by hand, so he went down a special tarp-covered slide instead. He apprehensively considered the descent with a pause, so veterinarian Lisa Argilla helped Happy Feet with a helpful push. Once he hit the water, the crew members cheered.
The bird has been equipped with a tracking device so that his progress can be monitored. Track Happy Feet's journey for yourself
here
.