Before getting engaged to the man of her dreams on
The Bachelorette
, Ashley Hebert had to make sure he met the family. And New York construction manager J.P. Rosenbaum did – except for one important member: Hebert's
teacup Yorkie, Boo
.
Hebert's fiancé finally spent time with Boo earlier this month when the couple traveled to her hometown of Madawaska, Maine. And, to no one's surprise, the two
hit it off
right away.
"J.P. loved Boo," Hebert told PEOPLE at Sunday's Boy Meets Girl presentation during New York Fashion Week. "They're good. They will be best friends."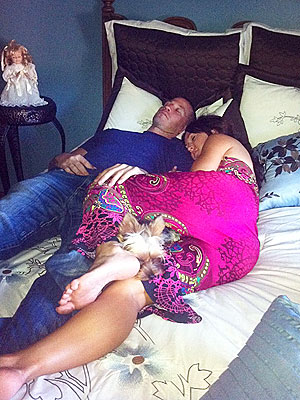 Hebert is also looking forward to getting reacquainted with Boo, who has been living in Maine since filming for
The Bachelorette
began five months ago.
"She's so sweet. She's going to be in New York [with me] very soon, but my mother's taking care of her right now," Hebert said. "It was so sad [to leave her] because I had just gotten her, but then I found out I was going to do the show."
Hebert already knows where she wants to take Boo in the Big Apple – Madison Square Park for dog treats – and what the pooch will be like on the sidewalks of the city: "She just loves everyone. She's such a friendly dog. I can't wait to walk her around New York."
As for when Boo will be able to get from Madawaska to Manhattan, that's harder to say. "I think things need to settle down, things are a little crazy now with school," Hebert said. "I want things to calm down so I have more time to spend with J.P."
– With reporting by JENISHA WATTS