To mark the company's 100th year of making small leather goods, Louis Vuitton decided to do something truly one-of-a-kind. The fashion house enlisted English artist Billie Achilleos to create 29 animal-inspired sculptures out of its wallets, coin purses, belts and hardware.
"It sounds really silly, but a lot of the products to me look like elements of an animal," Achilleos told
Women's Wear Daily
on Oct. 3, when the collection was put on display at Parisian taxidermy shop Deyrolle.
"Each animal highlights an element in the design of the products," she further added on
her website
. "[For example] the chameleon displays the variety of colour."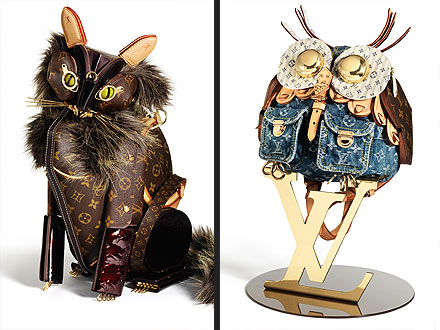 The series also includes a cat, multiple dogs, a chicken, an armadillo and an owl, among others, but Achilleos cites the beaver as her favorite.
"[His] functionality chops wood, builds dam … and provides cleaver ways of organizing one's life in men's bags and wallets," she wrote.
For animal lovers, art enthusiasts and fashionistas alike looking to get a closer look at the creatures, stay on the lookout: the exhibit is currently on a world tour.