In South Africa alone, 341 rhinos have been killed by poachers this year – more than were killed in 2010, which had the highest total ever recorded in the country, according to the
World Wildlife Federation
.
Three of five rhinoceros species are critically endangered, and increased poaching in South Africa has called for a drastic response.
On Nov. 3, the WWF transported a herd of black rhinos, by helicopter and truck, away from a poaching area in the Eastern Cape of South Africa to a new home in Limpopo.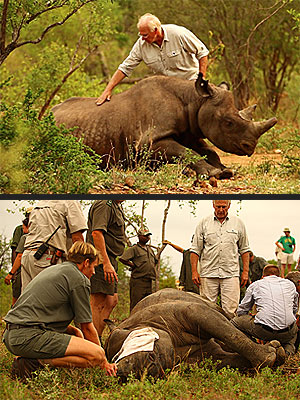 The rhinos, which can weigh over 3,000 lbs., were sedated before being lifted high into the sky by helicopter. Wearing blindfolds and tied by their legs to rope, the animals were transported upside-down to their destination.
"Rhinos have been an integral part of the natural world for tens of millions of years, and humankind is causing dramatic declines in just a few decades," says Dr. Barney Long, an Asian species expert for WWF. "We can change the outcome."