An Albuquerque woman stranded in New Mexico's Gila National Forest was found alive Wednesday after 3½ weeks of being missing.
Margaret "Lisa" Page, 41, had gone for a hike with her cat in February. She was found inside her blue sleeping bag and had lost a third of her body weight, according to Albuquerque news station
KRQE TV
.
Also in the sleeping bag was 8-year-old calico cat Maya, who apparently never left Page's side throughout the ordeal. Grant County Search and Rescue worker Pamela Morgan helped carry Page and Maya to safety. "She wasn't going to leave unless her cat went with her," Morgan tells PEOPLE. "The cat was laying on her chest and she had her hand on the cat the whole time."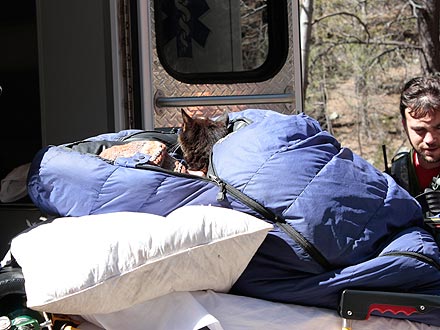 Courtesy Grant County Search and Rescue
Page had taken Maya off-leash through Gila's Railroad Canyon Trail, moving "at the cat's pace." Once they became stranded, Page rationed cat food for Maya until running out two days before their rescue.
Observing Page's strong attachment to her cat, Morgan offered to watch over Maya until Page was released from the hospital.
"She is the sweetest cat," Morgan says. "She settled in very comfortably. She let me pet her and she would meow at me."
Page has since picked up Maya, and while the reunion might not have been like the one between a human and her dog, it was still a happy one. "The cat was shy at first," Morgan says. "It took a couple of minutes, but then she went and sat on her lap."
"Lisa was so grateful," Morgan adds. "She also really recommends hiking with a cat."