Fiona had been sitting for so long in a pile of trash, huddled between a broom and an old basketball, that the dog seemed like just another piece of refuse on the desolate L.A. lot.
When Eldad and Audrey Hagar of
Hope for Paws Animal Rescue
finally spotted the dog over a year ago, they saw that not only was her extremely matted fur covered in filth, she was blind.
She might have ended up just another one of the 30,000 stray dogs in L.A., but the Hagars took the frightened dog, who they named Fiona, home to clean her up. In addition to her severe matting, which needed to be shaved off, she "had the worst flea infestation we had ever seen."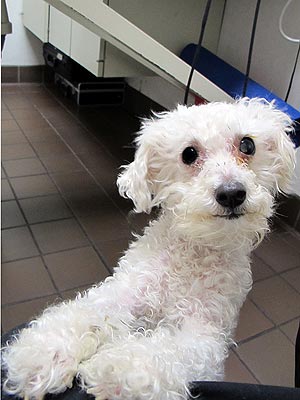 Courtesy of Hope for Paws
Veterinary opthamologist Michael Chang confirmed that Fiona was completely blind in both eyes. Over the course of four days, Hope for Paws raised $4,500 so that Chang could perform a procedure to restore the sight in one eye. It was a life-changing operation.
"She wagged! She was so happy," Eldad tells PEOPLE. "For the first time, she made the connection between hearing our voices and our smells to seeing our faces. It's just like being blindfolded all your life and all of a sudden, you're 10 years old and they take your blindfold off. It's just an incredible thing."
"On the drive home, she was looking out the window. It was so interesting to watch everything going on," Audrey adds. "She became a very, very happy, excited dog. Her personality changed."
Fiona, now 11, has since been adopted, joining a couple with three other dogs in their family, and "is doing amazing," Eldad says. The video, meanwhile, has been posted in places as far-flung as New Zealand, China and Finland.
Click to watch the amazing video of Fiona's rescue and transformation.