Is there a limit to pampering your pups? We sure hope not – especially after seeing the extra-cute new collection from the Polka Dog Bakery at Target.
The new, limited-edition line, which launches May 6 through
The Shops at Target
program, features
Polka Dog Bakery
's signature treats (General Bow Wow's Chicken Biscuits, anyone?), along with toys, collars and harnesses.
Collections like these, not to mention any of Target's limited-edition pet products, sell out fast, but there's good news for PEOPLE Pets readers! Thanks to Target, we're offering five exclusive giveaway packages that will each include two boxes of treats, a harness, a collar, and a toy (sample pictured below).
Want to win one of these exclusive packages before they even hit stores? All you have to do is e-mail
editors at peoplepets dot com
with the correct answer to the following question:
What breed of dog is Bullseye, Target's canine mascot?
The first five people to reply with the correct answer will receive one of Target's exclusive Polka Dog Bakery packages. To make sure you receive your prize, include your name and mailing address in your email.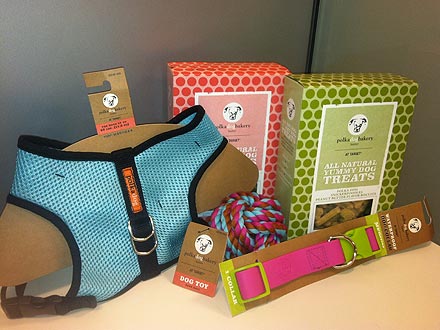 The Rules
No Purchase Necessary to register and or participate in this program. Program begins at 12:01 a.m. ET on 4/24/2012 and ends at 11:59 p.m. ET on 4/30/2012. All entrants must be legal U.S. residents age 19 or older at the time of entry. Limited time offers. As soon as the number of items to be awarded has been reached, the promotion will close for that campaign. Limited to one entry per e-mail account per day. Where PEOPLEPets.com is not the sponsor, it cannot guarantee the availability of any of the items described. Sponsor(s) not responsible for any damage to computer equipment related to participating in this program. Winner(s) may be required to complete an affidavit of eligibility or waiver of liability before any items can be awarded or claimed. Void where prohibited by law.