While driving through Brooklyn, N.Y., last Sunday, Antonio M. Rosario kept hearing the sound of a cat's cry.
After looking around for a bit, Rosario realized it was coming from the car driving next to him. A kitten had found her way into the spot where the front signal light should be.
After flagging the driver down and convincing her to pull over, Rosario and a handful of good Samaritans were able to free the kitten from the car's engine, pulling the frightened feline out by hand after much difficulty in getting the card hood open. Suddenly, the New York-based photographer found himself the new owner of the 8-week-old miracle, named Mercedes after the car she was found in.
"I wasn't thinking about the possibility of keeping it, but I thought, 'I'm getting that cat out no matter what.' I was not leaving the car at all," he tells PEOPLE.
Since her rescue, Mercedes has seen a veterinarian and is taking medication to treat conjunctivitis, but otherwise, seems to be happily adapting to her new home, which she also shares with Rosario's wife and the couple's two other cats, Eddie and Hank.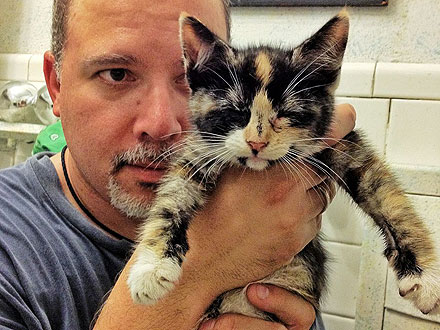 "She's eating, she's got an appetite. She's doing all the regular cat stuff," Rosario says. "What's really interesting is that, I have had a lot of cats and strays and they tend to be timid, but she's not. She's hugging us. When I put her near me, she touches my nose and my face with her paws and buries her face in my beard."
And since her story has spread across the Internet, Mercedes has developed a devoted following, which Rosario credits to the positive nature of the tale.
"People have been saying thank you for doing this," he says. "I think what's resonating with people is that someone went out of their way to save an animal, or did something to add to the general positive-ness of the world in a small way."
But for him, Rosario says his reasons for wanting to save Mercedes were simple.
"If I had a billion dollars, I probably would save every cat I could," he says. "There's something about cats that gets to me."
To see more photos of Mercedes and follow her progress, check out
Rosario's blog
.