There's a lot to love about Joseph Gordon-Levitt: his charming turn in
500 Days of Summer
; his determination to do the right thing in
The Dark Knight Rises
; his face. But just when you think you've hit peak JGL appreciation, the sexy star of
Don Jon
, which he
also wrote and directed
, gives us one more reason to pine over him: he cuddles with a kitten.
The actor adorably cradles the tiny furbaby in a new spread for the October issue of
Out magazine
, which he also covers. Inside, Gordon-Levitt heaps praise on his late brother Dan, who passed away in 2010, and talks about how his parents raised him to be compassionate.
"They both instilled into me and my brother the feeling that we're part of the world, and that that's important – that we're all connected and everyone's well-being is tied to each other," he says. "They're hippies, but they were not so much about being flower children as getting something done, trying to stop this war, or changing civil rights or the feminist movement – and they still are that way."
A man who loves people
and
animals equally? Consider us
fur-ever
smitten.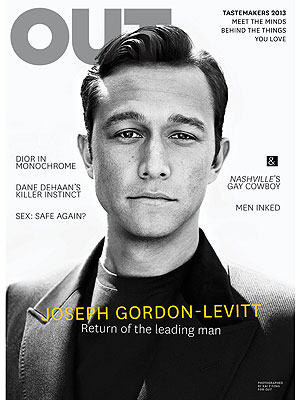 Kai Z Feng / OUT magazine