Jon Byler Dann thought he lost everything when a
tornado struck and destroyed his Illinois home
Sunday – until his missing dog, Maggie, came back to him.
Before the storm hit, Byler Dann had tried to coax the 11-year-old pooch into a safe place, but she was too spooked to leave her kennel, he told
Weather.com
.
As the 37-year-old and his four children – ages 8, 5, 2½ and 1½ – huddled in the basement, the storm tore through their Washington, Ill., home. When Byler Dann emerged afterward and saw the destruction, he was certain his furry friend was dead.
Nonetheless, friends and family helped search through the rubble some 30 hours later, and couldn't believe their ears when they heard a faint bark. They quickly dug through the debris and discovered Maggie wrapped in a piece of carpet – shivering, covered in dirt, but alive.
After her rescue, Maggie was taken to a local veterinarian's office, where she is being treated for injuries and is expected to recover. On Nov. 18, Byler Dann shared a photo
on Facebook
of his canine companion, captioning it, "Maggie Found!"
"I felt intense relief and elation but also just panic," he told Weather.com of finding her. "I'm very thankful and blessed to have my wife and my children. And finding my dog today was just unreal."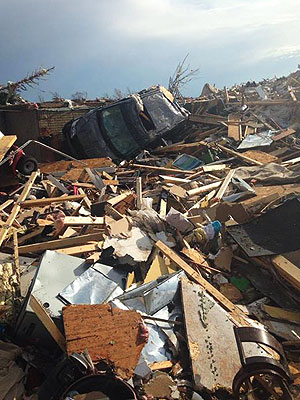 Courtesy Jonathan Byler Dann