It's official: Jewel is a certified gem!
Gch. Kiarry's Pandora's Box, a 3-year-old American foxhound also called Jewel, nabbed the Best in Show title at this year's
National Dog Show
, which aired Thanksgiving Day on NBC. It's the first time in the 12-year history of the show that the winner has come from the hound group. Last year's winner, Sky, was a
wire fox terrier
.
Jewel beat out a slew of other pretty pooches for the top prize, including a bearded collie, a Pekingese, a Norfolk terrier, a standard schnauzer, a bichon frise and an Irish water spaniel.
This win confirms what many already knew: the statuesque female is a hound to be reckoned with. Besides winning her group at last year's National Dog Show, she also won the hound group at the prestigious Westminster Kennel Club Dog Show this past February. She is also the top-winning American foxhound in the history of the breed, a record formerly held by her grandfather. How's that for prestige?
The dog's handler, Lisa Miller, said Jewel knows she's a diamond dog. "[She] flies around on a loose lead, then she stops and free-stacks with a look that says, 'Beat me,'" Miller said. "She is probably the best American foxhound I've ever bred."
Jewel was the clear winner for Best in Show in the eyes of judge Randy E. Garren, too. "I never have seen one that good and may never see one better," he said. "Not only does she look good but it is clear that she would be great in the field also."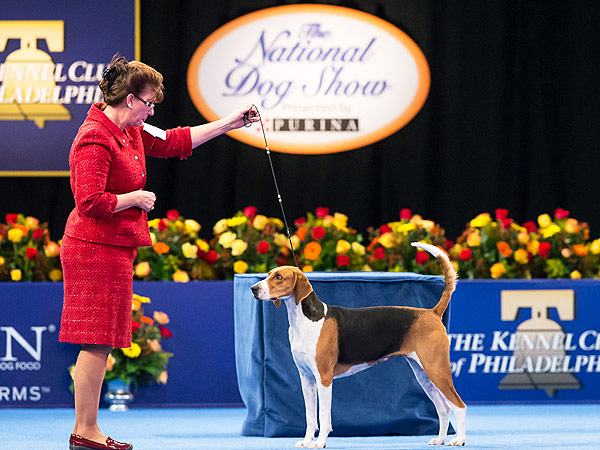 Courtesy National Dog Show