Well this is different than any #BLT we've ever seen.
Bear, lion and tiger friends Baloo, Leo, and Shere Khan (#BLT, as they're referred to in the Twitter-verse) have attracted a lot of attention recently for their unlikely friendship.
According to
Today
, the three were rescued in poor condition 13 years ago from an Atlanta drug dealer's apartment. They now reside at the
Noah's Ark Animal Sanctuary
in Locust Grove, Georgia, and while there's plenty of room there for them to roam around, the three prefer to be near each other; they often cuddle, sleep and keep watch together on the porch inside their enclosure.
"They teach you how to get along," the sanctuary's founder, Jama Hedgecoth, told
Today
. "They're definitely not the same color. They're not the same species. They're not even from the same country, and they love each other. They're brothers, and they teach you how to love."
But like any group of friends, these three aren't always on the same page.
"These chilly nights we're having cause Baloo to crawl into his den and sleep, which really aggravates Shere Khan and Leo, because they won't all fit!" reads a
Facebook post
on the sanctuary's page. "Those two big cats love to sleep with their brother bear, Baloo!"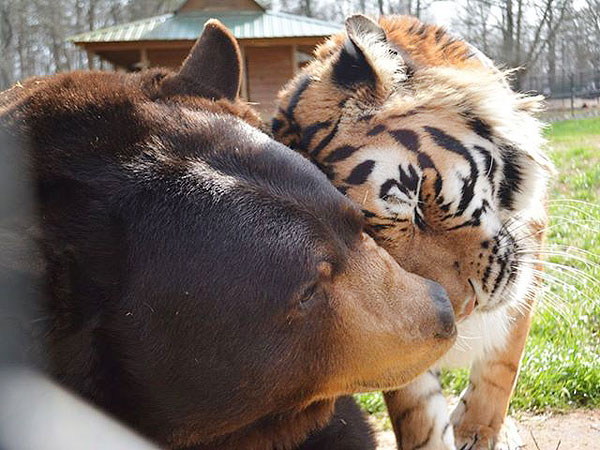 Courtesy Noah's Ark Animal Sanctuary