Animal Charities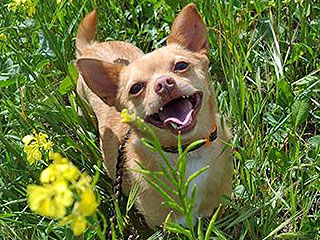 Credit: Courtesy Humane Society Silicon Valley
We have a bit of a reputation for shedding a tear or two (or more) when we're reading about pets looking for forever homes.


Just a few weeks ago, she was dumped by the side of the road like trash.

Now, that same neglected dog named Gladys is on the road to recovery – and her story is sure to inspire many this holiday season.

Two days before Thanksgiving, Karen Herrera was out for a morning walk in Fontana, California, and discovered the unimaginable: a little dog in need of serious medical attention, left for dead in a tied-up trash bag.

"She was there inside the bag. She was scared and cold," Herrera told KTLA News. "I patted her on the back of her spine and she started, she was bleeding."
Home. Some pets never have one to call their own. We'd like to help change that by introducing you to an extraordinary adoptable pet every week. Today, meet Humphrey, a senior pup living at the Mitchell Animal Rescue in Mitchell, South Dakota.

Earlier this year, Humphrey was abandoned at a pound and headed for death row. The Mitchell Animal Rescue scooped him up, cleaned him up, and is now working to find the pup a forever home in which he can spend his golden years. Don't let his looks fool you – Humphrey still has lots of energy. If you're not paying attention, he's been known to swipe good food off of a countertop.

"He is healthy and is still a silly, playful puppy," says spokeswoman Megan Luther. "He is housetrained, loves kids and dogs. He is a big, gentle boy, who loves to be with people."
Though it may sound like one, this is no joke: Two miniature horses trotted into a hospital.


The pigs waiting to be turned into pork products sold at Walmart have some famous new allies in Hollywood – and it's all thanks to Joaquin Phoenix and his friends at Mercy for Animals.


Home. Some pets never have one to call their own. We'd like to help change that by introducing you to an extraordinary adoptable pet every week. Today, meet Logan, a 6- to 8-month-old male smooth collie/border collie mix from the Florida Little Dog Rescue in St. Cloud, Florida.

Logan and his littermates have been through a lot in their short lives. He and his three siblings were found in the woods by a Good Samaritan this Fall, huddled near their deceased mom. If that scenario wasn't sad enough, add to it that the pups were doused in gasoline. Vagrants chased the rescuer out of the woods as she carried the dogs to safety.
Cat videos have taken over the Internet, and now they're working to win the fight against cancer – thanks to a new charity.

Cats vs. Cancer is a non-profit website dedicated to fighting cancer through the magic of cat videos, reports The Daily Dot. Yeah, you heard that right.
Miranda Lambert has a big heart for homeless pets.

So much so that the devoted dog lover – and mom to seven of her own pups – took over a kill shelter in her own hometown of Tishomingo, Oklahoma, and turned it into a safe place where dogs can find their fur-ever families, Taste of Country reports.
Daisy's nose knows how to save lives.

Since the Labrador was a puppy, she has been trained at the England-based charity Medical Detection Dogs to sniff out cancer and other fatal diseases in samples of breath, skin and urine, reports Advertiser and Review.

Now 10 years old, Daisy has successfully detected over 550 cases of cancer and is being awarded for her priceless contributions to the lives of others. The keen-nosed pup was recently given the Blue Cross Medal for her work in the field of cancer prevention and detection.
Animal Charities
Get PEOPLE Pets Everywhere
Advertisement
Photo Special
Top Pets Category