Animal Charities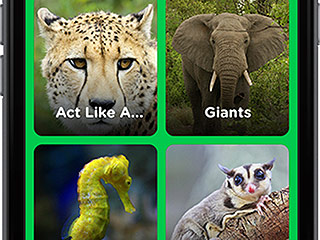 Credit: Courtesy TailsUp!
It's furry, with a long tail, and has big ears … if you guessed monkey, we'd make great teammates!

A new app called TailsUp! tests your animal knowledge with a Charades-like game, using verbal and physical clues to help your teammate guess the right animal.

The game, created by the Association of Zoos and Aquariums to help kids and families learn more about animals, will give proceeds from in-app purchases to the AZA's animal conservation.
Home. Some pets never have one to call their own. We'd like to help change that by introducing you to an extraordinary adoptable pet every week. Today, meet Maza, a senior pup currently being cared for by a foster parent through Coco's Heart Dog Rescue in St. Paul, Minnesota.

Maza recently arrived at the rescue with a broken spirit, definitely in need of some TLC.

"He was in poor shape physically. He was covered in fleas, dirty and overall seemed uncomfortable," says Ashley Kurtz, executive director of rescue operations. "We immediately took him into the loving care of a foster home."
It was a doghouse of horrors.

On Wednesday, an LAPD motor officer discovered an abandoned dog sitting injured and terrified in a disheveled doghouse by the side of the road in south Los Angeles. The house's door had been nailed.

Rescued by volunteers from the Ghetto Rescue FFoundation, the dog – now named Walter Worthy Higgins – is recovering from horribly infected legs, which appear to be the result of severe neglect and abuse, says Tami Baumann, who runs GRFF, the rescue that will take the dog into its care next week.
Home. Some pets never have one to call their own. We'd like to help change that by introducing you to an extraordinary adoptable pet every week. Today, meet Lely, a Skye terrier currently being cared for by a foster parent through the Best Friends Animal Society – New York.

This 8-year-old pooch needs an owner who is abreast of her unique medical condition. She has Cushing's disease, a disorder that causes excess cortisone levels in the bloodstream (read more about it here). Most likely, Lely will need to be on medication for the rest of her life, so she needs a diligent owner who will be mindful of that and continue to monitor her condition.
If you'll be celebrating this Valentine's Day with a furry friend by your side, just like Amanda Seyfried, you should know this: You are 30 percent less likely to visit a doctor.

Huh?

Allow us to explain. According to these very important statistics in an infographic created by the Humane Society Silicon Valley, there are tons of great health benefits to loving a pet on Valentine's Day.

If you're a cat owner, apparently there's a very good reason that your cat likes to listen to your heart. Cat people are 40 percent less likely to experience a heart attack (See, all those cuddle sessions really do pay off!)
Home. Some pets never have one to call their own. We'd like to help change that by introducing you to an extraordinary adoptable pet every week. Today, meet Sergio, a super-affectionate chihuahua mix who is a little charmer.

The staff at the Maricopa County Animal Care & Control in Phoenix, Arizona, can't believe this little cutie wasn't scooped up quickly after his arrival on Nov. 5. He loves people, and his true personality emerges when he spends time with other pups.
The heart-wrenching story of our lonely whale starts in 1989, when the U.S. Navy discovered a strange 52-hertz frequency on their under water microphones. Unsure of what was causing the noise at first, bio-acoustian William Watkins eventually determined the sound was being made by a solitary whale, calling out at a frequency that confused and drove off other whales.

Unable to communicate with others of its kind, this creature was probably the loneliest whale in the world.

Watkins was determined to change that and began a 12-year search for the animal, whom he dubbed 52 for the whale's unique frequency. Unfortunately, Watkins passed away in 2004, and the mission to find Lonely Whale came to a halt.
Amanda Seyfried is excited about her valentine this year. As a matter of fact, she's been excited about the holiday ever since a puppy named Finn, now age 5, came into her life.

"Finn is always my valentine," the actress tells PEOPLE.

"Finn looks at me when I talk to him. He just wants to be with me. That's what everyone wants in a partner, right?"

We're sure she means no offense to her awesome human love interest, actor Justin Long.
Alfred "Alfie" Date, Australia's oldest living man, is putting his amazingly sharp mind and nimble hands to good use.

The 109-year-old likes to spend his free time knitting little sweaters for injured penguins from his room at a retirement home in New South Wales, reports 9Stories.


It's being called a Valentine gone wrong.

An unidentified man swiped a 3-month-old kitten from a Minneapolis PetSmart on Friday, and returned it the next day with a note that said he was sorry for what he had done but that he couldn't afford to buy the kitty.

It all began when the man walked into the Roseville, Minnesota, PetSmart (where animals from the Ruff Start Rescue are up for adoption) in search of a furry friend. Ruff Start cat intake coordinator Abbey Lynn tells KSTP news that the man asked to look at cats and a manager assisted him.

Later, another employee saw the man outside of the cat room holding an adult feline. When she took the cat from him and took it back to its cage, she noticed another cage's door had been cut with a bolt cutter.
Animal Charities
Get PEOPLE Pets Everywhere
Advertisement
Photo Special
Top Pets Category