Animal Charities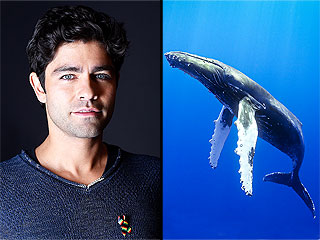 Credit: Jeff Vespa/Getty(2)
The heart-wrenching story of our lonely whale starts in 1989, when the U.S. Navy discovered a strange 52-hertz frequency on their under water microphones. Unsure of what was causing the noise at first, bio-acoustian William Watkins eventually determined the sound was being made by a solitary whale, calling out at a frequency that confused and drove off other whales.

Unable to communicate with others of its kind, this creature was probably the loneliest whale in the world.

Watkins was determined to change that and began a 12-year search for the animal, whom he dubbed 52 for the whale's unique frequency. Unfortunately, Watkins passed away in 2004, and the mission to find Lonely Whale came to a halt.
Amanda Seyfried is excited about her valentine this year. As a matter of fact, she's been excited about the holiday ever since a puppy named Finn, now age 5, came into her life.

"Finn is always my valentine," the actress tells PEOPLE.

"Finn looks at me when I talk to him. He just wants to be with me. That's what everyone wants in a partner, right?"

We're sure she means no offense to her awesome human love interest, actor Justin Long.
Alfred "Alfie" Date, Australia's oldest living man, is putting his amazingly sharp mind and nimble hands to good use.

The 109-year-old likes to spend his free time knitting little sweaters for injured penguins from his room at a retirement home in New South Wales, reports 9Stories.


It's being called a Valentine gone wrong.

An unidentified man swiped a 3-month-old kitten from a Minneapolis PetSmart on Friday, and returned it the next day with a note that said he was sorry for what he had done but that he couldn't afford to buy the kitty.

It all began when the man walked into the Roseville, Minnesota, PetSmart (where animals from the Ruff Start Rescue are up for adoption) in search of a furry friend. Ruff Start cat intake coordinator Abbey Lynn tells KSTP news that the man asked to look at cats and a manager assisted him.

Later, another employee saw the man outside of the cat room holding an adult feline. When she took the cat from him and took it back to its cage, she noticed another cage's door had been cut with a bolt cutter.
Home. Some pets never have one to call their own. We'd like to help change that by introducing you to an extraordinary adoptable pet every week. Today, meet Eeyore, an 11-month-old Chihuahua/terrier mix living at the Humane Society Silicon Valley.

Eeyore is looking for a special home because he's a dog with special needs. He's completely deaf in both ears and trained on hand signals. Sit, stay, come – Eeyore knows it all and the shelter will give his new owner free in-home training sessions as a part of his adoption package.
Home. Some pets never have one to call their own. We'd like to help change that by introducing you to an extraordinary adoptable pet every week. Today, meet Cricket, a 3-year-old pit bull mix found wandering the streets of south L.A. six months ago.

Cricket was in bad shape, when she was discovered darting across a busy intersection by a good Samaritan. According to West Hollywood's Wags and Walks rescue, she was emaciated, covered in fleas and shaking with fear. Cricket still remains a sweet, gentle dog despite having to fight to survive on the streets for an unknown amount of time.
Police are on the hunt for two cold-hearted men who left a dog tied up behind a Roseville, Michigan, Walmart in freezing weather.

Courtney the 2-year-old mixed breed pooch was found abandoned by a Walmart employee on Sunday, reports USA Today. Frightened by her time alone outside, the dog also chewed off one of her paws in an effort to escape her restraints.

After being discovered, the authorities were called and Courtney was rushed to Hopeful Heart Rescue. At the shelter, doctors examined the dog's wound and determined she most likely chewed off and consumed her paw while she was outside, with her tight leash acting as a tourniquet.
Home. Some pets never have one to call their own. We'd like to help change that by introducing you to an extraordinary adoptable pet every week. Today, meet Buckets, a 3-year-old tabby available for adoption at Adopt & Shop in Culver City, California.

When you meet this pretty girl, you should sit down and get ready – because Buckets wants to pour herself into any available lap. This affectionate kitty loves adults and kids alike, the attention from people around her is what she craves most.
Had she been left on the streets of Romania, she probably wouldn't have survived with just two legs.


Sew, here's the deal: Project Pouch needs you!

Koalas aren't the only animals affected by the bushfires in Australia. Orphaned or injured possums, kangaroos, and wallabies need to be kept warm in a pouch-like environment. To help, Project Pouch, a new campaign created by the International Fund for Animal Welfare, is asking for handmade "pouch liner" donations to comfort the traumatized animal babies, nine of which are being cared for by the Adelaide Zoo.
Animal Charities
Get PEOPLE Pets Everywhere
Advertisement
Photo Special
Top Pets Category