Dogs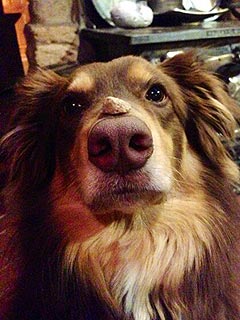 Credit: Courtesy Amanda Seyfried
Well, now, this is awkward.

We're not sure if we're the right ones to say it, but, um, Finn Seyfried, it seems like you got a little something on your nose.

Or perhaps the Australian shepherd, who calls Les Misérables star Amanda Seyfried Mom, likes it that way?
She's beautiful, stylish and fun, but when Lauren Conrad throws a party, it's actually her rescue dogs, Chloe and Fitz, who end up stealing the scene.

"They get thrilled when I have people over because they get so much attention," the fashion expert, 27, told PEOPLE at a launch event for Malibu Island Spiced Rum in New York on May 7. "They're the belles of the ball," she said, before humorously wondering about new addition Fitz, "What's a boy belle of the ball?"

But while she described her pooches as "sweet," not everything is perfect at Casa Conrad since the arrival of Fitz, whom the former MTV star dogshamed in November for chewing on one of her shoes.
We've committed a great deal of time and energy to envying Blake Lively. Those legs. That wardrobe. Her man.

Yes, she's the girl who won Ryan Reynolds's heart, getting the best of our jealous hearts and marrying him last September.

But we're going to let her off the hook for a minute because there's a new subject deserving of our green streak: We're looking at you, Baxter.
Well, someone's ready for swimsuit season!

Months after taking on a Biggest Loser-style fitness challenge in September, Obie the dachshund is showing off his weight loss one step at a time. Literally.

The pooch, who weighed in at 77 lbs. at his heaviest, flaunted his 40 lbs.-slimmer physique during a Mother's Day hike documented on his Facebook page by his foster mom-turned-owner, Nora Vanatta.
Home. Some pets never have one to call their own. We'd like to help change that by introducing you to an extraordinary adoptable pet every week. Meet Swayze, a boxer/mastiff mix who adores people.

This dog is the quintessential family companion. The 1-year-old, who was recently surrendered to the Jefferson Parish Animal Shelter West Bank in Marrero, La., is playful, loyal and adorably loving.
Looks like all that walking in the park is catching up to Jenna Dewan-Tatum and her pair of pooches!

The pregnant actress and her dogs, pit bull Lulu and Japanese Spitz Meeka, are all in London while dad Channing Tatum shoots a new film. Still, they were the ones who needed a break on Tuesday.

"The whole fam napping in dads trailer today," Dewan-Tatum shared on WhoSay.
The most-coveted accessory this weekend? A hat, hands down. But in close second: a wet nap or some rawhide, depending on whether you were partying with Mama June or Kevin Spacey.


5. If the Hat Fits ...
Dear Princess Beatrice, we've spent precisely two years and six days thinking about that fascinator you wore to the royal wedding. Good news: We think we're finally ready to move on from all that pretzel-like, bow-ish goodness, and we have Miranda Lambert to thank. The Southern belle-worthy hat she wore to Saturday's Kentucky Derby in a nod to tradition ruined our college baseball caps forever, while Coco Rocha left us wondering what would happen if we showed up to work wearing orchids on our heads. (Girls, we tip our hats to you)
Kevin Spacey found a very special – and, well, very adorable – way to honor an American city that has seen both tragedy and triumph in the last few weeks.

"New member of the family," he Tweeted Saturday, sharing a photo of his new puppy (seemingly adopted from the North Shore Animal League America). "Her name is Boston in honor of the city."

Since three people were killed and more than 260 injured on April 15 when two bombs exploded near the Boston Marathon finish line, the actor, 53, has visited both victims and the cops who came to their aid.
Home. Some pets never have one to call their own. We'd like to help change that by introducing you to an extraordinary adoptable pet every week. Meet Benny, a 9-year-old Lab mix who's grateful for a second chance.

Rescuers from the HALO Animal Rescue saw something special in this elderly pup, and saved him from euthanasia at the Maricopa County Animal Care and Control in Phoenix, Ariz.
And you thought celebrities had the craziest hair!

At Angela Kumpe's grooming studio in Arkansas, pet owners with a flair for the dramatic can give their dogs almost any look imaginable – looks so wild, they got their own TV show. The new Animal Planet special Clipped!, airing Friday, May 3 at 10 p.m. ET, follows Kumpe and her staff as they work to turn a loyal customer's pup, Buggy, into a bumblebee.

"I can transform dogs into almost anything," Kumpe says. "You name it, I can do it."
Dogs
Get PEOPLE Pets Everywhere
Advertisement
Photo Special
Top Pets Category
Photo Special