Dogs
Maybe he's got it, maybe it's that adorable fluffy muzzle – either way RJ the St. Bernard puppy is meant to be a star.


Pecs and paws – that's what the soon-to-be released Charleston Firefighter Calendar is serving up for 2016.

One of the paw-some stars of the latest edition, which benefits abused animals, is Caitlyn, the South Carolina dog who made headlines in May when she was found with her muzzle taped shut.

As these photos show, this courageous pooch has clearly bounced back from the brink – a surgery to reconstruct her lips, cheeks and tongue was successful – and, more than a month after her story came to light, she has moved in with a medical foster family, where a veterinary employee is currently caring for her, ABC News 13 reports.
Let me tell you about my bestie, he is a golden-furred friend who will love me until the end.

That's Koda's jam. The adorable ginger kitten in this video has found a way to become even cuter by befriending a loyal golden retriever named Keelo.
We hope you can swim – because soon you'll be sitting in a pool of your own tears.

Kleenex's new ad featuring a man and his dog is designed to make you cry like a baby, and we think you'll agree that they've succeeded.

Chance and his owner Mike Williams have a lot in common, and the first thing is obvious: they both get around in wheelchairs.
A dog allegedly stolen from her owner at a New York park has been found dead.

The beloved cocker spaniel was stolen right before owner Lora Panossian's eyes at Crocheron park in Queens on Sunday, after two men allegedly punched her in the stomach.

The New York Daily News, who first identified the woman as 29-year-old Lora Panossian, said the thieves stopped her on a walk around 10 p.m. to talk with her about the dog.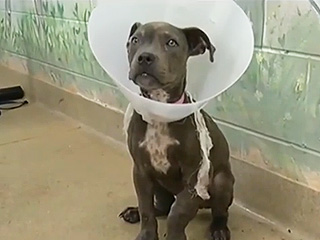 Someone deserves a hefty tip!

A pizza delivery man in Orlando, Florida, went beyond the call of duty this weekend when he helped an injured puppy he saw while delivering a pie.

WKMG News 6 reports that Central Florida authorities were notified on Sunday about the injured pooch, who apparently resided at the home where the man made a delivery.

When Animal Services responded to the call, the owner surrendered the puppy to them. The owner claimed that his dog had sustained the wound on her left front leg from another dog in the neighborhood. An investigation is pending, the report said.
I'm four five seconds from wildin' because Rihanna just brought home an adorable new puppy.

The "B–––– Better Have My Money" singer, 27, picked up her new pet at an unusual place: the club.

Rihanna was out on Sunday night when she came across a tiny fluffy dog pawing around the bathroom alone, reports Refinery 29.
Stacked ten high, they span the length of two football fields and outsize Michelangelo's famous Sistine Chapel ceiling paintings. But for Jacksonville, Florida, artist Mark Barone and partner Marina Dervan, the collective masterpiece of thousands of 12x12 portraits dubbed An Act of Dog is more than a work of art – it's a heartfelt call to action.

"A camera can't give an image soul," Barone says in the trailer for the upcoming PBS documentary on the project. "But an artist can."

To that end, Barone set out to paint the soulful faces of 5,500 shelter pets that were euthanized over the past few years – each portrait representing one of the 5,500 dogs lost to America's kill shelter system daily. That's 1.2 million dogs put down each year because shelters are simply out of space and the animals are out of time.
It took two and a half hours to remove a seemingly infinite amount of dirty, matted fur. It was hardened and heavy, weighing five pounds.

But the horrific circumstances of Harry's rescue by a shelter in Kansas City, Missouri, don't end there. The Chow Chow is missing most of his nose and he's partially blind due to scarred corneas from his eyelashes growing into his eyes, reports FOX 4 KC.

Underneath all that fur, staff at the KC Pet Project found a sweet but emaciated dog, who suffered like this for far too long.
Dogs
Get PEOPLE Pets Everywhere
Photo Special
Top Pets Category