Dogs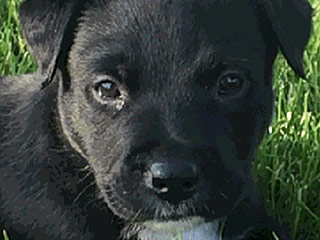 Credit: Sunrise Center Animal Rescue
It was a vacation to remember.

A group of friends camping in southern Illinois over Memorial Day weekend became the saviors of a group of animals abandoned in a hot van, according to FOX Houston.

One of the campers, Nick Achtien, shared a post about the incident on Facebook and recalled how he and his friends heard barking and saw people walking away from a vehicle in hot 82-degree weather.
The Charleston Animal Society wants to find the person who did this to Caitlyn.

The 15-month-old dog's muzzle was taped shut with electrical tape this week and now the pooch may lose her tongue because the incident affected blood flow to the area, WLTX reports.

The society is offering a $1,000 reward for information leading to the arrest and conviction of whoever is responsible.

Caitlyn is a stray in a neighborhood in North Charleston and on Monday, area residents saw her and recalled her looking healthy, the report said. But Wednesday, she was found on the doorstep of a home with the tape around her face.
Home. Some pets never have one to call their own. We'd like to help change that by introducing you to an extraordinary adoptable pet every week. Today, meet Coach, a beagle mix currently living at Kindness Ranch Animal Sanctuary in Hartville, Wyoming.

Coach came to the Kindness Ranch in August of last year from a research facility on the East Coast where he was used in dog food testing.

"All of our animals come from research facilities, at different ages and with different levels of socialization, but Coach was a friendly, happy-go-lucky dog right from the start," says companion animal manager Stephanie Bilbro. "Since arriving at the ranch, Coach has appointed himself the official greeter and makes sure nobody gets in the door without the proper 'hello' howl."
Paws up, Little Monsters ... literally.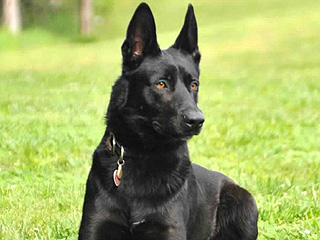 A Mississippi police dog is being hailed as a hero after he saved a deputy who was ambushed by three men on the side of a remote stretch of highway.


[YOUTUBE "VhpgOQNVq6Y"]
Lucas, a Belgian Malinois, proved he really is one man's best friend.


Glaucoma may have stolen Kiaya's eyesight, but Cass and Keller have helped give the dog her life back.

When the akita lost her eyes to the condition, her doggy siblings, also rescued akitas, stepped up to help in the sweetest way possible. They're always by her side and help her get where she wants to go.

"They were kind of bookends to her," owner Jessica VanHusen, of Waterford, Michigan, told ABC News. "They're not fiercely protective but they're always touching her. They're really respectful of her."

The veterinary ophthalmologist who removed both of Kiaya's eyes says watching the trio in action warms the heart.
Four-legged friends are truly forever.


A dog in Colombia lived to see another day after a police officer rescued it from a raging river and used mouth-to-mouth to resuscitate it.

According to The Guardian, the dog fell into the violent current of the Liboriana river on Wednesday following a rainstorm, and two officers ran to assist after they spotted the pup flailing in the water.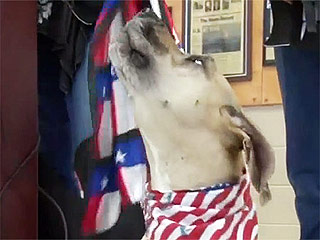 We've teamed up with one of our favorite sites, BarkPost, to bring you and your four-legged friends even more adorable pet videos, photos and must-see stories. Check back every week for new furry fun from BarkPost!
Dogs
Get PEOPLE Pets Everywhere
Advertisement
Photo Special
Top Pets Category