Dogs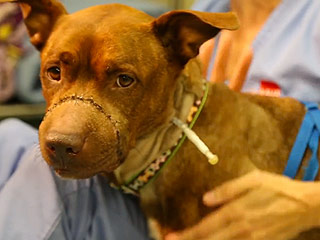 After everything she's been through, Princess should definitely be treated like one.

Authorities tell the Sun Sentinel that the pup was involved in an "extreme act of cruelty" after her muzzle was bound shut for anywhere from four to 14 days.

The horrible act, which nearly killed the dog, is considered a felony in Florida and is punishable by up to five years in prison.
With a little bit of paw grease, any kind of animal can learn a new trick. And America's Got Talent has seen some of the best.
A Georgia K9 officer at Savannah State University died earlier this month after his handler mistakenly left him in a hot car – the second such police dog death in the state this month and the fourth nationwide since mid-June.


The Velazquez family had lost hope about finding Cheiska.

Shortly after their German shepherd disappeared two years ago, Fracisco Velazquez got a call that a pup matching her description had been killed by a car.

This week the Chula Vista, California, family found out that it wasn't the right dog.
Here's the conundrum: Your ball is in the pool. You want the ball. You're a dog and you really don't want to get wet. It's just annoying. It takes forever to dry off, because, well, you're wearing a fur coat at all times, which means you get drenched. Also, blowdryers are very scary.


Just when you thought you'd seen it all – dogs friends with pigs, lizards friends with lambs – a new animal crew comes along and shakes things up.

Well, these three aren't exactly new, but this 2014 video of a crow feeding a cat and a dog deserves a revival (thanks to TheDodo.com for bringing it to our attention).
Curiosity can be trouble for dogs, too.

On Tuesday, an inquisitive pup from Costa Mesa, California, found himself attached to a tub after his paw became stuck in the drain, reports KTLA.
Life is full of cringe-worthy moments, a common one being the accidental walking trip. That's when, while you're minding your own business, some sinister sidewalk crack or stick trips you up mid-stride. There is one solution to this embarrassing everyday occurrence: Start walking again and hope no one saw. Well, that is, until now.


Last week she was found trapped inside a fithly abandoned building, with nothing to eat or drink.

Authorities are still trying to find the person who left Gigi the dog in such horrible conditions, according to Florida's WSVN News, after an anonymous tip led them to the 3-year-old pit bull, who was tied to the front door.

Despite the ordeal, the dog – named Gigi by Animal Services – is friendly and now looking for a forever home, as authorities try to piece together her story.
For Ivan Moreira, surfing is a lifelong passion.

The Brazilian personal trainer and amateur surfer has been catching waves since he was 5, but he caught the world's attention once he started inviting his Labrador, Bono, onto the board with him.

His Instagram account @bonosurfdog (Trust us, you're going to want to follow him, stat) is as adorable as you might think: there are endless photos of the pair hitting the waves together, and amazing videos of Bono enjoying the water.
Dogs
Get PEOPLE Pets Everywhere
Photo Special
Top Pets Category