Dogs
This English bulldog prefers the shiny excitement of the silver ball to the mundane monotony of a chew toy.

All it takes is the suggestion of "pinball" from his owner, and this pup is running toward the basement faster than you can say "multi-ball bonus."
Clearly, Tux the dog has expensive taste.

The hungry French bulldog swallowed his owner's engagement ring and veterinarians had to step in to get it out of his stomach.

According to WSVN News, Jessica Farah tore her house apart looking for the missing ring last Wednesday.
Warning: scrolling here will cause a major decline in your productivity at work.

Jenny Pogue's foster cat had a litter of kittens recently, and the busy mother is accepting help from two unlikely nannies: dogs Lady and Louis.

The nurturing dalmatians from Washington state offer cuddles to the kitties for about an hour a day – and the cuteness has reached painfully high levels.
How does a big action star ring in his 48th birthday? Well, when you're Vin Diesel, man's best friend and an intricately decorated cake are musts.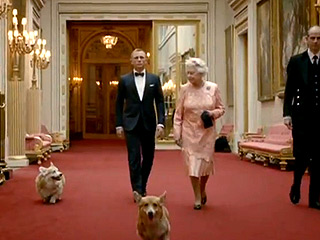 They're so synonymous with Queen Elizabeth that they sell soft toy versions in the palace shop and they appeared alongside her in her London Olympics mini-movie with Bond star Daniel Craig.

But the days of her corgis are numbered.
WHAT IS IT: PetSmart's Dog Ice Cream "Treat Time," which is served at their PetsHotels


Home. Some pets never have one to call their own. We'd like to help change that by introducing you to an extraordinary adoptable pet every week. Today, meet Valentino, a pup currently being cared for by the Eleventh Hour Rescue in Rockaway, New Jersey.

This adorable terrier mix is a happy and funny boy – so why would someone abandon him at an animal shelter? An Eleventh Hour Rescue volunteer was baffled by this too and scooped up the pup in hopes of finding him a forever home.
Murphy had a ball ... and then another and another and another.

The 7-year-old rescue pooch swallowed six golf balls and underwent emergency surgery to have them removed.

According to The Guardian, the dog's owner, David Larson, knew something was up when Murphy seemed ill after eating a bone.

Larson took the German shepherd to Westway Veterinary Group in Newcastle, England, where X-rays revealed a big bellyache.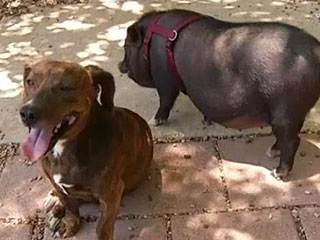 Jack loves Tuna. Tuna loves Jack. So, these two were a package deal at the Humane Society of North Texas, where both were waiting to find a forever home.

The only hitch? Jack is beagle mix and Tuna is a 6-month-old potbellied pig.
Not even a bullet could bring Beefcakes down.

The stray pup was shot in the head at close range on July 7 and left in a parking lot in Boulder County, Colorado, according to CBS 4 News.

A concerned citizen notified authorities about the dog, and when they picked up Beefcakes, they found that the horrific act hadn't done a thing to the dog's friendly disposition.

Even with a bullet lodged in his face – which fractured his jaw bone in multiple locations – Beefcakes was, and still is, happy.
Dogs
Get PEOPLE Pets Everywhere
Photo Special
Top Pets Category