Dogs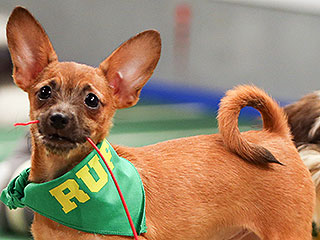 Credit: Courtesy Discovery
There's FOMO, and then there's the feeling we get when we are sitting at our desks while other people are playing with puppies in their offices.


He was one of PEOPLE's Ones to Watch last year, and right now, we're watching Jon Bernthal.

In a new public service announcement for the Animal Farm Foundation, the Fury actor stars alongside his dogs Boss and Venice, and his 2-year-old son Billy, to bring attention to pit bulls and the owners who love them.
A Florida woman was arrested last week for allegedly drowning a two-week old Doberman mix puppy in a toilet in a Nebraska airport so she could catch a flight.


Paula Deen's heart has gone to the dogs – again.

So much so that she's added a new Goldendoodle pup to join current Deen family dog Gus.

"I just love my Goldendoodle Gus so much, I had to have another one!" Deen, 68, enthused on her Facebook page where she shared heart-melting pictures of her latest sweet addition. "He just joined our family so I need y'all's help to name him!"
After an outcry from the animal-loving community, GoDaddy has pulled a controversial Super Bowl ad featuring a puppy being sold online.

And, as it turns out, the adorable golden retriever that starred in the ad got a happy ending of his own.

In a statement from the company's chief executive officer, Blake Irving, he says the dog, Buddy, was adopted by an employee.
It's a dogs-gone mystery.


After getting some time in the fresh outdoor air and working on his fitness, Munchkin is ready to take on football's biggest night.

For his latest video, the adorable costumed dog has slipped into his Super Bowl uniform and picked up a pig skin.
We've teamed up with one of our favorite sites, BarkPost, to bring you and your four-legged friends even more adorable pet videos, photos and must-see stories. Check back every week for new furry fun from BarkPost!

Talk about the best game of fetch ever!

This pup thinks he's just having his usual fun in the yard with his toy. After running to after it, he turns around to bring it back only to find his soldier pup parent is there, safely home and holding his arms out for a reunion!
Seals are the dogs of the sea, so it makes sense these flippered cuties would want to meet their four-legged land counterparts.

Instead of waiting for a canine to doggie paddle out to the ocean, one friendly seal in southwestern France bellied up to the beach and went searching for a puppy pal.
Police are on the hunt for two cold-hearted men who left a dog tied up behind a Roseville, Michigan, Walmart in freezing weather.

Courtney the 2-year-old mixed breed pooch was found abandoned by a Walmart employee on Sunday, reports USA Today. Frightened by her time alone outside, the dog also chewed off one of her paws in an effort to escape her restraints.

After being discovered, the authorities were called and Courtney was rushed to Hopeful Heart Rescue. At the shelter, doctors examined the dog's wound and determined she most likely chewed off and consumed her paw while she was outside, with her tight leash acting as a tourniquet.
Dogs
Get PEOPLE Pets Everywhere
Advertisement
Photo Special
Top Pets Category