Dogs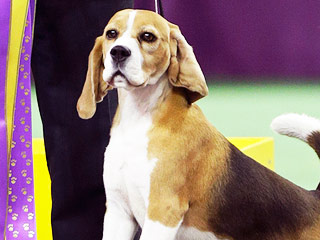 Credit: Frank Franklin II/AP
We thought they were all equally adorable – insert awww – but there could only be one top dog at Westminster.

Congrats, Miss P!

The beagle from the hound group ran off with the prestigious Best in Show title Tuesday at the 139th annual Westminster Kennel Club Dog Show.

Miss P (formal name: Ch Tashtins Lookin For Trouble) beat out six other fierce furballs: the Patty Hearst co-owned Rocket (toy group), Flame (non-sporting group), Swagger (herding group), Liz (sporting group), Matisse (working group) and Charlie (terrier group).
Famed and infamous heiress Patty Hearst was back in the news Monday after a dog she co-owns won its group at the Westminster Kennel Club show.

A shih tzu called Rocket was picked as the top toy dog at New York City's Madison Square Garden.
Yes, it's that time of year again.


Mary Morgan grew up a dog lover, her family breeding boxers from the time she was small. But when she was 7, Morgan was savagely attacked in her yard by a neighbor's Rottweiler, who nearly tore her right arm off.


Clearly, Sissy had somewhere she needed to be.

So, she bolted out of her yard at 1:30 a.m. on Saturday and traveled 20 blocks to the Iowa hospital where her owner Nancy Franck was recovering from surgery for cancer, the New York Daily News reports.

Surveillance footage shows the dog arriving at the Cedar Rapids' Mercy Medical Center in Iowa early on Saturday morning, and running around the halls – apparently in search of someone very special to her. Franck had been there for the past two weeks following chemotherapy for uterine cancer.
If you'll be celebrating this Valentine's Day with a furry friend by your side, just like Amanda Seyfried, you should know this: You are 30 percent less likely to visit a doctor.

Huh?

Allow us to explain. According to these very important statistics in an infographic created by the Humane Society Silicon Valley, there are tons of great health benefits to loving a pet on Valentine's Day.

If you're a cat owner, apparently there's a very good reason that your cat likes to listen to your heart. Cat people are 40 percent less likely to experience a heart attack (See, all those cuddle sessions really do pay off!)
Home. Some pets never have one to call their own. We'd like to help change that by introducing you to an extraordinary adoptable pet every week. Today, meet Sergio, a super-affectionate chihuahua mix who is a little charmer.

The staff at the Maricopa County Animal Care & Control in Phoenix, Arizona, can't believe this little cutie wasn't scooped up quickly after his arrival on Nov. 5. He loves people, and his true personality emerges when he spends time with other pups.
Ah, there's nothing like a serene, airborne view of Dutch suburbs, is there?


Amanda Seyfried is excited about her valentine this year. As a matter of fact, she's been excited about the holiday ever since a puppy named Finn, now age 5, came into her life.

"Finn is always my valentine," the actress tells PEOPLE.

"Finn looks at me when I talk to him. He just wants to be with me. That's what everyone wants in a partner, right?"

We're sure she means no offense to her awesome human love interest, actor Justin Long.
Here at PEOPLE Pets, there are several things we take very seriously, including but not limited to: cat videos, corgis in panda costumes and fashion.


Dogs
Get PEOPLE Pets Everywhere
Advertisement
Photo Special
Top Pets Category