Dogs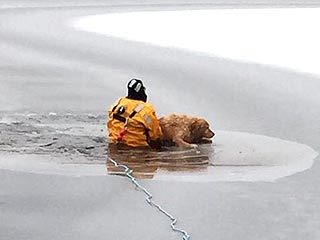 Credit: Waterboro Fire Department/Facebook
Capt. Tom Langevin doesn't know how to talk to the animals, but he certainly knows how to save them.

Langevin of Maine's Waterboro Fire Department is known as Dr. Dolittle to his coworkers, because of his way with animals. He showed off these skills on Wednesday morning when he jumped into an icy lake to save Dakota the dog, reports the Portland Press Herald.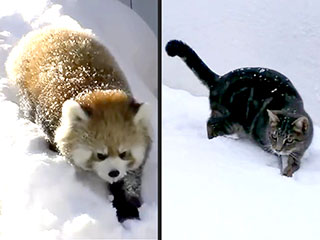 While folks in Buffalo, New York, are asking for an end to the snow already, animals around the world are begging for more of the white, fluffy stuff.


When people first laid eyes on Dori the dog, they thought she was dead.

So when SPCA officers responded to a call about a "dead dog" at the home of Ronald and Shelley Breier, they were surprised to learn that Dori was still alive – unable to move in the corner of a basement but still breathing, according to WIVB 4 in Buffalo, New York.


When it comes to the competitive world of local news, King is the king of Miami.

The friendly 1-year-old pit bull mix interrupted meteorologist Ryan Phillips's post-Thanksgiving weather report and, in our opinion, he rained (get it?) supreme over all the other networks.

The adorable dog – who was on set for a segment about adoptable pets – made himself at home by hopping right on top of Phillips's weather desk and energetically trying to lick the weatherman's face.

"Whoa! Live TV," said Phillips as he tried to dodge kisses from the pup. "How are you buddy? It's not your turn yet. You have to wait one more segment. Okay, just let me do the weather."
Looks like Santa ought to be added to his own naughty list.

On Sunday, a Santa working at The Shops at Mission Viejo in California turned away a girl with autism because she brought along her pit bull service dog, ABC reports.
Butch the Boston terrier struggled for most of his life, but the Buzbee family of Pinson, Alabama, made sure his final days were a wonderful treat.

According to AL.com, Butch was initially adopted by a careless owner, who tried to control the dog with a shock collar. When that failed, the owner abandoned the Boston terrier to fend for himself on the streets.
As the wise Barry White once said, "Oh yeah!"


You know when you're out at a club and thinking about leaving, but then that one song comes on and turns everything around?


In honor of Adopt-a-Senior-Pet Month, we bring you a distinguished senior pet looking for a loving place to spend forever. Today, meet Sherlock, a 10-year-old Labrador/pointer mix currently residing at the San Francisco SPCA.

Sherlock would be so thankful to have a forever home before his 11th birthday on Jan. 8. A comfortable home to relax and spend his golden years, he definitely deserves these things and more.

"When he first came to our shelter in mid-October he was severely undernourished," says Krista Maloney, media relations specialist for the shelter, who says that the pup was given up by his previous owner. "Sherlock has truly thrived during the month he's spent at the San Francisco SPCA, and we're happy to report that he's gained weight and is ready for a second chance at a forever home!"
National Dog Show host and one of the world's most soothing voices, John O'Hurley pawed over to PEOPLE Now to give us a sneak peek at this year's competitors.


Dogs
Get PEOPLE Pets Everywhere
Advertisement
Photo Special
Top Pets Category