Dogs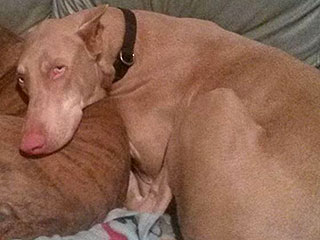 Credit: Courtesy OK Save A Dog Society
Home. Some pets never have one to call their own. We'd like to help change that by introducing you to an extraordinary adoptable pet every week. Today, meet George, an albino Doberman pinscher currently being fostered through the OK Save a Dog Society of Prague, Oklahoma.

Because of his genetic condition, this 2-year-old needs special care from his next owner. In the summer, he's in danger of getting a sunburn and in the winter, he's in danger of freezing.

He has beautiful blue eyes that need special protection from the sun (he'd be grateful if his next owner bought him some doggy sunglasses). Though people spend extra time tending to his skin, he's unfazed. George is a "gentle giant," says the rescue's founder Kim Bowers, "who needs a buddy to play with."
Green Day's Billie Joe Armstrong took to the power of Instagram and his 436,000 followers to help track down a couple's stolen dog.

The search began when a thief broke into David Baker and Cassandra Niki's San Francisco apartment and stole personal belongings and their beloved pitbull Mochi over the weekend, CBS San Francisco reported.

The rocker, 42, got word about the stolen dog from former professional skateboarder Jim Thiebaud, who called on the Bay Area community via Instagram to join the search. Armstrong quickly reposted the alert to his own feed Monday, immediately garnering thousands of likes.
We've teamed up with one of our favorite sites, BarkPost, to bring you and your four-legged friends even more adorable pet videos, photos and must-see stories. Check back every week for new furry fun from BarkPost!

The utter confusion on the pup's face is pee-the-tree HILARIOUS! He just makes us want to cuddle him and tell him it's ok, sound CAN be weird like that.
The Today show rolled out the red carpet – and fire hydrants! – on Wednesday, in honor of a special new cohost.

Guiding Eyes for the Blind has temporarily given the morning show a 10-week-old yellow Labrador retriever puppy to train as a guide dog.

"This is a really great experience both for Guiding Eyes and for the puppy," said Saxon Eastman, a trainer for the non-profit organization, who gives guide dogs free of charge to individuals who are blind or visually impaired.

"This is going to be an awesome socialization experience for him. That's really what we're looking for, to put him on the right track to being a guide dog someday."
Everybody hurts, even canines.


Humphrey the 8-week-old bulldog puppy has some major New Year's resolutions. At the the top of his list? Recycle more!

But since Humphrey is just a baby, he doesn't quite understand what recycling is. He does know it has something to do with taking care of plastic bottles, so he is giving it his best shot.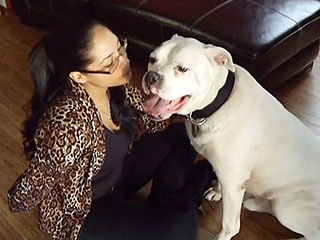 It was love at first sight for Gabriel Maldanado.

"I kind of fell for him and told my wife, 'You know, I met this dog today, I think we should adopt him.'"

That dog was Tank, a 6-year-old bulldog living at New York City's Top Dog rescue in the Bronx for the past three years – the longest stay any resident at the rescue has ever had, according to New York's News 12.

The reason the dog has spent half his life looking for a home is very superficial, said Andrew Dymburt, a spokesman for the rescue.

"People are often scared of big dogs," Dymburt shared.
Here's a dog with a hefty New Year's resolution.


A woman has come forward claiming to be the one who tied up a shar-pei at the Ayr railway station in Scotland, leaving him there with a suitcase full of toys and treats, reports the New York Daily News.


Dogs
Get PEOPLE Pets Everywhere
Advertisement
Photo Special
Top Pets Category