Dogs
If you're looking for luck, pick this Penny up.

The stray dog is doing well after being hit by a train on Monday.

According to CBS 6, animal control officers were called to train tracks in Richmond, Virginia, when a worker spotted the pit bull pup. "I noticed her laying on the tracks, and I thought she had passed away," said Chris Fussell.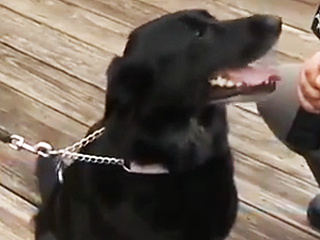 If your hair tie has gone missing, chances are Tiki the black Lab has it.

The pooch from Mars, Pennsylvania, swallowed 62 of them – plus eight pairs of underwear! – and underwent surgery last week to have them removed from her belly.

The mysterious case of the missing hair ties began when Tiki didn't respond to medication to treat vomiting and lack of appetite. An X-ray showed a mysterious mass in her stomach, WTAE News reports.

Surgery last week by Dr. Ibrahim at the Good Shepherd's Veterinary Hospital was interesting to say the least.
Home. Some pets never have one to call their own. We'd like to help change that by introducing you to an extraordinary adoptable pet every week. Today, meet Oscar, a pup currently being fostered through Fetch Wisconsin Rescue of Madison, Wisconsin.


Fudge worked hard and it has finally paid off.

The 6-year-old cocker spaniel donned a graduation robe and walked with his owner Jack Proctor at his graduation on Tuesday.

The pup, who donned a robe specially made by Proctor's wife, was given the honor because he helped Proctor complete a series of assignments as he studied for a degree in design and digital arts at Scotland's Edinburgh Napier University.
Beyoncé wasn't the only one riveted by the Women's World Cup final – it also captured the undivided attention of canines.

This video of Deuce the dog watching intently as the U.S. women crush Japan has gone viral … oh, and did we mention there's an adorable baby in it? You've gotta love it when there's something for everyone!

Whatever time Chester has left, it will be well spent.

That's the philosophy of Nicole Elliott, who recently adopted the terminally ill pooch from rescue group in Columbus, Georgia.

The senior dog, who was given up by his owners to a kill shelter earlier this year, has cancer, and Elliott has decided to make his last days his best ones yet, according to WTVM News.

"I slept on it, and woke up knowing it was the right thing to do," she said. "I knew that it would be my responsibility to make his final days the best I could, to mine and his ability. I arrived before the shelter opened, and they let me in to get him. I fell in love the moment I saw him."
The TV networks needn't look any further for the premise of their next iconic television show.

The world's most fascinating Friends are on Instagram – and they're capturing hearts everywhere.

Despite his name, Bob the golden retriever is the Jennifer Aniston of the group – with great hair! – and is best buddies with eight birds and one hamster.
[YOUTUBE "TeckbqbvMrU"]
A Kansas City rescue dog has overcome some heinous abuse and neglect already, but now those taking care of Harry the chow chow are urging anyone with a love for animals to help him and other dogs like him.


Pet food company Stella & Chewy's is voluntarily recalling 11 of its products after Listeria monocytogenes was found in one of its dog food products during a routine test.

The Maryland Department of Agriculture ordered that the company stop selling Chicken Freeze-Dried Dinner Patties for dogs on Saturday, after tests revealed the product was contaminated with Listeria, reports NJ.com.
Dogs
Get PEOPLE Pets Everywhere
Photo Special
Top Pets Category