Dogs
It's amazing what a single meatball can do.

A group of adventure athletes from Sweden known as Team Peak Performance found this out during November's Adventure Racing World Championship. The competition requires participants to endure a 430 mile course – that includes hiking, kayaking, biking and more – through the wilds of the Amazon. During one of their brief breaks on this impressive excursion the four person team happened upon a friendly stray dog and offered the hungry pup a meatball to snack on, reports NPR.
You've seen Ariel before. But you haven't seen her in slow motion and as a dog.


It was more than a drop in this bucket: A stray puppy with a plastic jug stuck on his head has been rescued – and freed from his headpiece.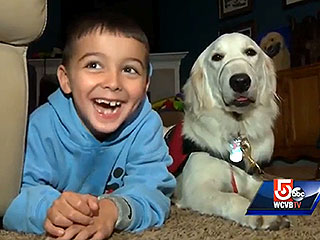 Austin Flateau suffers from seizures that have thus far prevented him from attending the first grade – but it's not for the reason you may think.


Ozzy the English bulldog – full name Ozzy Pawsbourne: the Prince of Barkness – doesn't spend his days shredding guitar. He likes to tear up the swing set instead.
A group of pit bull lovers plans to hold a pit bull parade to celebrate after a judge threw out a 10-year-old ban on the dogs in a Rhode Island city.


Daisy's nose knows how to save lives.

Since the Labrador was a puppy, she has been trained at the England-based charity Medical Detection Dogs to sniff out cancer and other fatal diseases in samples of breath, skin and urine, reports Advertiser and Review.

Now 10 years old, Daisy has successfully detected over 550 cases of cancer and is being awarded for her priceless contributions to the lives of others. The keen-nosed pup was recently given the Blue Cross Medal for her work in the field of cancer prevention and detection.
Call it 19 Pups and Counting.

WHTM-TV reports York County, Pennsylvania, residents Brandon and Aimie Terry's Great Dane recently gave birth to 19 puppies.

Great Danes normally have seven to 10 puppies in a litter, but Brandon Terry says an X-ray of Snowy found at least 15 "little spines" during a visit to the veterinarian's office before she gave birth.
A dog named Buddy didn't wait for an invitation when his 85-year-old owner had to go to the hospital.

Four-year-old Buddy hitched a ride on the outside of the ambulance carrying Texas rancher J.R. Nicholson to Hill Country Memorial Hospital.
Dogs
Get PEOPLE Pets Everywhere
Advertisement
Photo Special
Top Pets Category