Exotic Animals & Pets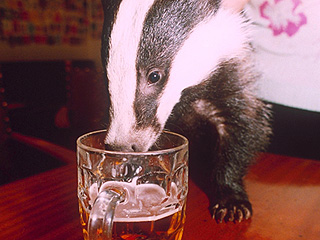 Credit: NEWS SERVICE/REX
We've all been there.


Meet Sweet William. Sweet William is a baby skunk who this gentleman, Farmer Bob, found sick and orphaned on the side of the road.


On July 22, a female orca became stranded on the rocks of British Columbia's Hartley Bay during low tide. But thankfully, there's an organization called "Guardians from Hartley Bay," who lived up to their name, coming to the animal's aid as it lay helpless on the rocks.


The group documented their six-hour rescue of the orca on Facebook.
It's not every day you see people wade into the Atlantic Ocean to save the life of an animal that would otherwise be very pleased to consume them. The ocean, after all, is the shark's house.
When a 7 1/2 foot alligator attacked her dog, Hope, and proceeded to drag the pup into a nearby pond, Lori Beiswenger knew she needed to act swiftly.


Hey man, like, what's your damage?


"We thought we hit a buzzard," Elaine Gilliland said of the bald eagle that flew out of the brush in Bowring, Oklahoma, and impacted her car.


For anyone who's dreamed of being walked down the aisle by an alpaca on her wedding day, here's some excellent news: your dream has become a reality … if you get married in Japan, that is. (Destination wedding, anyone?)


Taishan the Panda has lived his whole life in front of cameras, much like Jim Carry in The Truman Show. And like Jim Carrey in The Truman Show, that means you can watch his whole life in a series of neatly-edited clips. (No Ed Harris, but you can supply your own Philip Glass soundtrack if you want.)


Exotic Animals & Pets
Get PEOPLE Pets Everywhere
Photo Special
Top Pets Category