Exotic Animals & Pets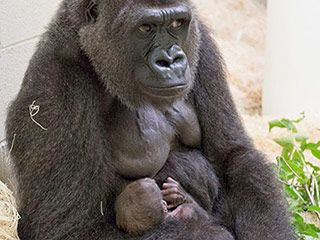 Credit: Kansas City Zoo
In what is obviously, indisputably the most important birth of 2015, the Kansas City Zoo's 27-year-old gorilla, Makari, gave birth to a baby Western Lowland Gorilla on Monday. It marks the zoo's first gorilla birth in 40 years.


More like King of the Bungle. (This and other lion puns brought to you by LionPunz, our forthcoming app.)




Does this parrot have a potty mouth?

A neighbor in Tracy, California, says yes – and she's pretty upset about it. Jennifer Baca told NBC affiliate KCRA that the bird, named Rula, is repeating the Spanish curse word for "prostitute" and that her grandchildren have started using the R-rated phrase.
Zach Spurlock was out scuba diving in the waters around Port Canaveral, Florida, fishing for lionfish for his friend's restaurant, when he happened to notice a great white shark calmly swimming in the water nearby.
This tiny shark is one of the newest species to be found rolling in the deep waters off a U.S. coast.

The rare pocket shark was discovered in the depths of the Gulf of Mexico on a government research trip in 2010, according to the Associated Press, but wasn't identified until recently.
That's 200 lbs. of goodwill ambassador right there.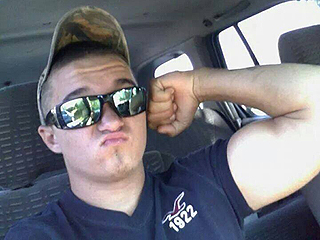 FOX 35 News OrlandoEighteen-year-old Wimauma, Florida, resident Austin Hatfield caught a venomous water moccasin snake (also referred to as a cottonmouth) Thursday, April 16.

Hatfield decided to keep the animal, putting it in a pillowcase. After bring the snake home, Hatfield took the reptile out for some air, placing it on his chest. The water moccasin reacted by striking the teen and biting him on the lip.
Parrots usually get short shrift in the "heroic pet" category, but there's at least one bird in Idaho who's gunning for the title.


Ricky Gervais lashed out at hunter Rebecca Francis via Twitter on Sunday, criticizing a photo she took with a giraffe that she'd killed.


Boulder, Colorado's Teller Lake is fighting a losing battle. The enemy? Goldfish. Thousands of goldfish, believed to have been dumped into the lake a few years ago, who have spawned into an occupying force.

"These are domestic fish actually. These are fish from a store I imagine. They can out-compete the native fish," Colorado Parks and Wildlife spokesperson Jennifer Churchill told local NBC affiliate 9 News.

The fish have outgrown their domestic origins. Unconstrained by a bowl, they reach much larger sizes than you'd usual see.
Exotic Animals & Pets
Get PEOPLE Pets Everywhere
Advertisement
Photo Special
Top Pets Category