Exotic Animals & Pets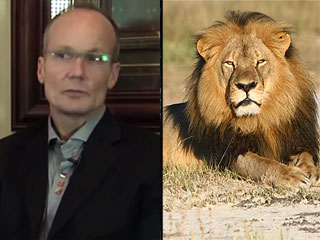 Credit: Andy Loveridge/Wildlife Conservation Research Unit/AP
A representative of Dr. Walter Palmer – the Minnesota dentist who ignited international controversy after killing the Zimbabwe lion Cecil by allegedly baiting him out of a national park one night in July – contacted the U.S. Fish and Wildlife Service Office of Law Enforcement late Thursday afternoon, PEOPLE has confirmed.


Most baby flying foxes are born between October and December. It's a rough time for mothers and children alike, because baby flying foxes have to cling to their mothers until they're able to fly. Baby flying foxes are orphaned by any number of things, like power lines cars, dogs, barb wire… the list goes on.


Meet Sweet William. Sweet William is a baby skunk who this gentleman, Farmer Bob, found sick and orphaned on the side of the road.


On July 22, a female orca became stranded on the rocks of British Columbia's Hartley Bay during low tide. But thankfully, there's an organization called "Guardians from Hartley Bay," who lived up to their name, coming to the animal's aid as it lay helpless on the rocks.


The group documented their six-hour rescue of the orca on Facebook.
It's not every day you see people wade into the Atlantic Ocean to save the life of an animal that would otherwise be very pleased to consume them. The ocean, after all, is the shark's house.
When a 7 1/2 foot alligator attacked her dog, Hope, and proceeded to drag the pup into a nearby pond, Lori Beiswenger knew she needed to act swiftly.


Hey man, like, what's your damage?


Exotic Animals & Pets
Get PEOPLE Pets Everywhere
Photo Special
Top Pets Category