Exotic Animals & Pets
Kevin Gill has a lot of love to give.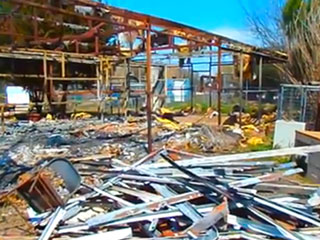 Eight animals are dead after a fire on March 26 destroyed two enclosures housing numerous alligators and crocodiles at the Garold Wayne Interactive Zoological Park in Oklahoma.

According to The Oklahoman, alligators that once belonged to Michael Jackson were among the innocent reptiles "boiled to death" during the blaze.

"When they closed down Neverland Ranch and auctioned off his property, they asked us to come get all the reptiles and alligators and other stuff," said Joe Schreibvogel, the park's founder and spokesman.
The Lowry Park Zoo in Tampa, Florida, has a new clouded leopard. The as-yet-unnamed kitten is about 3 weeks old, and this is footage of him a week ago that is devastatingly cute. It will destroy you.


Boo, an African Savannah cat, will continue living with his family in suburban Delaware.

The exotic pet caused a stir last year when he escaped his home and remained missing for two weeks, according to NBC 10.

While Boo was eventually found and safely returned to his owner of nine years, Richard Todd, the incident caused Todd's neighbors to worry about their safety.
A wild rhinoceros ran amok in the southern Nepal town of Hetauda on Monday, killing one woman and injuring several others.


Warning: Semi-Graphic Footage of the Inherent Violence of the Natural World


The San Diego Zoo got a new hippo on Monday. It looks like a pretty good one.


Australia is a magical place. A hot, spider-filled, magical place where even the trees explode and you can come across crazy stuff just walking your dogs.

Crazy stuff like two cuddly marsupials holding their own fuzzy Wrestlemania on the ground.
Exotic Animals & Pets
Get PEOPLE Pets Everywhere
Advertisement
Photo Special
Top Pets Category