Exotic Animals & Pets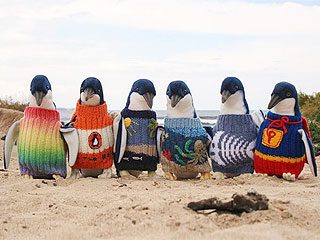 Credit: Courtesy Phillip Island Nature Parks/Facebook
Think you've seen every possible combination of adorable animals in sweaters? Prepare to be proven wrong.

Meet the penguins of Australia's Phillip Island Nature Park. This bunch of stylish birds happily models a wide variety of sweater designs, all handmade specifically for them. But their clothing serves more than a sartorial purpose: The penguins here are being treated for feather and skin damage caused by oil spills. The sweaters keep them warm and prevent them from pecking at the oil with their beaks, reports ABC Melbourne.

The Penguin Foundation, also based on Phillip Island, is responsible for distributing these sweaters, which it gives to other wildlife rescue centers, as well. For those looking to contribute to the cause, a knitting pattern is available on their website, along with directions on where to send the finished products.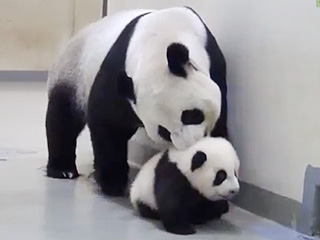 Parents, we all know Yuan Yuan's pain, don't we?

The giant panda thought she'd managed to get her cub, Yuan Zai, to bed – only to have her little one scramble away. And for a few precious minutes, Yuan Zai had her run of the enclosure at Taiwan's Taipei Zoo. (Start the above video at the 2:45 mark if you want to get straight to the action.)

But when Yuan Yuan realized where the 7-month-old cub had gotten to, she quickly came out and scooped her up by the fur. Try as Yuan Zai might, there was no convincing her mother to let her stay up late. In fact, Yuan Yuan kept a firm grasp on her baby girl until she fell back to sleep.
You had us at polar bear cub, Toronto Zoo, but watching this adorable baby animal take its first steps is almost too much cuteness to handle.

And the milestone almost didn't happen: one of three cubs born to the Toronto Zoo's female polar bear, Aurora, on Nov. 9, this itty-bitty beauty is the only survivor among its siblings. When the cub was observed no longer moving as strongly as it had before, he was moved to the Wildlife Health Centre, where he remains under constant monitoring.
Hey, sleepy heads!

Looks like nothing can wake these adorable twin polar bear cubs from their slumber – even when one tries to nestle closer to the other. And, really, who can blame them? Their mama's fur looks pretty darn cozy!
With New Year's Eve just a day away, you've probably got your evening ensemble and countdown cupcake ready to go.

Unless you're this orangutan.

And judging by the look on his face, you can tell being unprepared is starting to weigh on him. In addition to what to wear and what to serve, there's also decorating to be done. Plus, and we don't want to rub salt into the wound, but someone's going to need to find time to head to the salon.
So, a lion, a tiger and two leopards walk into a New York City office building ...

Okay, it didn't quite go down like that – there were cat carriers, baby bottles full of milk and several animal wranglers involved when four spirited big cats came to the PEOPLE studios last week in honor of Big Cat Week on Nat Geo WILD (running through Dec. 6).

After cat wrangler Boone Smith gave us the lowdown on these amazing felines, including a rare white tiger and African lion cub, we thought: Wouldn't it be fun if we got the 3-month-old African leopards to play with Christmas ornaments? Well, it turns out Ogre and Betty had other ideas. Click play above to watch what happens when you try and choreograph wild animals in a big fancy studio space.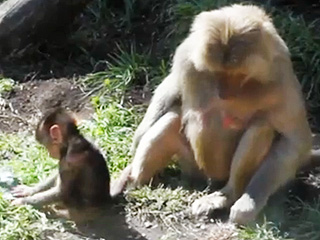 Piggyback rides just got a whole lot cuter! Two tiny Hamadryas Baboons are now on display at the Prospect Park Zoo in New York.

The pair has stayed curious and busy – enjoying belly rides, cuddling in their mom's lap and playing with leaves – since their births on Aug. 9 and Sept. 26. The brothers have different mothers, but were both fathered by a 21-year-old baboon named Bole.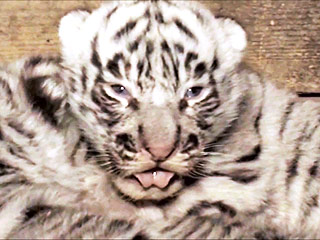 Talk about sibling revelry!

Three newborn tiger cubs born earlier this month at Georgia's Tbilisi Zoo look to be getting along swimmingly.

The trio, born Nov. 7, can be seen in this aww-dorable footage huddled together in a corner of their enclosure – while Mom watches over them from nearby.

Names for the cubs have not yet been released, but if we had to guess, we'd definitely go with Cute, Cuter and Cutest.

Also: When can we expect a playdate with the white tiger cubs from Japan's Tobu Zoo Park?
Did you hear the one about the famous llama? Well if you haven't, you will soon, and the story we're talking about is no joke.


Well that's awkward. Who's going to break the bad news to Kali?

The newest Sumatran tiger cub to be born at the Point Defiance Zoo & Aquarium thought she'd made a new friend when 2-year-old Marshall stopped by to visit earlier this year. But, little did she know, things are not always what they seem.
Exotic Animals & Pets
Get PEOPLE Pets Everywhere
Advertisement
Photo Special
Top Pets Category