Exotic Animals & Pets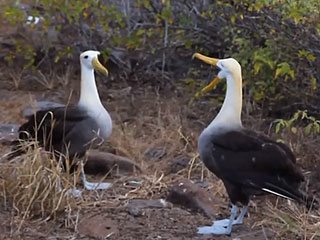 Coming soon to a bar near you.

The "funny-looking bird does its strange mating dance" portion of nature shows is clearly the best portion, so why not just cut to the chase and watch only that part?
Frankly, we don't find Jaws all that scary anymore ... now that we know something like this exists.

Photos of a rare – and terrifying – species of shark known as the goblin shark have surfaced, and now we don't think we'll ever sleep again.
Their dog Lupo may be thousands of miles away at home, but Prince William and Kate Middleton have been far from starved for animal encounters.

The royal couple's tour of New Zealand and Australia has been filled with frequent furry meet-and-greets in the form of puppies, sheep and a wombat.

At the Sydney Royal Easter Show on Friday, the Duke and Duchess of Cambridge were on hand for a sheep shearing display where a ram named Fred made them smile by welcoming them with a gentlemanly bow. The royals fed Fred some yummy apples (above), and the press ate up Kate's playful joke: she suggested that her handsome husband cover his bald spot with a wig made of alpaca wool.
Don't shed any tears for a crocodile that was captured wandering outside a pet store at a Northern California shopping mall.


Ever since Ellen DeGeneres took the mother of all selfies at the Oscars last month, people everywhere have been trying to top it. Well, it appears someone finally has – a koala.

The cuddly residents of the Wild Life Sydney Zoo are the latest members of the animal kingdom to become selfie-obssessed. When a camera was set up on a moveable tripod in their enclosure a few weeks ago, Bruce, Aaron and Bill immediately started posing for snaps.
A firefighter put his reptile-handling experience to good use when he rescued a 7-ft.-long boa constrictor from a burning home in western Michigan.

Muskegon firefighter Scott Hemmelsbach told the Muskegon Chronicle that he reluctantly agreed to enter the two-story, smoke-filled house Sunday night to retrieve the snake. He says he cradled the "weighty" snake before carrying it to safety.

"It was trying to crawl up the side of his terrarium and get out," Hemmelsbach said. "His face was pushed up on the screen and trying to get out. There was a lot of smoke, and he was trapped."
Like father, like son: Prince Jackson appears to have inherited late dad Michael Jackson's love of animals.

Days after being spotted leaving a Woodland Hills, Calif., pet supply store with his arms full, the king of pop's son updated his fans with a Vine video showing off his latest pet project.

"80 hours of actual work in total 7 hours just today of work with 1hr of transporting the materials it should be done in a couple weeks," Jackson, 17, captioned the video, which documents an in-the-works structure for reptile cages (and a parrot!).

"Prince has about 10 snakes. He started with them after his father died when he went to live with his grandmother. He's got lizards, too," a family source tells PEOPLE.
Veterinarians at the San Diego Zoo Safari Park are keeping a close watch over a baby gorilla delivered by C-section last week.

The 4.6-lb. female underwent a procedure on Friday to fix a collapsed lung that seems to have happened during delivery, the Associated Press reports.

An emergency C-section was performed on the first-time mom, Imani, 18, because she was in distress after going into labor on Wednesday. The procedure is rarely performed on gorillas.
Think you've seen every possible combination of adorable animals in sweaters? Prepare to be proven wrong.

Meet the penguins of Australia's Phillip Island Nature Park. This bunch of stylish birds happily models a wide variety of sweater designs, all handmade specifically for them. But their clothing serves more than a sartorial purpose: The penguins here are being treated for feather and skin damage caused by oil spills. The sweaters keep them warm and prevent them from pecking at the oil with their beaks, reports ABC Melbourne.

The Penguin Foundation, also based on Phillip Island, is responsible for distributing these sweaters, which it gives to other wildlife rescue centers, as well. For those looking to contribute to the cause, a knitting pattern is available on their website, along with directions on where to send the finished products.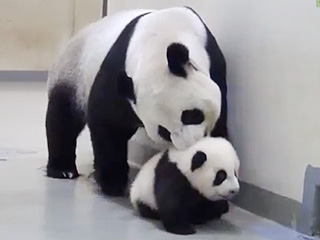 Parents, we all know Yuan Yuan's pain, don't we?

The giant panda thought she'd managed to get her cub, Yuan Zai, to bed – only to have her little one scramble away. And for a few precious minutes, Yuan Zai had her run of the enclosure at Taiwan's Taipei Zoo. (Start the above video at the 2:45 mark if you want to get straight to the action.)

But when Yuan Yuan realized where the 7-month-old cub had gotten to, she quickly came out and scooped her up by the fur. Try as Yuan Zai might, there was no convincing her mother to let her stay up late. In fact, Yuan Yuan kept a firm grasp on her baby girl until she fell back to sleep.
Exotic Animals & Pets
Get PEOPLE Pets Everywhere
Advertisement
Photo Special
Top Pets Category