Grooming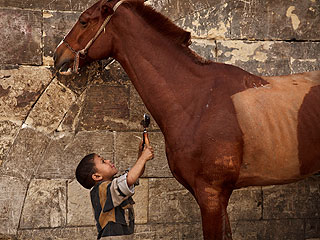 Credit: Maya Alleruzzo/AP
In the shadow of Cairo's medieval aqueduct, Mohamed Mustafa teaches his 5-year-old son the family's trade, one shear at a time.


And you thought celebrities had the craziest hair!

At Angela Kumpe's grooming studio in Arkansas, pet owners with a flair for the dramatic can give their dogs almost any look imaginable – looks so wild, they got their own TV show. The new Animal Planet special Clipped!, airing Friday, May 3 at 10 p.m. ET, follows Kumpe and her staff as they work to turn a loyal customer's pup, Buggy, into a bumblebee.

"I can transform dogs into almost anything," Kumpe says. "You name it, I can do it."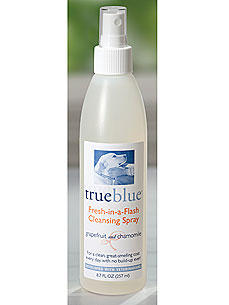 Between puppy playdates and trips to the dog run, finding the time in your (and your dog's) busy schedule to give him a bath can be a challenge. But thankfully there's a new in-between bath touch-up for your smelly friend: True Blue's Fresh-in-a-Flash cleansing spray ($11.99). It's like perfume for your pooch, masking odor until you can squeeze a scrub into his crammed social calendar.

The pleasantly scented spray, with hints of grapefruit, chamomile and lavender, conditions your dog's coat but doesn't weigh it down (or make it sticky!) like other sprays can. Developed with veterinarians, the detergent-free spray (which is biodegradable) is gentle enough to use every day, without worrying about build up.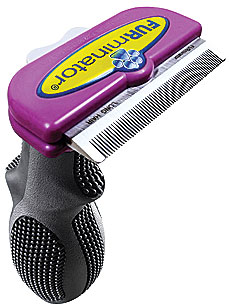 You know the old saying: if it ain't broke, don't fix it. So we were skeptical when FURminator said they had perfected the design of their deShedding tool for pets, which launched back in 2002. It turns out the latest design tweaks definitely improve upon on an already amazing product.

The new deShedding tool still removes an unbelievable amount of loose pet hair (say, enough to knit a large sweater), but it's now tailored to your pet thanks to a modified stainless steel edge. What exactly does that mean? Let's say you have an overweight short-haired feline: the short-hair, large cat tool will eliminate that flying fur. How about a micro-mini shorkie? Try the short-hair, small dog tool.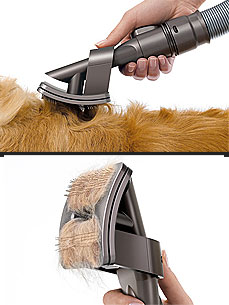 Not every dog can be a Westminster champion, but that doesn't mean they shouldn't try to look like one. With the new groom tool from Dyson, whose line of vacuums already works miracles in homes with animals, even the hairiest of pups can shine like a blue-ribbon winner.

Our test subject, a wiry-haired mutt named Rudy, is no Scottish Deerhound; at a mere 20 lbs., the former shelter dog is a bit skittish and can look like a wet white rat without even getting soaked. But he does share the medium-long fur of the recent Best in Show winner and, under the Dyson brush ($69.99), looked transformed (as best he could) into a well-groomed barking machine. The tool's 364 angled bristles combed his hair loose of knots and smoothed out the coat, even revealing a patch of color usually hidden in the twists of his fur. The surface area of the brush, about 6"x4", caught Rudy's loose hair efficiently, and perhaps even more impressive was the easy disposal of the hair: it gets sucked into the vacuum.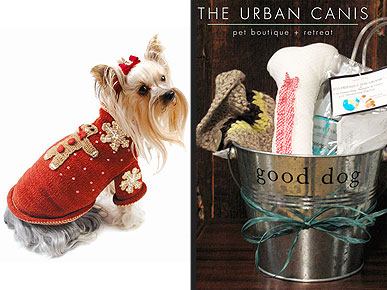 It's true: New York City has a pretty posh reputation, and New York City pups are just the same. Manhattan dogs go to daycare, dress up for Halloween parades, even meet celebrities like Carrie Underwood and Hilary Swank! With all this fanciness going on, there has to be a doggie boutique that exudes just as much class, right?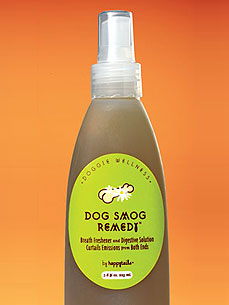 It's an issue most dog owners deal with at one time or another – those unpleasant gaseous emissions. My dog, Luther, a Dalmatian and lab mix, is one of the foremost flatulence offenders.

Luther's carrot, lettuce, and cucumber cravings are legendary. But, as a veterinarian friend once told me, "He's a good boy to be eating all his fruits and vegetables. Just remember, however, that it means he'll have lots and lots of gas!"

Indeed. I needed something that would counteract the nasty aromas coming from both ends of my gassy pup. So when I found Happy Tails' Dog Smog Remedy ($14 for a 7.6 oz. bottle), a breath freshener and digestive aid in spray form, it had Luther's name all over it. In fact, the name itself made the product too good to pass up; who doesn't enjoy a bit of adolescent, scatological humor now and then?

Made of natural aromatherapy ingredients, including fennel for improved digestion and dill to soothe the stomach, Dog Smog also had a host of plant-based enzymes such as papain and bromelain – plus parsley, ginger, grapefruit seed, peppermint, spearmint, goldenseal, sage, marshmallow, celery and papaya. Happy Tails co-founder Lorna Paxton, a certified aromatherapist, created the cleansing brew.

To tackle his dog breath, I began by squirting the spray into Luther's mouth six times twice a day. It apparently tastes great, because each time I come near him with the bottle he does that funny doggie lick with his tongue – you know, the one that says, "Mmmm. Something yummy is on the horizon!" I also sprayed it into his indoor and outdoor water bowls.

It took a few weeks of consistent use, but eventually I noticed a definite improvement in the indoor air quality. Dog Smog Remedy can really quell the smell quite well – especially at night, when those gaseous odors can swirl around the bed.

Happy Tails Canine Spa Line sells its products to more than 3,000 high-end boutiques and dog stores in 19 countries worldwide. Dog Smog Remedy is also available through the company's website.


See more dog grooming products on PEOPLEPets.com:

REVIEW: Nootie Turns Your Pooch into a Sweet Smelling Bouquet
Molly Mutt Nose How Good Dogs Should Smell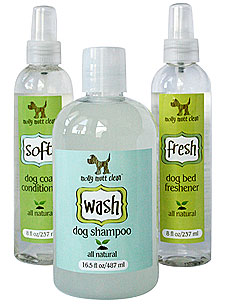 Last year we told you about Molly Mutt's innovative, stuffable and washable doggie duvets, which can make a tired old dog bed brand new in seconds. Now, from the same earth-friendly gang, comes a trio of products aimed at keeping your home – and your four-legged BFF – smelling so fresh and so clean.

Molly Mutt has solved the age-old problem of clean dog meets smelly dog bed. After soaking our canine tester in the Wash Dog Shampoo ($15 for 16.5 oz.), which is gentle enough for puppies, we let him air dry and then misted him in the Soft Dog Coat Conditioner ($12 for 8 oz. spray). The soap was fresh and minty and didn't irritate our pup's eyes, but the spray left his whiskers smelling a bit like air freshener. Not to worry, the Fresh Dog Bed Deodorizer ($12 for 8 oz. spray) came through in the clutch: Though it initially had a similarly musky scent, eventually the bed's stinky-ness was replaced by serene whiffs of lilac and patchouli.

As if that wasn't sweet enough, you can buy the entire Clean Up Kit online for $35. If e-shopping isn't your thing, hundreds of retailers (in the U.S. and abroad!) carry the fragrant liquid remedies – and that's pretty doggone cool!

See more grooming products on PEOPLEPets.com:
Going Organic with Opie + Dixie Grooming Gear
Nootie Turns Your Pooch into a Sweet Smelling Bouquet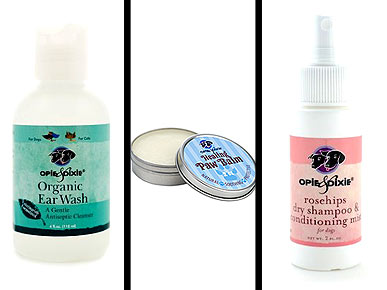 A few years ago, while trying to alleviate her rescue dog Opie's flaky, itchy dermatitis, Debbie Guardian was unable to find an all-natural cure.

The L.A.-based scriptwriter wanted to help Opie's immune system, but what she found on the market was lacking. She decided it was time to create her own healing fix, and, with the help of veterinarians and nutrition experts, Opie + Dixie's all natural line of supplements, vitamins and all-organic grooming products was born.

We recently got our paws on the line's new Healing Paw Balm ($14.95 for a 2 oz. tin), Organic Rosehips Dry Shampoo and Conditioning Mist ($14.95 for 8 oz.), and Organic Earwash for both dogs and cats ($12.95 for 4 oz.) and tried them out with a canine tester.

The Healing Paw Balm smelled amazing, but was somewhat of a hassle to apply: Our tester didn't love having his pads massaged and in the end it sort of felt like wishful thinking that we'd be doling out paw-dicures on a regular basis. But the sweet smelling hints of jasmine were motivation to keep trying.

After carefully following the instructions for the Organic Earwash, we had a cotton ball on hand ready to clean out the refuse. Alas, there really wasn't any -- perhaps our tester just has super clean ears?

Any skepticism we had about the earwash did not apply to the Rosehips Dry Shampoo. A quick mist and our grimy tester turned into a sweet-smelling furball. There was no sticky residue nor did he smell like he was coated in doggy cologne. It's a perfect hold-over between baths.

Made with real dogs in mind, Opie + Dixie organic products are a thoughtful way to treat your dog – and your senses! They're available at vendors nationwide and online at http://opieanddixieshop.com/.

See more grooming products on PEOPLEPets.com:
Nootie Turns Your Pooch into a Sweet Smelling Bouquet
Splish, Splash and Savor! Isle of Dog's Posh Bath Products
Grooming
Get PEOPLE Pets Everywhere
Advertisement
Photo Special
Top Pets Category