Pet Travel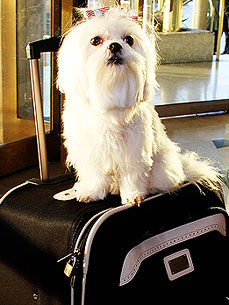 When Pink stayed with her dog Bubba at Keswick Hall, nestled in the Blue Ridge Mountains of Virginia, the pampered pooch feasted on special china.

During a trip to New York City's Hotel Gansevoort, Jennifer Love Hewitt's dog got locked out of her room, so hotel staffers "puppy sat" till the actress returned that night.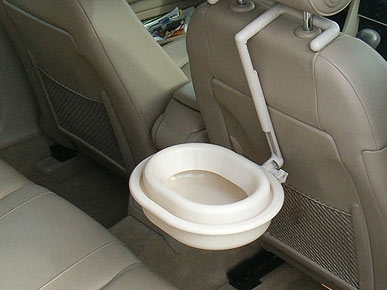 If there's a spectrum for dog behavior in moving motor vehicles, then my two dogs represent the opposite ends. My beagle is the carefree, head-hanging-out-the-window type – even on a frosty winter day. He'll get up on the dash, jump from the back seat to the front seat, try to get on my lap while I drive. As for my corgi, she can be found trying to wedge herself under the passenger-side seat, shaking so hard her hair falls out in clumps.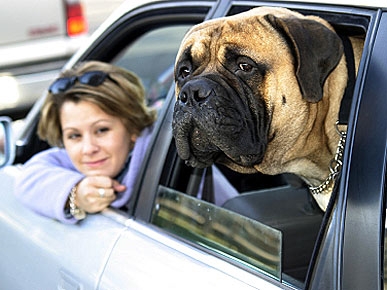 Can't leave home without your dog this Thanksgiving? Traveling with your pet may not be as difficult as you think. We spoke to pet expert Steve Dale, a certified dog and cat behavior specialist with the syndicated radio show My Pet World, about what you need to know for a smooth ride on the road.

Dale, who has several pets of his own – from a mini Australian Shepherd to a playful lizard – shares some do's and don'ts: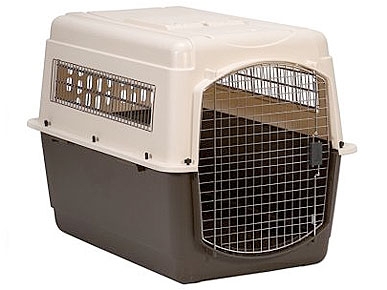 If you want to take Fluffy or Fido with you on that airplane trip to visit Aunt Millie in Nebraska, the most important item of your journey will be your pet carrier. Depending on the airline, your pet can travel in the cabin with you (for small animals only) or as checked baggage.

When it comes to checking your pet as luggage, airlines have strict requirements for size, type and material (plastic yes, wire no). Show up with the wrong kind of carrier and your pet can be refused boarding mostly for his safety. If it's collapsible, for example, that's a no-no, as it could crush your pet in transit.
A queen-sized bed, 48-inch flat-screen TV, a DVD player and a selection of movies – everything a weary hotel guest needs to spend the night in comfort.

And it's what dogs who check into D Pet Hotels in Hollywood can expect.

From business travelers to vacationers to reality stars to famous rockers (the hotel won't name their clientele for privacy reasons), D Pet Hotels caters to owners who want their dogs to have all the comforts of home – and then some.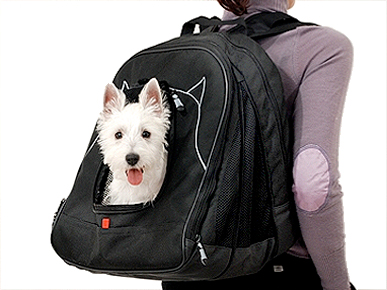 Fido? Check. Laptop? Check. Portable doggie dome? Yep, they all fit inside this futuristic new product.

If James Bond had to fight super villains while carrying around a Pekingese, here's the device he'd use–it's an origami puzzle of a backpack called Pets @ Work, and it lets you tote around your small pup, a foldable doggie dome and your laptop without using your hands.
A chic new hotel just opened in Amsterdam, with amenities including a luxurious pool and a tennis court. Unfortunately, you can't stay there – but your fish can!

Located in the city's Schiphol Airport, the Goudvissen Hotel holds finned friends for Dutch families heading off on trips. According to the news service NRC, vacationers who book their travels through travel agency D-reizen, which sponsors the hotel, will have access to the service. Each fish will get its own private suite (the fish swimming around the pictured tank are for display only) in order to keep them healthy and prevent them from getting mixed up.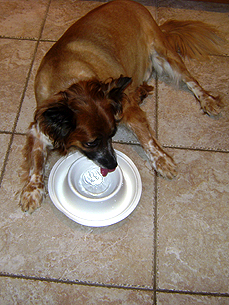 With the sunny days of summer comes more time spent outdoors – and more reason to keep your pet hydrated, wherever you may go. We found a perfect solution: Floaa's (For Love of All Animals) Dish-sposables, a biodegradable paper bowl designed specifically with your mobile furry friend in mind.

Unlike store-bought paper plates, Floaa's new reusable bowls – made from sugar-cane fiber – are 100 percent compostable! "I was inspired to develop something that would be sturdy, environmentally friendly and sanitary," Floaa owner Sharon Greenan tells PEOPLE Pets. "While feeding my own dogs on paper plates at times, I thought of developing something that would be biodegradable and sturdy."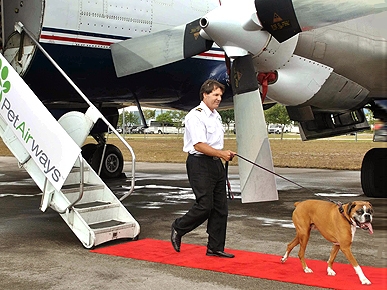 Your pets will be begging to fly on PetAirways, an animal-friendly airline launching July 14 and serving five cities – Los Angeles, Denver, Chicago, New York and Washington, D.C.

Among the airline's amenities, dogs and cats -- known as "pawsengers" -- won't have to ride in the cargo hold anymore, but instead get their own secured crate in coach. Before departure, they can relax in a pet lounge or enjoy a walk by an attendant. And on cross-country flights, PetAirways makes stops and removes "pawsengers" from the plane so they can take a potty break.
Just a few years ago I would have thought the idea of a stroller for my dog, Jolly, was absurd. Now I am the proud owner of what I call a Jollymobile – really a $130 Schwinn Instep trailer/stroller. And I'm not alone. As pets become more ingrained in our lives and live longer (though become frail), more of us buy strollers. I got a basic model technically made for kids, but there are plenty of far more expensive and stylish options out there designed just for dogs.
Pet Travel
Get PEOPLE Pets Everywhere
Photo Special
Top Pets Category