Pet Travel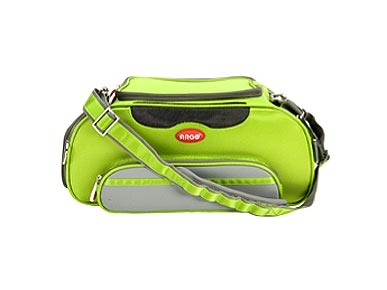 Picture this: You're on an airplane, flipping through a magazine as you reach 15,000 feet. You look away for just a moment and realize you've just lost your carry-on – your 5-lb. kitten.

This is the pickle I was in over the Christmas holiday. My cat, Mickey-the-escape-artist, found his way out of his carrier and into the aisle of the plane. Thank goodness he didn't make it very far and that the friendly neighbor beside me just cooed at him, instead of flipping out.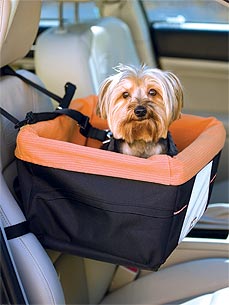 Little dogs everywhere, this is your lucky day. No longer need you envy all those haughty Weimaraners and Great Danes who get to ride in the front seat of cars and stick their heads out the passenger window (with their manes blowing in the wind like fashion models–oh, they think they're so cool, don't they?). Now you, too, tiny Shih Tzus and puny Pekingese, can get out of the back seat, sit up front next to mommy or daddy and finally see the world–thanks to the Kurgo Skybox Booster Seat.

It's a sturdy, cushioned container, roughly the size of a hatbox, that straps tightly to the upper half of any front passenger seat. Dog owners can simply plop their small pooches in the skybox (please, no pups over 30 lbs) and attach the dog's harness to an adjustable tether. The two-fold benefit: runts can ride next to the driver without the risk of getting tossed around, and they can see out the windows because they're elevated. I took my two Chihuahuas, Lady and She She, for a trial spin in the Kurgo Skybox and they loved it. How do I know? They didn't bark or yelp a single time, like they usually do when they're stuck in the back and feeling left out.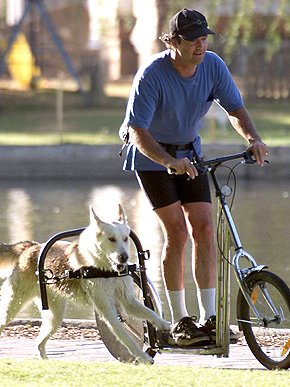 Riding a bike leashed to a high-spirited dog is like trying to peddle in a tornado: you never know which way you'll be jerked around. That's why Mark Schuette invented the dog-powered scooter. In the last six years he's sold 900 of the devices. The simplest ones start at $250, but some more elaborate ones require the purchase of an expensive bike that he'll modify.

The key, he told PEOPLE PETS, is that the the "dog's behind a steering wheel." He doesn't mean dogs are steering–rather they are physically held behind the steering wheel, harnessed to a strong bar. A traditional bike is dangerous with a dog, Shuette says, but with his dog-equipped scooters, skateboards and bikes "the rider has precision steering control with no dog commands or training. And [that's] way more appropriate for the urban environment."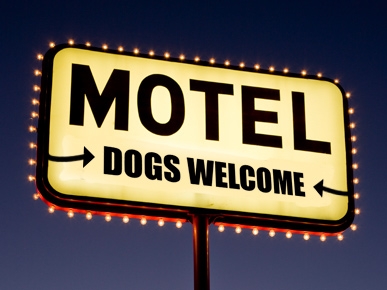 Before I found DogFriendly.com, it had never occurred to me that there are motels that take dogs. I'd seen my share of tiny dogs in laptop bags while flying coach, but except for the occasional cabin in the woods, we had never really traveled with our English Mastiff. But a couple of years ago, we were planning a cross-country drive and we couldn't expect Sofa, our dog, to sleep in the car. DogFriendly.com was the perfect resource for traveling with a dog, particularly one as large as ours. The site lists dog-friendly hotels and motels for every state, and that's only the beginning.
I've been using the traditional ugly cat carriers for years – plastic top and sides, metal doors. You know, the carriers that evoke terror in any cat that lays eyes upon them. The instant my cat sees our carrier he makes a mad dash for under the bed because he's aware that a trip to the vet is imminent. How DO they know?

Well, I've officially said sayonara to the days of trying to coax my feline out from under the bed. The Sleepypod cat carrier is the most innovative cat carrier I've ever used – and, believe it or not, my cat actually sleeps in it even when doesn't have to.
While it's easy for you to refuel with some bottled water when you're out and about, what can you do when your dog is dying for a slug?

Pure Breed Products, Inc., has introduced bottled mountain spring water for dogs, called Aqua Pure Breed. Packaged in miniature dog bowls with watertight lids (pink for girls and blue for boys), the H2O comes from Adobe Springs, Calif., and can be delivered directly to your home for around $60/month (that's for 48 servings). The bowls are recyclable, but you can always wash and re-fill with tap or bottled water to conserve waste. There are also two enhanced formulas, "Healthy Skin & Coat" and "Bone & Joint Support," enriched with vitamins and minerals to provide additional nutritional benefits.
If a sling is safe and easy for toting babies around, then why not create one for a dog or cat? That was the philosophy of the makers of baby sling Baby K'tan, who have introduced "pet-wearing" with their new pet carrier, Pet Teek, a cotton sling that can be worn three different ways to carry pets of up to 25 pounds, hands-free.

Ergonomically designed, the sling distributes the pet's weight across the wearer's back, and creates a comfy pouch that safely envelops your dog or cat when you're out and about.
Think of this new product as LoJack for dogs. Zoombak's GPS Dog Locator is a gadget that can locate your dog in real-time and send you alerts via email or text, telling you exactly where he or she is.

The first step is to attach the 2.5-oz. Zoombak locator to the pup's collar – only pooches that are 15 lbs. and over are big enough to wear this device, which is about the size of a box of Tic Tacs (the company is currently working on a smaller GPS for felines).
You see them everywhere: fancy dog carriers hanging off the shoulders of small-pet owners by brands like Louis Vuitton or Juicy Couture. Countless celebrities have them and, truth be told, it can be easier to carry your pup in a bag than in your arms, especially when traveling. Sometimes, though, it'd be nice to let your dog be out in the open, instead of stuffed in a dark bag with little chance to breath in fresh air. Enter the Puppy Purse, a hybrid purse/dog carrier that's soft and lightweight, and features four small holes for your dog's legs to slip into. The padded strap can be slung over your shoulder or across your chest and also doubles as a leash, allowing you to let your pet roam free at any time (additional tote-bag-like handles are also included). Reps for the company say the set-up is quite comfortable for your pooch, especially those with arthritis, broken limbs or other medical problems. Retailing for anywhere from $35-$95 online and in pet stores, Puppy Purses are available in a variety of patterns and colors, and in sizes small to XXL.
Pet Travel
Get PEOPLE Pets Everywhere
Photo Special
Top Pets Category