Pet Toys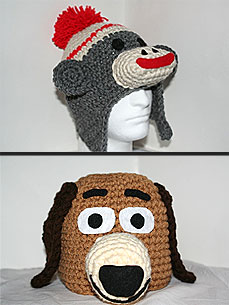 When Shawn Danielson's sister called in a panic two years ago because she couldn't get her young son to wear a hat on a cold Connecticut winter's day, Danielson knew she had just the tools to tackle the problem. Calling on her more than 30 years of crocheting experience, Danielson gathered her needles and yarn, and – presto! -- less than an hour later she had fashioned a warm (and fuzzy) solution.

"He loves bears, so I made a bear [hat] and he wouldn't take it off," Danielson tells PEOPLEpets.com. "He actually slept with [the hat] in his crib."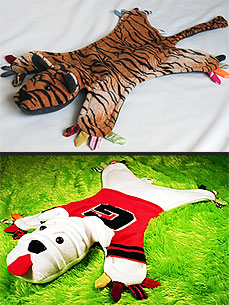 Lions and tigers and bears, oh ... cute!

Scary creatures get a plush and playful makeover in Kenzie Jardina's loveys -- think stuffed animal meets security blanket.

Employing lots of faux fur and a vivid imagination, Jardina designs and sews a variety of customizable comfort objects. Her Bewhiskered collection includes zebras, polar bear and bunnies, to name a few. The body of each animal consists of a soft fleece blanket; the heads and colorful fabric claws are stuffed and appropriately squishy.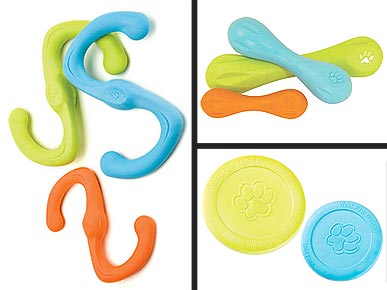 Though the West Paw Design Company assures customers that "good times come in small packages," we weren't initially sold on the new ZogoFlex collection. Composed of dishwasher-safe dog toys in neon hues, the collection ($7.50 - $12.50) looks like your set of average chews – but they come equipped with a durability guarantee. If your wet-nosed pal is capable of destroying one of their eco-friendly products, West Paw will refund your money in full or replace the product.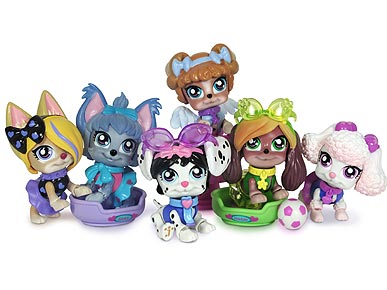 Move over, Zhu Zhu Pets. Nice knowing you, Webkinz. There are some new animal toys in town! Introducing Mix Pups, a line of plastic mix-and-match dogs with detachable legs, heads, hairpieces and clothing that make dressing pups a little less ... furry.

Okay, so no, they're not toys for dogs. But Roxy the Chihuahua, Annie the bulldog and Lucy the Dalmatian could be great starter pets for kiddos who don't have a real live furry friend just yet. Or just another tool to let imaginations grow.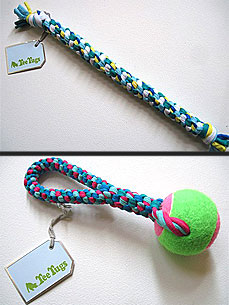 Duffel bag of old T-shirts, it's time to meet your destiny! Worn out tees get new life as colorful toys for dogs and cats thanks to Kaylin Mares, 23, who relives her days as a Girl Scout by knotting and twisting recycled cotton into durable TeeTugs for pets.

"I'd been purchasing all these random 'made in china' toys and they'd just fall apart right away," Mares, an animal lover, tells PEOPLEpets.com. "I had a duffel bag of T-shirts sitting in my bedroom from another project ... and it kinda spiraled from there."

Mares quickly went through her own bag of T-shirts and now relies on thrift stores for more supplies and welcomes donations to help keep her creations coming.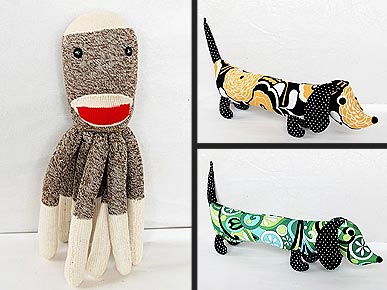 Sock Monkey, meet Socktopus!

The classic plush toy gets a leggy update thanks to Clarity Miller, a seamstress who spends her days creating stuffed animals from recycled sweaters for her adorable Etsy store, Friends of Socktopus.

"I started out with sock monkeys about 14 years ago," Miller tells PEOPLEpets.com. Eight legs later, it's the brown and white octopus that's just begging for a hug. Other designs have followed, like the wide-eyed Sweater Owl and colorfully cute Wiener Dog; now her house is full of miscellaneous animal parts just waiting to be assembled.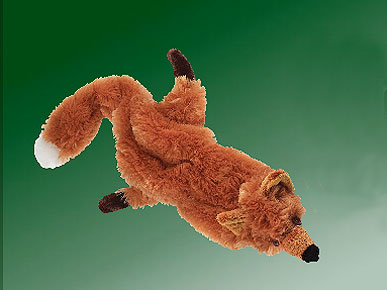 Rip, rip, rip and it's R.I.P. for your dog's new toy. Who hasn't watched their normally sweet and loving pooch turn into a vicious killer when faced with the chance of tearing through a stuffed toy? Well, one ingenious inventor, clearly sick of picking up fluff and toy remains from his home, has come up with the Crazy Critters – plush toys with no filling. So rip as hard as they may, there's nothing to pull out.
Gooooal! Everyone seems to be in on the current World Cup action – even Princes William and Harry are attending a match tomorrow. But what about your pets? You don't want them missing all the football (or soccer) fun, right?

Thankfully, one British company has unveiled a couple of slightly impractical creations that let your pet show its team pride – if you happen to live across the pond. Notably, there's the hamster pouch by Pets at Home (about $2), a tiny sleeping bag-like koozie that envelops your littlest pets in the English flag. It's "a great way to let your hamster celebrate the World Cup and keep him safe and warm," reads the company's website.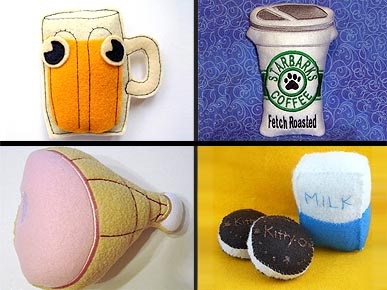 On Tuesday we told you about Stella, a 7-year-old bulldog that almost choked to death on a spare rib at a family barbeque -- yikes is right. So instead of tossing a human-sized treat to your furry pal at one of the many shindigs you'll be attending this summer, why not throw them the next best thing? A food or drink shaped toy!

We searched Etsy high and low for the cutest toys that will keep your pets happy and healthy throughout the summer festivities.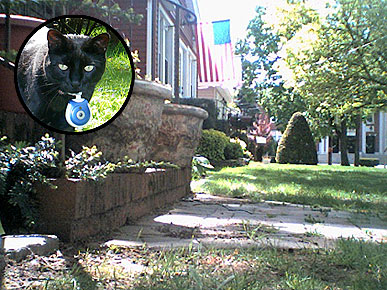 I've always wanted to see the world through my cat's eyes, but tying my bulky digital camera to his collar didn't seem like the best solution. Luckily, there's the Pet's Eye View clip-on digital camera ($39.99), a 2-in. by 2-in. device that exposes pet owners to what their furry friends see.

To test it out, I slipped the camera onto my cat Wolfie's collar, then sat back as he climbed over the fence, through the flowerbeds and under the car – all the while the camera automatically snapped pictures of his favorite haunts.
Pet Toys
Get PEOPLE Pets Everywhere
Photo Special
Top Pets Category