Pet Toys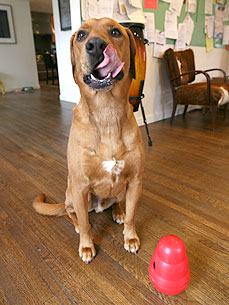 Credit: Courtesy John Korpics
My dog is Dewey pretty smart. He's a 3-year-old, 70-lb Lab/coon hound mix who can open doors, won't go outside if its below 50 degrees, and knows how to sneak into bed after we're asleep without waking us up. He is also smart enough to know how not to work when he doesn't have to. So when I filled the KONG Wobbler ($8.99) -- a new food dispensing toy meant to challenge your dog -- with his favorite treats, he wasn't exactly thrilled.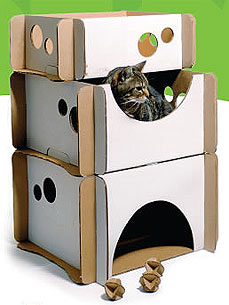 Cool looking kitty condos can often be hard to find. The market is flooded with shag carpet-covered co-ops which are plush but often tan, bulky and just plain ugly. I found what I was looking for in the Caboodle – it's a cardboard cat-condo that's easily assembled and comes complete with cutout cat toys. It was nice to have a stylish, more compact (and green – made with recyclable content and fully recyclable) alternative to those clunkier contraptions.

The completed Caboodle ($29.95-$32.95) is 20 inches wide by 30 inches high, arrayed on three stackable floors. It has a clean white exterior with holes along the front and sides for peeking and poking – and, of couse, holes inside to facilitate floor-to-floor climbing. Assembly was a quick, 1-2-3 affair. We tucked a towel in the bottom floor to cushion our cat's entrance and waited. Not surprisingly, Rose crawled in and stayed for a bit.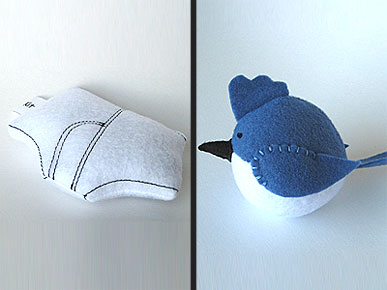 Let's face it, indoor cats get bored, so it's up to us, their owners, to give them something to get excited about. That's why we were pleasantly surprised when we came across Rita Russell's adorable eco-friendly catnip toys on Etsy. The cute designs – in shapes like dill pickles, tighty whities, and jellybeans – excite kitties, and us!


They're the official must-have toy of the holiday season, but how do Zhu Zhu petshold up against their ultimate adversary, a real cat? We made it our job to find out. The result was a brutal faceoff (cover your children's eyes!) and Nom Nom the Zhu Zhu pet didn't fare so well. Turns out size wasn't really the issue: The cat was also able to dropkick a more formidable opponent, the Lulu My Cuddlin' Kitty robot toy in Round 2!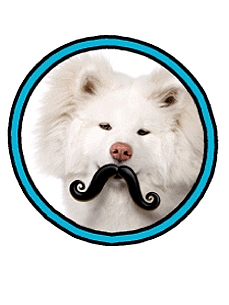 Let's face it, some dogs just don't like wearing Halloween costumes. So, for those party poopers we've found the perfect solution: Moody Pet's new Humunga Stache ($10). It's a massive mustache that's really a chew toy with a ball at the end! Made of non-toxic natural rubber, your pooch can chomp on the ball and inadvertently do his best Magnum P.I. impression – it's genius!

But the fun doesn't stop there. Moody Pet (creators of the addictive Fling-Ama-String for cats) also make the Humunga Tongue, a rubber tongue and ball in-one that can provide endless fun during any photo session. Just toss the toy and your dog fetches a dashing disguise!


There's a new cuddle toy out there for kids who, for whatever reason, can't have a pet (a sad reality that we can't even imagine!). Part of the FurReal Friends collection from Hasbro, Lulu My Cuddlin' Kitty ($54.99) purrs, blinks and turns over "just like a 'real' kitty cat," according to the press materials. Check out our video of Lulu in action – complete with tummy rub! – and tell us what you think of the toy in our poll!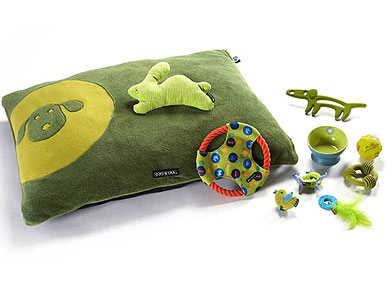 Your pet can never have too many toys. And now, there's a good excuse to purchase some more: Purina recently unveiled its new line of pet gear, including soft beds, fun toys and easy-to-use dinnerware. We got a sneak peek at the wares, and found some instant favorites.

The super-plush "Pooch Pad" ($24.99) is an oversized, eco-friendly bed filled with recycled polyester material. Machine washable, it comes in fun, bold colors and is adorned with a cute pooch-shaped face that your pup will cozy right up to. For cats, there's the "Cuddler" ($19.99), a circular resting place where your feline can curl up for a snooze.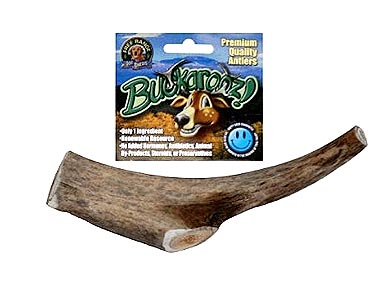 My French bulldog Lucy has allergies to just about everything out there, which makes giving her treats and toys a challenge. Even though she is dying to chomp on rawhide or the dental bones we see at the pet store, I feel bad because I can't buy them for her.

So, I was excited to hear about Buckarooz premium deer antlers, a new line of velvety chews that are all-natural antler shed by Rocky Mountain deer as they prepare for new ones to grow. Not only are they great for my dog and long-lasting, but they make use out of something that has already been "discarded" naturally by animals. It's like recycling nature!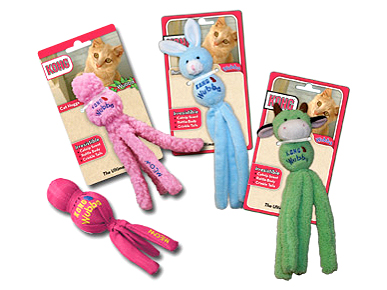 Dog lovers are well aware of KONG products – like those durable rubber toys that you stuff with yummy delights. But here's a news flash for cat lovers: The company recently launched an irresistible cat toy, the animal-shaped Cat Wubba.

The plush toy – which comes in colorful cow, bunny, duck, pig and mouse animal shapes – is filled with U.S.-grown natural catnip, a rattle, and a mysterious crinkly substance which makes each one crackle to the touch. It'll keep your cat entranced for hours; our feline testers chomped on theirs so much it was drenched with saliva! It's the purrfect pal for a cat that needs an indoor playmate. The added benefit of these buddies: Some of the Cat Wubbas come with a teaser pole attached so you can orchestrate all the fun!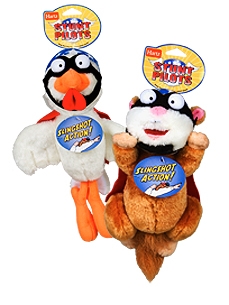 It's a bird! It's a plane! It's a ... squirrel? Hartz has created an adorable line of dog toys that may look like an ordinary plushy but really are superheroes in disguise! Using a hidden rubber-strap loop, you can sling a squirrel (or a chicken!) into an open area, sending Hartz's Stunt Pilot toys soaring through the air for a fun game of fetch with your furry friend.

Not only are the toys soft for cuddling (and cheap at just $7!), but the flying decoys with red capes come with sound effects. As the toy takes off, motion-activated sounds give your pup something to follow as he runs after his new pal. Real squirrels will thank their lucky stars they're not the ones being fetched and retrieved!
Pet Toys
Get PEOPLE Pets Everywhere
Photo Special
Top Pets Category