Talented Pets
[YOUTUBE "Tlewn6ucYAQ"]
The life of a Russian fox living near Chernobyl is probably an interesting one, but would you have guessed that sandwich-making would be among its pastimes?


Parrots usually get short shrift in the "heroic pet" category, but there's at least one bird in Idaho who's gunning for the title.


We've teamed up with one of our favorite sites, BarkPost, to bring you and your four-legged friends even more adorable pet videos, photos and must-see stories. Check back every week for new furry fun from BarkPost!
It's hard to tell when Joey the chihuahua zips by that he is only running with two legs.


Bambi is a new dog ready to learn new tricks.


Forget the Puppy Bowl on Feb. 1!

Okay, don't forget the Puppy Bowl (what are you, a monster?), but at least click away for a few minutes because Super Bowl XLIX will feature the triumphant return of the precious Budweiser puppy in the ad "Lost Dog."
There are a lot of heroic pets in the world, but none more unlikely than Ludwig.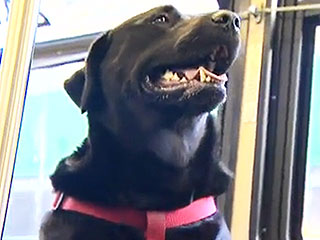 If you find yourself riding the bus sometime soon, you might find someone unexpected sitting it the seat next to you.


Jimmy Fallon and puppies: What more do you even need?

Well, how about football, too?

On Wednesday's The Tonight Show, Fallon called upon a snuggly pack of golden retrievers to look into the crystal (okay, metal) chow bowl and determine who will win the 2015 college championship between the Ohio State Buckeyes and Oregon Ducks.

As ever, the starting line-up consisted of Brad Johnson, Kyle McAdams, Mary Kennedy, Ted Mooney, Roger Blain, Lisa Armstrong and Gary Frick, Jr. (the heir to Fallon's dog Gary Frick, who predicted – unfortunately, alas – the 2012 Presidential election in favor or Republican Mitt Romney).
Diesel the dog isn't about to let these last days of summer slip away without showing off his new trick.


Talented Pets
Get PEOPLE Pets Everywhere
Photo Special
Top Pets Category