Talented Pets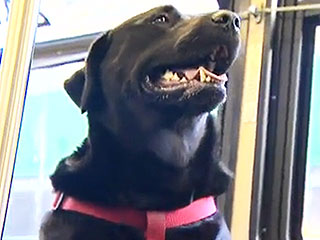 If you find yourself riding the bus sometime soon, you might find someone unexpected sitting it the seat next to you.


Jimmy Fallon and puppies: What more do you even need?

Well, how about football, too?

On Wednesday's The Tonight Show, Fallon called upon a snuggly pack of golden retrievers to look into the crystal (okay, metal) chow bowl and determine who will win the 2015 college championship between the Ohio State Buckeyes and Oregon Ducks.

As ever, the starting line-up consisted of Brad Johnson, Kyle McAdams, Mary Kennedy, Ted Mooney, Roger Blain, Lisa Armstrong and Gary Frick, Jr. (the heir to Fallon's dog Gary Frick, who predicted – unfortunately, alas – the 2012 Presidential election in favor or Republican Mitt Romney).
Diesel the dog isn't about to let these last days of summer slip away without showing off his new trick.


Just in case you're having a bout of "I can't" or "I won't" or "Why bother even trying?" we present to you this: five wheelcart dogs playing fetch alongside three able-legged dogs. Everyone is barking.


Surfers in general are not a tidy group of people, but there's only one who lives in a literal pigsty: Kama the surfing pig, who has quickly become the Internet's favorite surfing quadruped.

Kama met his current owner, Kai Holt, when the latter was on vacation. The piglet was living by himself on the beach when he wandered into Holt's cabana and soon found himself adopted. Only a little while later, he fell in Holt's pool and surprised his owner with a tiny doggie paddle – or rather, piggy paddle.

Amazed by Kama's love of aquatics, Holt started taking his pet along on his surfing trips; before he knew it, the little pig was hopping on the surfboard too. In February, the story of the surfing pig attracted a number of local news outlets, which then spread Kama's story to the mainland. The Internet had a new talented animal to celebrate!


Allowing consumers to make bold new fashion statements such as "I was mauled by a wild tiger," the Kamine Zoo in Hitachi City, Japan, has elected to raise money by auctioning off Zoo Jeans, which have been stylishly ripped by its own four-legged residents.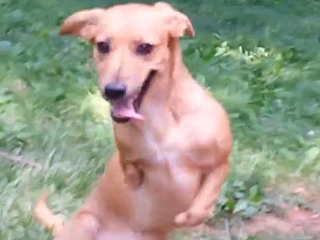 Hope is a pup that certainly lives up to her name. Even though this dog has been through some rough times, her adorable and friendly demeanor has never waned and now it's paying off.


Some dogs can fetch, others play dead, but here's a trick you probably haven't seen very often: This dog can fly.

Shadow, an Australian cattle dog, joined his owner, Dan McManus, high in the sky on Monday, accompanying him on a hang gliding flight with a specially made harness.

"He wanted to go along," McManus told Fox News earlier in July, "and he didn't really like to see me up there by myself."
If a movie deal won't put a smile on Grumpy Cat's face, we don't know what will.

The feline Internet sensation (real name: Tardar Sauce) is teaming up with Broken Road Productions to star in a feature film similar in nature to Garfield, reports Deadline.

"Rare is an image that evokes that much comedy," said Todd Garner, Broken Road founder and producer, who will help bring Grumpy Cat to the big screen along with partner Sean Robins. "You read all of the memes and the comments, and one is funnier than the next. We think we can build a big family comedy around this character."
Talented Pets