Talented Pets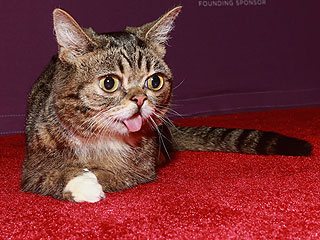 Credit: Robin Marchant/Getty
Is it time for my ap-paws?

While most celebrities walk the red carpet, Internet sensation Lil Bub took a decidedly simpler approach: taking a seat.

The famous feline was on hand for Thursday's Tribeca Film Festival premiere of the documentary Lil Bub & Friendz, which chronicles the popularity of its titular star and fellow Internet obsessions like Grumpy Cat and Keyboard Cat.
He may have retired from the silver screen, but Uggie hasn't left all of entertainment behind.

On Oct. 16, the four-legged star of The Artist will publish a memoir detailing his life in show business. Titled Uggie: My Story, the tome is dedicated to his Water for Elephants costar Reese Witherspoon, whom he dubs his celebrity crush.

Elsewhere in the tongue-in-cheek book, the Jack Russell terrier reveals he once got inebriated by drinking champagne from a glass that was left on the floor, and that he even killed a cat in his past.
Workers at the Bandai factory in Southampton, England, have found the purr-fect solution to their security needs: Millie, the Bengal cat.

As the factory starts receiving shipments of what will be this Christmas's most wanted toys, employees thought it best to add an additional security measure. Millie caught their attention while roaming around the warehouse, and was immediately deemed the best possible new hire as a result of her excellent climbing and hearing abilities and telltale meow.

"Millie has always had a very vigilant personality," said her owner. "I'm not surprised she took up a career as a security guard. The toys are lucky to have such an attentive guardian."
Keira Knightley found herself in a dogfight – for screen time – when her four-legged costar in Seeking a Friend for the End of the World turned out to be more of a screen hog than a screen dog.


Let's kick it!

A young Asian elephant named Donna showed off her athletic prowess while playing with a soccer ball at England's ZSL Whipsnade Zoo.

Donna displays considerable dexterity when it comes to kicking the ball around, not only with her feet, but with her flexible trunk. Not bad for a 2-year-old!
Leo Howard, star of Disney XD's Kickin' It, is an actor, model and martial artist who does most of his own stunts, but for all he's tried, he cannot skateboard. His 3-year-old bulldog, Bella, however, is a different story.


Whitetail Golf Course in Charleston, Me., has a very special amenity: Kayleigh, a 7-year-old golden retriever, acts as the golf cart valet.

Yes, for every golfer whose tired legs could use a break after driving around nine holes in a cart, Kayleigh is there, at your service. The friendly and energetic pup (and pet dog of Whitetail's owners, Scott and Shari Duthie) will meet you by your cart, take the keys and run them back to the clubhouse, saving you an extra trip – and earning herself a treat.
Looks like George H. W. Bush has some competition!

The former president of the United States has famously jumped out of planes to mark his birthdays, including his 85th in 2009. Perhaps taking a cue from our 41st leader, a 10-year-old pug named Otis has been making tandem skydives into his senior years as well. His latest, over Acampo, Calif., on Monday marked his 64th jump!
Who needs a calculator when you've got a dog?

Beau, a 12-year-old Labrador retriever, can help you solve all your math problems. What's the square root of 9? Ask him, and he'll tell you in barks – even if his owner, Dave Madsen, isn't nearby.

Madsen, of Missoula, Mont., started teaching his intelligent dog how to count when Beau was a puppy, and now Beau can answer a variety of complicated questions involving addition, subtraction, division, multiplication and more.
Talented Pets
Get PEOPLE Pets Everywhere
Photo Special
Top Pets Category