Talented Pets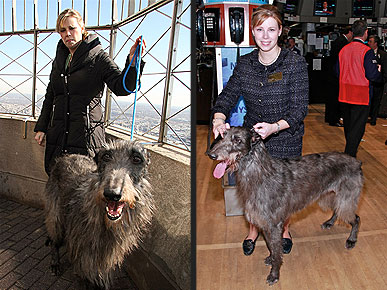 Credit: Janette Pellegrini/Getty, Charles Eshelman/FilmMagic
It's time to roll out the red carpet –there's a new star in town!

After being named Best in Show at the Westminster Kennel Club dog show, Scottish Deerhound GCH Foxcliffe Hickory Wind got the kind of treatment a champion gets in New York, with a VIP tour of the city's iconic sights.

On Wednesday, the first-ever Scottish Deerhound to win Best in Show rode to the top of the Empire State Building and took in the view (not to mention the strong winds that blow at the top of the skyscraper) along with his handler, Angela Lloyd.
It was a fight to the finish, but Scottish Deerhound Hickory was named Best in Show Tuesday night at the Westminster Kennel Club dog show in New York City.

Five-year-old Hickory, full name GCH Foxcliffe Hickory Wind, was a bit of a surprise choice; though the regal pup glided through the ring at Madison Square Garden, fan favorites like the bearded collie and Pekingese earned more applause. But it didn't stop judge Paolo Dondina from naming the pooch – the first ever Scottish Deerhound to win Best in Show – top dog.

"It was not an easy win," Dondina told reporters after the show. "It was a super win because all the other [dogs] were Best in Show winners in many places. I found the standard of the dogs and the presentation absolutely superb." But what stood out about Hickory – whom he called a "well-balanced" dog – was her beauty and showmanship. "I'm very happy," he said of his decision.
After four years of calling the biggest game of the year – Puppy Bowl, that is – referee Andrew Schechter can tell which dogs are going to be good sportsdogs, and which are going to be a little rowdier on the field. "If a puppy comes out of the starting lineup gate and starts to nip a little, starts to sniff around, starts to tackle puppies, I know that's a troublemaker," he says. Schechter, who is also an Associate Producer with Animal Planet, gets to work on shows like Dogs 101 during the off-season, but it's all in preparation for his biggest job, refereeing Puppy Bowl. PEOPLEPets.com caught up with Schechter during a break from Puppy Bowl filming.
What's a dog to do with 18,000 golf balls?

Sell them, of course.

Tilly-Miss, a 5-year-old Jack Russell terrier in England, has vending machines in pubs, clubs, golf courses and garages all over Europe. They are full of the bags upon bags of Titleists, Callaways, Top-Flites and Srixons that Tilly has been picking up since she was a 3-month-old puppy.

Naturally, the dog also has a website, and a blog written by her owner, Gary Carr. "Lots of Nike and Callaway balls retrieved today, adding to the huge selection we have in stock," Carr wrote on Jan. 20. "At this rate, come the start of the golfing campaign, we will have more than enough to last through the season."
"I call it the 'magic carpet ride,'" four-time Iditarod champ Martin Buser says of the famous Alaskan dogsled race. "Silently gliding over the snow-covered landscape with just the slight panting of the dogs and swishing of the runners – that's the drug. The addiction just grabs you."

And Buser certainly is addicted: the 27-time racer will sidle up to the starting line again on March 5, when the Iditarod kicks off in Anchorage. "I'm still young enough to try to win," jokes the 51-year-old, whose last victory in 2002 came in a record-breaking time of 8 days, 22 hours, 46 minutes and 2 seconds.

Buser, a married father of two, never meant to become a racer. Growing up in Switzerland, he trained Siberian huskies in his spare time before heading to college and eventually, into the military. After his service was done, a curious Buser moved to Alaska for a year to learn more about sled dogs, with "no intention" of staying for life. "But I got hooked," he says.


There's "caterpillar," "decoy," "tentacle," "bouncy" and, of course, "ball." If Chaser made a dictionary filled with all the words she knows, it would have many times the number that the average dog understands. The 6-year-old border collie boasts an astonishing vocabulary, and knows the names of 1,022 toys that she has been taught over the past three years.

Allison Reid and John Pilley, two psychologists at South Carolina's Wofford College, worked with Chaser in an intensive training program that included introducing new toy names one by one.
Tompkins Square Park, New York City's oldest and largest dog run, hosted its 20th annual Halloween Dog Parade on Saturday, and the contestants certainly did not disappoint.

Hundreds of dogs – and hundreds more humans – turned out for a beautiful fall day in the park, and watched as a stick of butter, a Breakfast at Tiffany's and even a mattress full of bedbugs made their way around the exhibition area.

Plenty of pooches won prizes, but the ultimate honor went to Gracie and her owner Dewey Moss. The pug played Scarlett O'Hara in Woof with the Wind, and her elaborate getup won first place in her round, as well as the title of Best in Show!
Zak Bagans hunts ghosts for a living. As the host and lead investigator of Travel Channel's paranormal show, Ghost Adventures, Bagans explores spooky and reportedly haunted locations throughout the world to bring out the ghosts.

It can be frightening work, but Bagans's newest coworker – Ridley, his tiny, 1-and-a-half-year-old Yorkshire terrier – is unfazed.

"I'm teaching Ridley how to hunt ghosts," Bagans tells PEOPLEPets.com. "He's good. I tried to see if he's sensitive to spiritual energy, and I think he is."


It started out as fun and games. Connie Baldwin would be playing pool in her Washington home, when her Chihuahua pup, Amadeus, would come sniff around, wanting to be held.

"One day, I just put him up on the table and said, 'Go get the ball,' " she tells PEOPLEPets.com. "He couldn't really bite them, but when I said 'Go get the ball' again, he started knocking them around." Every time the eager pooch would knock one into the pocket, Baldwin would praise him – and that's how the world's smallest pool player got his start.

"He just realized that's what you do; the balls go into the holes, then he gets praise," she says. "People say I didn't teach him the rules. I didn't – I just taught him to clear the table!"


It's party time! Shake it, little panda bear! Show us your groovy moves. Or, as this video's narrator says, "I'm itchin' my back, I'm itchin' my back. Oh, yeah." Not quite as fun as "I'm doing the lawnmower dance," but it still gets us in the mood to boogie.
Talented Pets
Get PEOPLE Pets Everywhere
Advertisement
Photo Special
Top Pets Category