Talented Pets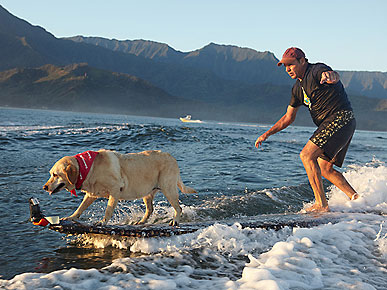 Credit: Courtesy of Billy Hamilton
The doggy paddle is so last year. When Labrador retriever Sava wants to make a splash, she takes a cue from her owner, legendary surfer Billy Hamilton: Sava hits her board.

Sava, now 11, first learned to surf as a puppy, when Hamilton would take her out on his boat in Hawaii.

"She'd get knocked off the bow by a wave, but she'd keep getting back up and sit in her forward position," Hamilton tells PEOPLEPets.com. "We started out in a boat getting our balance together and worked toward the board."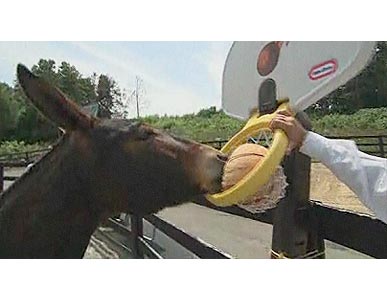 What a dunk!

With a little help from owner Steve Foster, Grace the mule scores during a game of pick-up basketball.

But putting the ball through the hoop is just the beginning of her show-and-tell display, which includes kneeling to pray, painting and playing catch.
Determination has paid off beautifully for one German teenager. Denied a horse by her parents, she quickly made due by riding – and teaching to jump – an animal at hand ... in her case, a cow named Luna.

"She thinks she's a horse," Regina Mayer 15, told the Associated Press from her home in the pastoral countryside near the Austrian border. And Luna acts like a horse, too.

"She was really well behaved and walked normally," Mayer said of training Luna shortly after she was born two years ago. "But after a couple of meters, she wanted me to get off! You could see that she got a bit peeved."
When you're a seal whose belly gets full by people throwing fish at you, you learn very quickly how to stand out. Charlie the seal has made a name for himself by waving at visitors who come to Howth Harbor in Ireland, where he beckons them to throw him fish, which they purchase by the bucketful nearby.

"He seems to have learned how to do this by imitating people," photographer Paul Hughes told the Daily Mail. "People love it – it gets him noticed and they wave back at him. And at the end of the day he gets to gobble up more fish than the other seals."

He may be a star attraction to people there, but Charlie's buddies are sick of his cheap tricks.
It's time to roll out the red carpet –there's a new star in town!

After being named Best in Show at the Westminster Kennel Club dog show, Scottish Deerhound GCH Foxcliffe Hickory Wind got the kind of treatment a champion gets in New York, with a VIP tour of the city's iconic sights.

On Wednesday, the first-ever Scottish Deerhound to win Best in Show rode to the top of the Empire State Building and took in the view (not to mention the strong winds that blow at the top of the skyscraper) along with his handler, Angela Lloyd.
It was a fight to the finish, but Scottish Deerhound Hickory was named Best in Show Tuesday night at the Westminster Kennel Club dog show in New York City.

Five-year-old Hickory, full name GCH Foxcliffe Hickory Wind, was a bit of a surprise choice; though the regal pup glided through the ring at Madison Square Garden, fan favorites like the bearded collie and Pekingese earned more applause. But it didn't stop judge Paolo Dondina from naming the pooch – the first ever Scottish Deerhound to win Best in Show – top dog.

"It was not an easy win," Dondina told reporters after the show. "It was a super win because all the other [dogs] were Best in Show winners in many places. I found the standard of the dogs and the presentation absolutely superb." But what stood out about Hickory – whom he called a "well-balanced" dog – was her beauty and showmanship. "I'm very happy," he said of his decision.
After four years of calling the biggest game of the year – Puppy Bowl, that is – referee Andrew Schechter can tell which dogs are going to be good sportsdogs, and which are going to be a little rowdier on the field. "If a puppy comes out of the starting lineup gate and starts to nip a little, starts to sniff around, starts to tackle puppies, I know that's a troublemaker," he says. Schechter, who is also an Associate Producer with Animal Planet, gets to work on shows like Dogs 101 during the off-season, but it's all in preparation for his biggest job, refereeing Puppy Bowl. PEOPLEPets.com caught up with Schechter during a break from Puppy Bowl filming.
What's a dog to do with 18,000 golf balls?

Sell them, of course.

Tilly-Miss, a 5-year-old Jack Russell terrier in England, has vending machines in pubs, clubs, golf courses and garages all over Europe. They are full of the bags upon bags of Titleists, Callaways, Top-Flites and Srixons that Tilly has been picking up since she was a 3-month-old puppy.

Naturally, the dog also has a website, and a blog written by her owner, Gary Carr. "Lots of Nike and Callaway balls retrieved today, adding to the huge selection we have in stock," Carr wrote on Jan. 20. "At this rate, come the start of the golfing campaign, we will have more than enough to last through the season."
"I call it the 'magic carpet ride,'" four-time Iditarod champ Martin Buser says of the famous Alaskan dogsled race. "Silently gliding over the snow-covered landscape with just the slight panting of the dogs and swishing of the runners – that's the drug. The addiction just grabs you."

And Buser certainly is addicted: the 27-time racer will sidle up to the starting line again on March 5, when the Iditarod kicks off in Anchorage. "I'm still young enough to try to win," jokes the 51-year-old, whose last victory in 2002 came in a record-breaking time of 8 days, 22 hours, 46 minutes and 2 seconds.

Buser, a married father of two, never meant to become a racer. Growing up in Switzerland, he trained Siberian huskies in his spare time before heading to college and eventually, into the military. After his service was done, a curious Buser moved to Alaska for a year to learn more about sled dogs, with "no intention" of staying for life. "But I got hooked," he says.


There's "caterpillar," "decoy," "tentacle," "bouncy" and, of course, "ball." If Chaser made a dictionary filled with all the words she knows, it would have many times the number that the average dog understands. The 6-year-old border collie boasts an astonishing vocabulary, and knows the names of 1,022 toys that she has been taught over the past three years.

Allison Reid and John Pilley, two psychologists at South Carolina's Wofford College, worked with Chaser in an intensive training program that included introducing new toy names one by one.
Talented Pets
Get PEOPLE Pets Everywhere
Advertisement
Photo Special
Top Pets Category