Pet Videos
[YOUTUBE "p4Zu-a1dWhk" "auto"]
Someone was not too happy about being locked in the car. Either that or this little pooch just stumbled onto the wonderful noise-making toy that happened to be embedded in the steering wheel.


Everyone, meet Charlotte. Charlotte is a baby flying fox from Brisbane, Australia.

Recently, heavy rains in Brisbane have damaged the local flying fox population, with casualties including Charlotte's parents. Fortunately, there are people like Denise Wade, a videographer who takes in orphans like Charlotte and cares for them until they're strong enough to return to the wild.

Wade's clearly going above and beyond for her charges: Look at the TLC Charlotte is receiving in this clip.
And we still haven't solved Monday's crossword.

Moritz is a pig who lives in Berlin, Germany. He happens to be very good at solving puzzles. Nicolle von Eberkopf, Moritz's owner, has trained him to perform a variety of tricks, and posts a ton of videos of the pig and her other pets to advocate for animals worldwide.

"Animals are an important part of our society," she writes in one her video posts.

And we're not disagreeing – can we get Moritz's help with our taxes?
Ah, there's nothing like a serene, airborne view of Dutch suburbs, is there?


What Super Bowl?

George the Golden Retriever likes all sports, according to his owner, but tennis is far and away his favorite.
You'd be hard-pressed to find something cuter.


Release the puppy!

Sure, it was fun to speculate about what might happen in Budweiser's Super Bowl ad "Lost Dog," but now fans of cuteness everywhere can enjoy the real thing.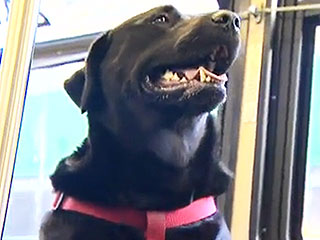 If you find yourself riding the bus sometime soon, you might find someone unexpected sitting it the seat next to you.


[YOUTUBE "rh87_hrVP5c"]
We'd like to introduce you to the canine Simon Cowell.


Pet Videos
Get PEOPLE Pets Everywhere
Advertisement
Photo Special
Top Pets Category