Pet Videos


Does your dog have stars in her eyes? Does she perk up whenever she's on camera? Maybe she's destined for fame, like the Taco Bell chihuahua, Gidget, who starred in more than 40 commercials in her long career.

The star canine's trainer, Sue Chipperton, co-author of the new book A Famous Dog's Life (co-written by People.com editor Rennie Dyball), stopped by the Today show Friday and gave Kathie Lee Gifford and Hoda Kotb her tips for making your pooch a screen sensation.
"All I ever wanted was a cat, and my mom wouldn't let me have one," says Lynea Lattanzio. Now in her early 60s, Lattanzio has not just one cat but nearly a thousand of them.

Lattanzio is the founder of Cat House on the Kings, a no-kill, no-cage sanctuary and adoption center in Parlier, Calif., that has been dubbed the largest cat rescue on earth. Her sprawling facility currently provides care for more than 700 cats, employs 25 people and is the only sanctuary of its kind on the West Coast.


To play Gargamel, the villainous sorcerer determined to destroy the lovable Smurfs, Hank Azaria had to put on fake bushy eyebrows, practice his evil grin – and act alongside a cat.

"If I wasn't a cat person before this film, I became one during the course of shooting," Azaria tells PEOPLE of his feline costar, who plays Gargamel's sidekick, Azrael. "One thing I can tell you about the cat? Cat's a good kisser."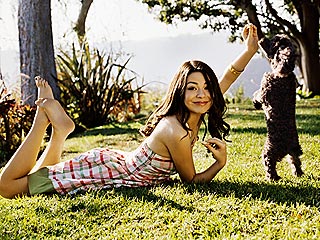 Miranda Cosgrove, the 18-year-old star of Nickelodeon's iCarly, has had the same best friend for the past 12 years: her toy poodle, Pearl.

So when the actress and singer was about to embark on her first concert tour this summer, she debated whether to let her petite gray pup tag along. "I wanted to bring my dog on tour really badly, but she's very old and I wasn't sure if she would be able to handle touring life," Cosgrove tells PEOPLE.
Comedienne Susie Essman may have played a cat in Disney's Bolt, but her heart is going to the dogs.

"Dogs, I think, are the greatest creatures in the entire world," says the Curb Your Enthusiasm star. "The only bad thing about dogs is that they have a short life span."
Well, what do we have here?
A playful pair of foxes reaches new heights after discovering a nearby trampoline in Colorado. "They were having lots of fun!" writes YouTube user
Samron
, who posted the minute-long clip.
How do you talk to someone who says they speak cat?
Working with animals can be a tricky thing, but sometimes, working with their owners can be even stranger. Filmmakers Rhett McLaughlin and Link Neal discovered just that when shooting the first episode of their new IFC show,
Commercial Kings
, in which the pair travel the country creating and shooting commercials for local businesses.
How does Blake Lively face her greatest fears?

By looking them square in the face – while safe behind the bars of a cage.

The actress told Jay Leno that she went shark diving while on location for The Green Lantern in South Africa.

"On the plane, I was hearing these flight attendants talk about shark diving. They said, 'You can go cage diving with great white sharks,' and I'm terrified of sharks," Lively said. "So, I said, 'That sounds like a horrible idea – let's do it!'"


After 25 years on the air, The Oprah Winfrey Show aired its final episode on Wednesday, and the woman behind it chose to sign off with one of her most loyal fans by her side: Her cocker spaniel, Sadie.

"Sadie, we did it!" Oprah Winfrey excitedly shouted as she picked up her pet pooch, and headed off towards her office. She had spent the last hour imparting wisdom, expressing gratitude and shedding tears. While cradling Sadie in her arms and taking comfort in the devoted pup, the talk show host walked further away from the camera, and the show's telecast drew to a close.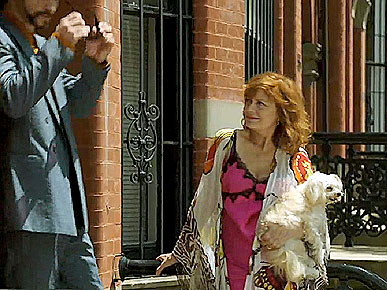 Penny is one step closer to realizing her Oscar dreams.

Susan Sarandon's Pomeranian-Maltese mix showed up briefly during an SNL digital short during the show's season finale on Saturday. In the video for the song "3-Way (The Golden Rule)," Penny rubbed shoulders with Justin Timberlake, Andy Samberg and Patricia Clarkson.

Sarandon reprised her role from 2009's hit song "Motherlover," in which she played Samberg's mother and Timberlake's lover. In the opening for "3-Way," Sarandon appears on the stoop outside a New York City brownstone in a fuchsia negligee.
Pet Videos
Get PEOPLE Pets Everywhere
Advertisement
Photo Special
Top Pets Category
Photo Special