Pet Videos
Ah, there's nothing like a serene, airborne view of Dutch suburbs, is there?


What Super Bowl?

George the Golden Retriever likes all sports, according to his owner, but tennis is far and away his favorite.
You'd be hard-pressed to find something cuter.


Release the puppy!

Sure, it was fun to speculate about what might happen in Budweiser's Super Bowl ad "Lost Dog," but now fans of cuteness everywhere can enjoy the real thing.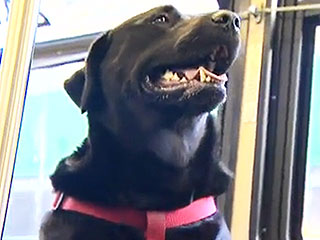 If you find yourself riding the bus sometime soon, you might find someone unexpected sitting it the seat next to you.


[YOUTUBE "rh87_hrVP5c"]
We'd like to introduce you to the canine Simon Cowell.


[YOUTUBE "J9P20HuX7mo"]
We can't stop watching this video of a dog riding around on a Roomba. Yes, the vacuum cleaning robot.


Peace on earth and goodwill to all adorably small animals.


Pet Videos
Get PEOPLE Pets Everywhere
Photo Special
Top Pets Category