Pet Videos
[YOUTUBE "J9P20HuX7mo"]
We can't stop watching this video of a dog riding around on a Roomba. Yes, the vacuum cleaning robot.


Peace on earth and goodwill to all adorably small animals.


[YOUTUBE "EZjFz5iN8BE"]
Kangaroo: 1, Drone: 0.


The top comment on this video's YouTube page pretty much sums it up: "Dogs > people."


Quite simply, this video of a six-year-old girl getting her long-awaited birthday present – a kitten – has shattered us.


You've seen Ariel before. But you haven't seen her in slow motion and as a dog.


Lesson learned: Zombies do not faze Maymo the Lemon Beagle.

Perhaps you've heard of Maymo. This dog gained online fame for videos showing his big reactions to mundane things – the lemon that gave him his nickname, for example, or a head of cabbage that he decided was the most precious thing ever.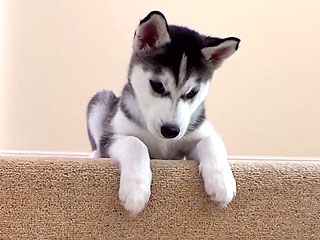 Paul Mather's husky puppy is not a fan of stairs.

The Bournemouth, U.K.-based dog (and her owner) first started tackling stairs in March 2014. Dakota, the puppy in the video, is not amused.
Pet Videos
Get PEOPLE Pets Everywhere
Photo Special
Top Pets Category