Pet Videos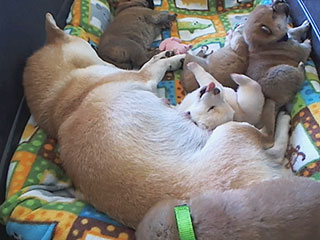 We've been waiting all year to say these words: The Puppy Cam is back.

It's been four years and four litters since the Internet discovered that watching lumpy, wiggly mounds of fluff could be the most engrossing and blood-pressure-reducing activity known to man, and it's a thrill to say hello to the latest group of Shiba Inu puppies from San Francisco.

This litter, named the D-Team, consists of five puppies: boys Dalichi and Dango, which means dumpling (could this get any cuter?), and girls Dosha, Daisuki and Dakota (the only one in the litter with a cream-colored coat).
These humans had a working vacation for a good cause.
Kristen Bell has a thing for sloths – by now, the whole world knows this.

The actress outed herself as an extreme sloth enthusiast this week when she told Ellen DeGeneres the story of how she suffered an all-out meltdown after fiancé Dax Shepard surprised her with a sloth visit for her birthday. What's there to love – so much – about the tree-dwelling animals?

"Whenever I'm feeling down, I Google 'baby sloth videos,'" she once said. "I challenge you to do it right now if you're in a bad mood and not absolutely have a smile on your face."
Fluffy, wide-eyed, bushy tailed – quite possibly the prettiest kitty we've ever seen.
What's the most frightening creature you can think of? Marvin Cruz, a burly, 47-year-old man with tattoos and a shaved head, can't think of anything worse than being in the same room as a puppy.
In fact, his
fear of pit bulls
is so debilitating that he cries at the sight of a pit bull puppy at a dog park.
Marvin is just one of the subjects of Animal Planet's
My Extreme Animal Phobia
, a series in which people who fear everything from birds to snakes to moths go through immersion-therapy treatment with psychologist Dr. Robin Zasio in order to overcome their phobias.
Just because they're animal lovers doesn't mean they're not fighters!
In the new Animal Planet web series
Dog Park
, viewers follow the lives of five New Yorkers working to keep their local dog park in shape while simultaneously getting to know each other better. And as with most reality programs, the quintet is no stranger to their share of drama.
In the new movie
50/50
, actors Joseph Gordon-Levitt and Seth Rogan put a funny spin on cancer – with help from a furry friend.
Gordon-Levitt, who plays a man suffering from a rare form of cancer, seems less than thrilled when his on-screen girlfriend (Bryce Dallas Howard) gives him a retired racing dog named Skeletor to help with the healing process.
"What, does he have a medical license?" he says, staring blankly at the doe-eyed pooch who looks like he just wants a hug.
An interview with the President of the United States is serious business, and Scholastic News kid reporters Jacob Schroeder and Topanga Sena kept things very professional for their interview with President Barack Obama.
The two members of the
Scholastic Kids Press Corps
asked their subject tough questions about the country's challenges and the importance of a good education, and they kept straight faces throughout the interview. But the President had other ideas.


When a baby gets on a scale, it's often a milestone of growth – and it's no different for the San Diego Zoo's newest hippo calf, 5-month-old Adhama, who last weighed in at just under 500 lbs.

The zoo's star baby has been captivating visitors since he was born (this, too, happened in front of an audience). He's been performing water ballets and exhibiting play behavior like biting his mother's face, which helps the teething process.
Does your dog have stars in her eyes? Does she perk up whenever she's on camera? Maybe she's destined for fame, like the
Taco Bell chihuahua
, Gidget, who starred in more than 40 commercials in her long career.
The star canine's trainer, Sue Chipperton, co-author of the new book
A Famous Dog's Life
(co-written by People.com editor Rennie Dyball), stopped by the
Today
show Friday and gave Kathie Lee Gifford and Hoda Kotb her tips for making your pooch a screen sensation.
Pet Videos
Get PEOPLE Pets Everywhere
Advertisement
Photo Special
Top Pets Category