Pet Videos
A Labradoodle named Gracie fell 200 feet off a cliff in Oregon – and survived.

Dog owner Michelle Simmons says Gracie and another dog were playing on a trail in the Columbia River Gorge in Cascade Locks, Oregon, when Gracie went over the side of the cliff.
Winter is coming! No really, here she is.

In this case Winter isn't a ominous Game of Thrones weather forecast, but an adorable little lamb. Shannen of Victoria, Australia, recently found the tiny farm animal abandoned at only a day old.

The woman took the wooly baby back to her house to keep an eye on, and quickly bonded with the lamb. Shannen decided to name her new pet Winter. The animal must approve of her new title, because any time Shannen shouts "Winter," the cutie comes running.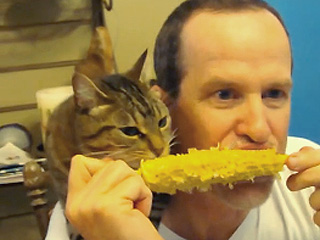 You've probably spent all morning breathlessly clicking VMA links about Miley Cyrus and Beyoncé and Jay Z and Blue Ivy, in anticipation of MORE Emmy links popping up tomorrow morning, BUT did any of those links contain a cat eating corn on the cob with her owner?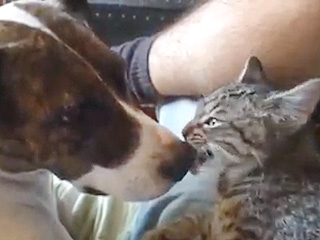 Blind dates are always nerve-wracking, even for animals. Carla Zanoni of New York City was worried that her four-year-old pit bull terrier, Getrude, would reject her newly adopted kitten named Earnestine.

Instead, the pets surprised Zanoni by quickly becoming enamored with one another. The video above shows the adorable behavior that has become normal for this animal odd couple. Apparently, Earnestine and Gertrude often spend their days cuddling together and exchanging sweet, interspecies kisses.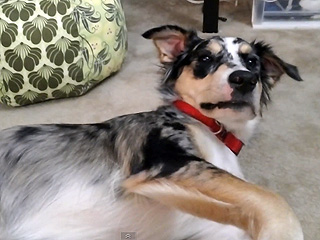 This introduction is perhaps more thematically appropriate for a Monday, but meet Freya the dog.


It's International Tiger Day, and some very special Internet stars are here to meow all about it.

Lil Bub, Princess Monster Truck, Pudge and more famous web moggies recently joined up with Greenpeace to create the video "Cats Save Tigers." Think of it as a "We Are the World" with more yowling.

In the clip, the kitties explain (with a little help from captions) that while tigers are the largest felines in the world, their numbers are rapidly declining. There are only 3,000 tigers left on Earth today, a depressing figure these cats hope to change.


It's time to meet your new spirit animal: Anderson Pooper.


Because Anastasia Steele and Christian Grey can't have all the fun.

When you're done watching the freshly released Fifty Shades of Grey trailer for, you know, the 500th time, you'll want to see these bulldog puppies in action (check it out below).
It has been nine years since the synth-loving rock band sElf has released a new album, but they certainly know how to make up for lost time.


Pet Videos
Get PEOPLE Pets Everywhere
Photo Special
Top Pets Category