Pet News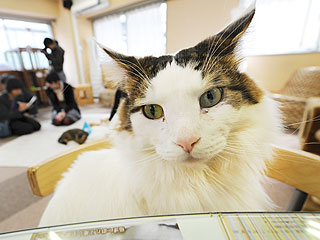 Credit: Toru Yamanaka/AFP/Getty
These stories are worth a click:

Known for being a little cat crazy, the Asian country is celebrating Cat Day, also known as Nyan Nyan Nyan Day, on Feb. 22. "Nyan" is the Japanese sound used to describe a cat's meow, and the Japanese word for the number two is "ni," close enough to "nyan" so that Feb. 22, which can be read as nyan nyan nyan, was designated Cat Day. –Washington Post

Results from an experiment conducted by researchers from France's National Veterinary School showed that dogs are capable of recognizing their own species. When presented with a random sample of photos of dogs and non-dog species, the test subjects were able to identify fellow dogs, even when presented with differing breeds. –International Business Times
These stories are worth a click:

Once again, Leonardo DiCaprio is speaking up for elephants: The actor is advocating for Thailand to ban all ivory trade within the country. Collaborating with the World Wildlife Fund, DiCaprio is encouraging people to sign a petition pressing Prime Minister Yingluck Shinawatra to outlaw the trade in an effort to save African and Asian elephants from illegal poaching. –AP

Reunited and it feels so good! After 10 years, a Nashua, N.H., man is back home with his dog Ginger, whom he hadn't seen since he got a divorce a decade ago. After his ex-wife first surrendered the dog to the Humane Society, an elderly couple adopted Ginger. The pooch was then taken back to the shelter last October when the couple could no longer care for her. When Ginger alas reunited with her original owner, who was looking through the Humane Society's website on a whim, she started licking his face. –ABC News
These stories are worth a click:

Ruh-roh! Britney Spears's newest canine addition left a Westlake Village, Calif., animal hospital wearing a pink bandage around its paw. Although there's no confirmation on the pup's injury, there's no doubt that she's found a paw-fect, doting mom. – Daily Mail

Some Denver drivers say bunnies aren't so cute and fuzzy: The animals are eating spark plug cables and other wiring on cars parked at the Denver International Airport. Federal wildlife workers are removing an estimated 100 rabbits a month, and parking companies are putting up better fences, along with perches for predator birds. – AP
These stories are worth a click:

That's what you'd call "winning"! A 15-year-old Florida girl, who was seriously injured in a freak amusement park accident, was shocked recently when actor Charlie Sheen donated $10,000 to buy her a therapy dog. "I like to pay it forward," the actor said. – AP

Want a long marriage? Get a pet. According to the U.K.'s Marriage Foundation, couples who adopt a dog or cat are even more inclined to commit to their marital vows than couples who have a baby. – The Telegraph
It was said when he fatally drowned at age 4 in 2011 that Knut the polar bear was immortal – and so he is.

A life-sized replica of the Berlin Zoo favorite will make its debut this weekend at the city's Natural History Museum, reports Time.com.

"It's important to point out that we have not stuffed Knut," museum spokeswoman Gesine Steiner told the U.K.'s Guardian. "Rather, this is a plastic form, true to the original and covered with Knut's very own fur."
These stories are worth a click:

Is your pet your Valentine? U.S. pet owners spend a total of $815 million on their furballs for Valentine's Day, according to the National Retail Federation. One in five animal lovers splurge on their non-human date to mark the holiday. –USA Today

Meet Mark, a 20-year-old man who's in a relationship with 15 inflatable animals. Profiled on TLC's My Strange Addiction, he admitted, "In the back of my mind it's just all in my head." –Gawker
These stories are worth a click:

Meet little Tasuku and his French bulldog Muu. Whether they're watching TV, sleeping on the couch or, you know, sleeping on each other, the two are perfect pals – and the picture-perfect photography subjects for the boy's mother, Aya Sakai. Her snapshots have already gained a following of 67,000 (and counting!) on her Instagram account. –Gawker

She's a hero – and now she has a home! After Sophie, a 2-year-old maltipoo from California, protected a 7-month-old pup from a lunging coyote, applications from across the country poured in to take her home. She was ultimately placed with a family from Seal Beach. –NBC San Diego
These stories are worth a click:

When it comes to winning big at the Westminster Kennel Club Dog Show, canine competitors are better off keeping it paw naturale. Westminster won't permit performance-enhanced dogs, including those who have had braces, cosmetic surgeries or use steroids. However, detecting illegal drugs is nearly impossible due the show's time constraints. –AP

Your favorite Internet pastime is now a marketing ploy: Litter Genie is promoting its cat product in a series of YouTube videos. In a recently released music video, felines take the spotlight to the tune of "Me Luvz Mahselfz," a song from Walter and the Lap Cats. –New York Times
These stories are worth a click:

A group of University of Utah workers won $1 million in the Idaho Powerball lottery after a little help from a furry friend. One of the workers, Steve Hughes, left his car running to keep his dog Stella warm, but found himself locked out after she pressed the manual lock. He then asked his girlfriend to purchase the lottery ticket in his stead while he worked on getting Stella to open the car's doors. –Yahoo! News

After rescuing black Labrador Sweetness from the euthanasia list at Manhattan Animal Care and Control, Kristin Livan, who works for rescue group Unwanted NYC Pets, was treated to a surprise: Sweetness was pregnant. Despite a bout of pneumonia, the 3-year-old dog birthed a littler of eight healthy puppies. –Examiner.
These stories are worth a click:

Stewie, the world's longest domestic cat, has died after a yearlong battle with cancer. He was 8-years-old and measured in at 4-feet long from nose to tail. "Stewie was always very social and loved meeting new people," remembers his owner Robin Hendrickson. "He has touched many lives, and for that I am grateful." –AP

A search team is crediting a loyal Labrador for helping them find the body of the dog's owner, who died while hiking in a New Jersey nature preserve. The dog's eyes reflected off the team's headlamps, police say, which lead the searchers to the 51-year-old man's body; there was no indication of foul play. –Huffington Post
Pet News
Get PEOPLE Pets Everywhere
Advertisement
Photo Special
Top Pets Category
Photo Special