Pet News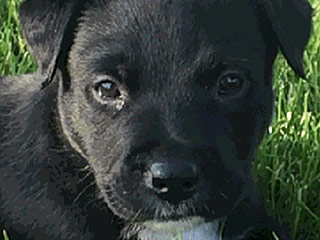 Credit: Sunrise Center Animal Rescue
It was a vacation to remember.

A group of friends camping in southern Illinois over Memorial Day weekend became the saviors of a group of animals abandoned in a hot van, according to FOX Houston.

One of the campers, Nick Achtien, shared a post about the incident on Facebook and recalled how he and his friends heard barking and saw people walking away from a vehicle in hot 82-degree weather.
Janese Walters considers herself lucky.

"I woke up one day and I couldn't see out of my left eye," she says. "I looked in the mirror and I thought I had pink eye or something."

Doctors were stumped, according to Toledo News Now, who first reported the story. Until Walters told them she has a cat.

"They discovered I had something called cat scratch," she shares.

Doctors say cat scratch disease is caused by a bacteria passed along by cats and kittens, through their saliva or even fur.
The Charleston Animal Society wants to find the person who did this to Caitlyn.

The 15-month-old dog's muzzle was taped shut with electrical tape this week and now the pooch may lose her tongue because the incident affected blood flow to the area, WLTX reports.

The society is offering a $1,000 reward for information leading to the arrest and conviction of whoever is responsible.

Caitlyn is a stray in a neighborhood in North Charleston and on Monday, area residents saw her and recalled her looking healthy, the report said. But Wednesday, she was found on the doorstep of a home with the tape around her face.
They say every dog has its day, and Poh is making the most of his with the help of his owner Thomas Neil Rodriguez.


And this, folks, is why you should always drive slowly through National Parks.


Deciding hoo to trust with your rings at your wedding is a big deal.

This couple chose an owl named Bilbo.

For his wedding last year, Shaun Palmer decided to surprise his bride Adele with an owl ring bearer – one reminiscent of Hedwig from the Harry Potter films – who flew down the aisle to deliver their rings to his best man. And, yes, there's video of the sweet exchange.
If you need some-bunny new to love on Instagram, then let us introduce you to Roux the cat.

The 1-year-old feline – who has more than 50,000 followers already – was born without front legs, but it doesn't hold her back one bit because she gets around by hopping like a bunny.

In an interview with Meowbox.com, the cat's owner Jackie Deak Akey says she rescued the cat last October after someone surrendered her to an animal shelter in New Orleans.
A dog in Colombia lived to see another day after a police officer rescued it from a raging river and used mouth-to-mouth to resuscitate it.

According to The Guardian, the dog fell into the violent current of the Liboriana river on Wednesday following a rainstorm, and two officers ran to assist after they spotted the pup flailing in the water.
Would the owner of this curious peacock please step forward?

The Scottish SPCA would like to a have a word with you about the bird's recent behavior.

According to a press release from the rescue group, the feathered creature tried to squeeze his way through a cat flap at a residence in Aberdeen, Scotland, on Monday. The peacock – who has since been named Felix – is now in the care of their animal rescue team in Drumoak.
Pet News
Get PEOPLE Pets Everywhere
Advertisement
Photo Special
Top Pets Category