Pet News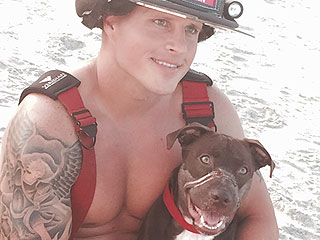 Credit: Caroline Eller
Pecs and paws – that's what the soon-to-be-released Charleston Firefighter Calendar is serving up for 2016.

One of the paw-some stars of the latest edition, which benefits abused animals, is Caitlyn, the South Carolina dog who made headlines in May when she was found with her muzzle taped shut.

As these photos show, this courageous pooch has clearly bounced back from the brink – surgery to reconstruct her lips, cheeks and tongue was successful – and, more than a month after her story came to light, she has moved in with a medical foster family, where a veterinary employee is currently caring for her, ABC News 13 reports.
We hope you can swim – because soon you'll be sitting in a pool of your own tears.

Kleenex's new ad featuring a man and his dog is designed to make you cry like a baby, and we think you'll agree that they've succeeded.

Chance and his owner Mike Williams have a lot in common, and the first thing is obvious: they both get around in wheelchairs.
A dog allegedly stolen from her owner at a New York park has been found dead.

The beloved cocker spaniel was stolen right before owner Lora Panossian's eyes at Crocheron park in Queens on Sunday, after two men allegedly punched her in the stomach.

The New York Daily News, who first identified the woman as 29-year-old Lora Panossian, said the thieves stopped her on a walk around 10 p.m. to talk with her about the dog.
It took two and a half hours to remove a seemingly infinite amount of dirty, matted fur. It was hardened and heavy, weighing five pounds.

But the horrific circumstances of Harry's rescue by a shelter in Kansas City, Missouri, don't end there. The Chow Chow is missing most of his nose and he's partially blind due to scarred corneas from his eyelashes growing into his eyes, reports FOX 4 KC.

Underneath all that fur, staff at the KC Pet Project found a sweet but emaciated dog, who suffered like this for far too long.
When actress Rachel Brosnahan saw an elderly dog alone and struggling in a Santa Fe, New Mexico, dog park, she knew she had to do something.

The Manhattan and House of Cards star was walking with her own two pups when she spotted the dog who appeared to be dehydrated.

"He kept trying to stand up on his front legs, but his back legs had totally given out, we thought he was injured," Brosnahan, who is filming the second season of Manhattan in Santa Fe, told KRQE News 13. "The poor guy had just been toasting out there I think. We brought him some water and called Animal Services."
Duck, duck, duck ... dog?

Meet Dug, the rescue dog who helps his owner, farmer Matt McDougal, raise massive amounts of ducks on his farm in Canada.

McDougal tells Inside Edition that the pooch was trapped in an apartment in a big city for the first 15 months of his life, so being outdoors with the birds is a treat (not the kind you swallow, since all of the ducks seem to be accounted for).
If you're swimming at the Jersey Shore, look out for the Man o' War.

Authorities with the Harvey Cedars Beach Patrol say one of the deadly Portuguese jellyfish-like creatures, also called the Man of War, washed up on shore on Sunday, and they have advised beachgoers to swim with caution.

"When the wind is coming from the northeast, warm water from the Gulf Stream comes to shore," reads a Facebook post with a photo of the electric-colored creature. "With the warm water, often comes seaweed & critters from down south. Always be aware of your surroundings in the ocean & always swim near a lifeguard."
It took a horrific travel experience to open Matthew Fiorillo's eyes to the power of pets. He was at an airport, and his flight was delayed for five excruciating hours.

"Tempers were flaring, and this woman walked by with a Maltese, and I just watched this wave of calm come over everybody," he tells PEOPLE. "I said, 'Wow, I have to implement this at the funeral home.' "

After two months, Lulu the goldendoodle is definitely part of the team at both of Fiorillo's Ballard-Durand funeral homes in White Plains and Elmford, New York. The dog is also a part of his family, too – when she's not working, she's his dog.
When People for the Ethical Treatment of Animals learned that a backyard breeder was trying to get out of the business by selling their animals on the Internet, the organization had to step in.

PETA negotiated a deal with the breeder to take all the animals, who were living in deplorable conditions.

"The cages were elevated off the ground, but there were just piles of feces underneath all of them," says veterinarian Heather Rally, in this video released by PETA. "One of the first things that I noticed was that there was an animal that was already dead in his cage."
A quadriplegic cat from Lancaster, England, is bringing attention to pets with disabilities in a very unique way: through his love of trains.

Twice a week the cat – who has no feeling from the neck down – visits the Lancaster train station with his owner to watch the trains pass by. He's become so well known to staff there that they have named him the station's official mascot, according to the Lancaster Guardian, who first reported the story.

"When a train pulls into the station Toby's eye's light up and his ears prick up and he just focuses on the train," the cat's owner, Julie Wilding, tells PEOPLE in an email. "His eyes never leave it. He loves it when the doors open and all the people get off and waits for them to close again and also enjoys it if anyone comes over to say hello and give him a head tickle."
Pet News
Get PEOPLE Pets Everywhere
Photo Special
Top Pets Category