Pet News
Clearly, Tux the dog has expensive taste.

The hungry French bulldog swallowed his owner's engagement ring and veterinarians had to step in to get it out of his stomach.

According to WSVN News, Jessica Farah tore her house apart looking for the missing ring last Wednesday.
Warning: scrolling here will cause a major decline in your productivity at work.

Jenny Pogue's foster cat had a litter of kittens recently, and the busy mother is accepting help from two unlikely nannies: dogs Lady and Louis.

The nurturing dalmatians from Washington state offer cuddles to the kitties for about an hour a day – and the cuteness has reached painfully high levels.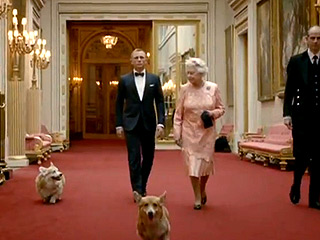 They're so synonymous with Queen Elizabeth that they sell soft toy versions in the palace shop and they appeared alongside her in her London Olympics mini-movie with Bond star Daniel Craig.

But the days of her corgis are numbered.
Murphy had a ball ... and then another and another and another.

The 7-year-old rescue pooch swallowed six golf balls and underwent emergency surgery to have them removed.

According to The Guardian, the dog's owner, David Larson, knew something was up when Murphy seemed ill after eating a bone.

Larson took the German shepherd to Westway Veterinary Group in Newcastle, England, where X-rays revealed a big bellyache.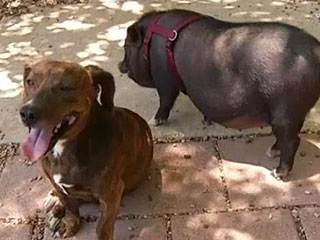 Jack loves Tuna. Tuna loves Jack. So, these two were a package deal at the Humane Society of North Texas, where both were waiting to find a forever home.

The only hitch? Jack is beagle mix and Tuna is a 6-month-old potbellied pig.
A British feline has eight lives left after a group of office workers saved her from the ledge of a busy bridge in London – and the daring rescue was caught on video.


Not even The Man can keep Sadi down.


Not even a bullet could bring Beefcakes down.

The stray pup was shot in the head at close range on July 7 and left in a parking lot in Boulder County, Colorado, according to CBS 4 News.

A concerned citizen notified authorities about the dog, and when they picked up Beefcakes, they found that the horrific act hadn't done a thing to the dog's friendly disposition.

Even with a bullet lodged in his face – which fractured his jaw bone in multiple locations – Beefcakes was, and still is, happy.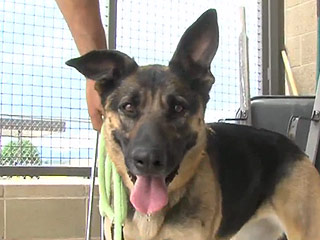 Animal protection authorities in Denver are asking for the public's help.

They're hoping someone will come forward with information leading to the person who taped an 8-month-old German shepherd's muzzle shut and taped her front paws together, then left the pup for dead over the weekend.

Good Samaritans helped the dog, who was found in the middle of the street and was soaking wet, according to Colorado's 9 News.
Bryce Casavant, a conservation officer working in British Columbia, Canada, was called to a home this past weekend to deal with a pair of black bear cubs who returned to the property after their mother had been killed for repeatedly raiding the home's freezer.


Pet News
Get PEOPLE Pets Everywhere
Photo Special
Top Pets Category