Pet News
The Velazquez family had lost hope about finding Cheiska.

Shortly after their German shepherd disappeared two years ago, Fracisco Velazquez got a call that a pup matching her description had been killed by a car.

This week the Chula Vista, California, family found out that it wasn't the right dog.


Last week she was found trapped inside a fithly abandoned building, with nothing to eat or drink.

Authorities are still trying to find the person who left Gigi the dog in such horrible conditions, according to Florida's WSVN News, after an anonymous tip led them to the 3-year-old pit bull, who was tied to the front door.

Despite the ordeal, the dog – named Gigi by Animal Services – is friendly and now looking for a forever home, as authorities try to piece together her story.
For Ivan Moreira, surfing is a lifelong passion.

The Brazilian personal trainer and amateur surfer has been catching waves since he was 5, but he caught the world's attention once he started inviting his Labrador, Bono, onto the board with him.

His Instagram account @bonosurfdog (Trust us, you're going to want to follow him, stat) is as adorable as you might think: there are endless photos of the pair hitting the waves together, and amazing videos of Bono enjoying the water.
IKEA already has the hearts of cats who've fallen for their Duktig doll beds, now they're fetching a few canine fans.

An IKEA in Cologne, Germany, has a dog parking garage of sorts, where customers can leave their leashed dogs while they go inside to shop.

The Daily Mail says the pooch parking spots are designed to prevent people from leaving their furry friends in hot cars in the sweltering temperatures – and it appears people and pets are loving the idea.
Clearly, Tux the dog has expensive taste.

The hungry French bulldog swallowed his owner's engagement ring and veterinarians had to step in to get it out of his stomach.

According to WSVN News, Jessica Farah tore her house apart looking for the missing ring last Wednesday.
Warning: scrolling here will cause a major decline in your productivity at work.

Jenny Pogue's foster cat had a litter of kittens recently, and the busy mother is accepting help from two unlikely nannies: dogs Lady and Louis.

The nurturing dalmatians from Washington state offer cuddles to the kitties for about an hour a day – and the cuteness has reached painfully high levels.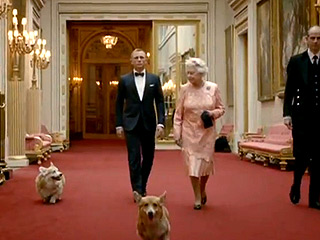 They're so synonymous with Queen Elizabeth that they sell soft toy versions in the palace shop and they appeared alongside her in her London Olympics mini-movie with Bond star Daniel Craig.

But the days of her corgis are numbered.
Murphy had a ball ... and then another and another and another.

The 7-year-old rescue pooch swallowed six golf balls and underwent emergency surgery to have them removed.

According to The Guardian, the dog's owner, David Larson, knew something was up when Murphy seemed ill after eating a bone.

Larson took the German shepherd to Westway Veterinary Group in Newcastle, England, where X-rays revealed a big bellyache.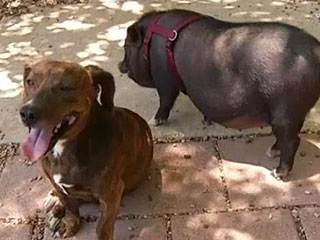 Jack loves Tuna. Tuna loves Jack. So, these two were a package deal at the Humane Society of North Texas, where both were waiting to find a forever home.

The only hitch? Jack is beagle mix and Tuna is a 6-month-old potbellied pig.
A British feline has eight lives left after a group of office workers saved her from the ledge of a busy bridge in London – and the daring rescue was caught on video.


Pet News
Get PEOPLE Pets Everywhere
Photo Special
Top Pets Category