Pet News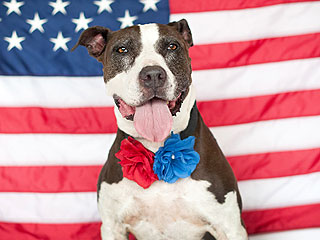 Credit: Getty
We know how excited your dog is about the Fourth of July – well, at least for your family's barbecue.

While it's fun to include your best buddy in the July 4th festivities like fireworks and road trips, it's important to be mindful of the dangers they can face as the temperatures rise. Now that it's summer, hot days, hot cars and hot pavement are just some of the most common hazards.

Our friends at the Humane Society Silicon Valley (HSSV) have put together this adorable infographic that offers 5 tips for keeping your pet safe this summer. Read it, make a summer pet safety plan and have a paw-some holiday!
A Texas cheerleader has infuriated many in the online community after posting photos that show her smiling while standing over wildlife she shot in Africa.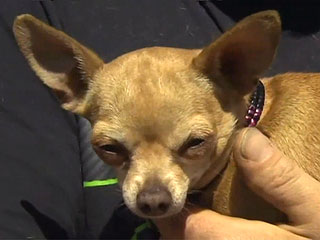 Somebody get this super dog a cape!

A tiny Chihuahua named Chloe from Federal Way, Washington, barked until her sleeping family woke up during a house fire – and she's being credited with saving their lives.

"My mom's little 5-lb. Chihuahua started barking when she saw the smoke," Devon Whittlesey told ABC 13 News. "Smoke was pouring into my room. I dropped down to my hands and knees and crawled to the front door."

Whittlesey and two other residents made it out fast thanks to the barking, but Chloe wasn't so lucky.
Firefighters in Bakersfield, California, had to rescue a pit bull from a tight spot.

The puppy had its head stuck through the hub of an automobile wheel when its owner brought it to a Kern County fire station on Friday.


A round of applause (or, ahem, appaws), please!

Not only has the owner of this adorable French bulldog somehow convinced her protesting pooch to go to sleep in his bed, but the pair are the winners of our first-ever PEOPLE Pets Awards viral video contest. You voted for this adorable puppy in our online poll – and we don't blame you.

Because we realize that videos like this one (which we affectionately call: "French Bulldog Doesn't Want to Go to Bed Yet, Mom!") can be as important to our existence as say, water, we set out to honor the classics that made us laugh, aww or otherwise distracted us from important duties at hand (like laundry).

Want even more pets goodness? Pick up this week's issue of PEOPLE, which celebrates the finest and furriest with the rest of the PEOPLE Pets Awards honorees.
Last week, Tiny the dog found himself in big trouble.

The Royal New Zealand Navy rescued the small pooch from a log drifting out to sea on Thursday.

According to the New Zealand Herald, crew from the Inshore Patrol Vessel HMNZS Hawea spotted the distressed pup standing on floating driftwood in Smokehouse Bay, Great Barrier Island.
What is Grumpy Cat's answer to every question ever?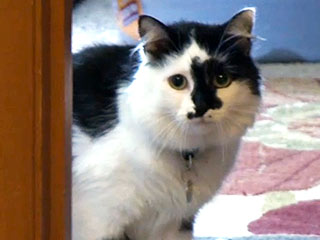 In theory, it certainly seemed like a match made in heaven – the world's leading cat behaviorist and the world's craziest cat.

In reality, however, things turned out differently for Jackson Galaxy, host of the Animal Planet show My Cat From Hell, and a 22-lb. feline named Lux, who made headlines around the planet in March when he allegedly flipped out on his owners, forcing them to call 911 for help.

"In the 20 years I've been doing this, I've never met a cat like Lux," Galaxy tells PEOPLE of his time spent trying to help the troubled feline, which viewers can see in an episode airing on Saturday, June 14. "I can say without hesitation that Lux is the most complicated character I think I've ever dealt with."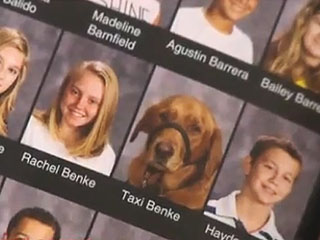 There's one paw-some student from a middle school in San Antonio, Texas's Northside Independent School District who won't be signing any yearbooks this year.

His name is Taxi. He's the adorable service dog of seventh grader Rachel Benke, and he's landed himself a spot in this year's yearbook.

So beloved is the pup by Benke (who has had epileptic seizures since birth), faculty, and students that his picture was placed right next to hers, just like another student. It's quite the honor for the Lab/golden retriever mix, who Benke's mother, Teresa Benke, describes as a "guide dog dropout" because he didn't succeed in guide dog training.
California Chrome is one horse on a hot streak! With the Kentucky Derby and the Preakness Stakes behind him, the 3-year-old thoroughbred is just one race away – the Belmont Stakes on Saturday – from becoming the 12th Triple Crown champion, a title that hasn't been given since 1978.

Named for the "chrome" white marks on his hair, he has the potential to be the first California-bred horse to take home the title.
Pet News
Get PEOPLE Pets Everywhere
Advertisement
Photo Special
Top Pets Category