Pet News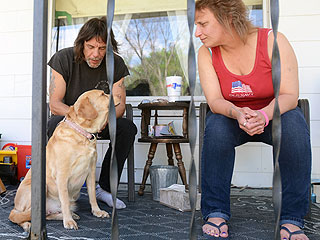 Credit: The Port Huron Times Herald/Andrew Jowett/AP
Ruby Mae knew something wasn't right.

During an early morning walk with her owner Leslie Green, of Port Huron, Michigan, the dog made a beeline for a neighbor's porch. There, an hours-old infant – with his umbilical cord still attached – was wrapped in bloody towels, just waiting for someone to help.

"She wanted me to go up [to the porch]," Green told Detroit's WDIV news. "So I get up there and I see this little dinky face, and I was freaked out."

Police told the local news station that the dog spotted the baby just in time: Had he been left outside any longer, the infant likely would not have survived.
Purr-fect is the best way to describe Craig Armstrong's unique mountain-climbing partner.

He adopted the stunning black feline named Millie from an animal shelter in Park City, Utah, and she is all he ever wanted in a sidekick.

"I go on a lot of weekend climbing adventures. I always figured when I have a pet friend, I'll take her with me," Armstrong tells Bored Panda. "It never seemed odd to me, just seems like something I'd do with my pet, take her places."
Ah, mothers: They're there for you when you need advice, a meatloaf recipe or, you know, a lift from the side of a busy highway.

Likewise, a baby bear got some much-needed help from Mom after the cutie nearly faced traffic near Kootenay National Park in Canada.

The mama bear comes to the rescue, reaching over the barrier to swoop up her little one in her mouth, reports FOX 59. She even manages with another cub by her side – motherhood, after all, is the ultimate balancing act.
Igor's family was leaving on a jet plane to Thailand. They knew when they'd be back again, but the poor little bulldog didn't.

So the patriarch of the family, from Lillestrom, Norway, decided to do something extra special for their adorable bulldog, who waited for them at a kennel while they vacationed.

He brought home to Igor.

In this YouTube video uploaded by a paint supply company, Igor's dad, Kai, secretly transforms a dog kennel into a little slice of home – complete with the family's couch, pillows and pictures lovingly placed throughout – so the pooch will be comforted by familiarity while he's temporarily living at his home away from home.


Now here's a question we're sure nobody's asked Tara, the cat who has been applauded the world over for saving a 4-year-old boy from a vicious dog: Have you ever considered an acting career?
Basically, 1990 was a big year for cats. Paula Abdul danced with MC Skat Kat in her popular music video for "Opposites Attract," her dance jam that hit No. 1 in February, and Janet Jackson sang about a hard-living "Black Cat."

And then, of course, Poppy the cat was born.

Twenty-four years later, the elderly kitty from Bournemouth, England, has become a superstar in her own right: She's been named the oldest living feline by Guinness World Records following the death last year of 23-year-old Pinky the cat from Kansas.

What's her secret to longevity? A solid diet and lots of exercise says her owner, accountant Jacqui West, who also shares her home with four other felines, two rabbits and a hamster.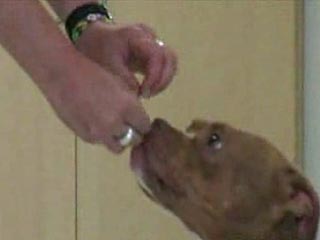 Cindy Koch has met her perfect match.

The Nebraska woman has fallen for a 3-year-old pit bull, who is deaf just like her.

According to California's KTLA news, Rosie the dog had a rough time finding a forever home since dogs with disabilities can often be overlooked at animal shelters. So, as she waited to meet her match, workers at the Humane Society in Aurora, Nebraska, taught her sign language.
A tiny Chihuahua got into big trouble on Friday.

California Highway Patrol officer Alex Edmon told NBC's Bay Area affiliate that officers received a call about a small dog sitting atop a concrete divider on busy Interstate Highway 680 in Walnut Creek, California, during rush hour. When Edmon, a dog lover, and his partner arrived at the scene they did their best to rescue the pooch and later Tweeted a photo of their effort.

"We attempted to coax it, we could tell it was very frightened, it was shaking – we were able to pet it a little bit, but other than that we could tell it was not happy," Edmon said.
In the weeks since his beloved cat disappeared, Justin Beswick has been anxious and his speech has deteriorated.

Doctors believe the 19-year-old, who was diagnosed with a degenerative disease nearly four years ago, has just 18 months to live and his mother, Tania Huxtable, is desperate to get the cat back.

According to Australia's The Advertiser, the fluffy indoor feline named Oreo disappeared on April 18 from the family's home in Adelaide. Huxtable says she has hired a pet detective, posted signs and walked door-to-door in her neighborhood in an effort to find the ragdoll cat that means so much to her son, whose brain and spinal cord function are deteriorating due to juvenile Leukodystrophy.
Like so many people, Luke Robinson has been touched by cancer more times than he would care to remember.

In 2008, after his dog Malcolm died of metastatic bone cancer, the former businessman and his two other pups, Murphy and Hudson, embarked on a 2,300-mile journey that took them two years and helped raise funds and awareness for canine cancer. When they arrived in Boston from Austin on their final mile of the trek, Robinson noticed Murphy had a snotty nose.

"We just thought, 'Well, it's been a long journey,'" he tells PEOPLE. Sadly, it was a sign of something much more serious.
Pet News
Get PEOPLE Pets Everywhere
Advertisement
Photo Special
Top Pets Category