Pet News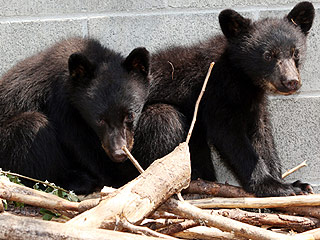 Credit: Chad Hipolito/The Canadian Press/AP
Bryce Casavant, a conservation officer working in British Columbia, Canada, was called to a home this past weekend to deal with a pair of black bear cubs who returned to the property after their mother had been killed for repeatedly raiding the home's freezer.


If you're looking for luck, pick this Penny up.

The stray dog is doing well after being hit by a train on Monday.

According to CBS 6, animal control officers were called to train tracks in Richmond, Virginia, when a worker spotted the pit bull pup. "I noticed her laying on the tracks, and I thought she had passed away," said Chris Fussell.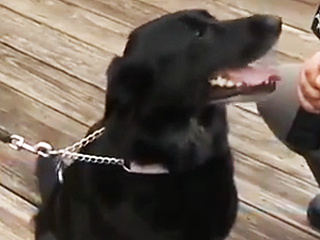 If your hair tie has gone missing, chances are Tiki the black Lab has it.

The pooch from Mars, Pennsylvania, swallowed 62 of them – plus eight pairs of underwear! – and underwent surgery last week to have them removed from her belly.

The mysterious case of the missing hair ties began when Tiki didn't respond to medication to treat vomiting and lack of appetite. An X-ray showed a mysterious mass in her stomach, WTAE News reports.

Surgery last week by Dr. Ibrahim at the Good Shepherd's Veterinary Hospital was interesting to say the least.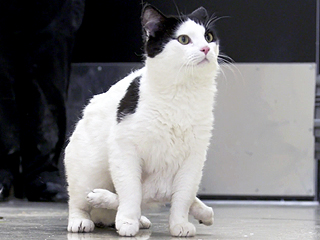 Walking in Pauly the cat's shoes is more unusual than you'd expect.

The stray has six legs, two of which are attached to his sternum and need to be surgically removed.

The cat, reports Canada's Edmonton Journal, was scooped up by some helpful animal lovers in April and taken in by the Little Cats Lost rescue in June when he started having trouble getting around. On Monday, the rescue started an online fundraising campaign to pay for his surgery; the fund has already raised more than $3,400.
Fudge worked hard and it has finally paid off.

The 6-year-old cocker spaniel donned a graduation robe and walked with his owner Jack Proctor at his graduation on Tuesday.

The pup, who donned a robe specially made by Proctor's wife, was given the honor because he helped Proctor complete a series of assignments as he studied for a degree in design and digital arts at Scotland's Edinburgh Napier University.

Whatever time Chester has left, it will be well spent.

That's the philosophy of Nicole Elliott, who recently adopted the terminally ill pooch from rescue group in Columbus, Georgia.

The senior dog, who was given up by his owners to a kill shelter earlier this year, has cancer, and Elliott has decided to make his last days his best ones yet, according to WTVM News.

"I slept on it, and woke up knowing it was the right thing to do," she said. "I knew that it would be my responsibility to make his final days the best I could, to mine and his ability. I arrived before the shelter opened, and they let me in to get him. I fell in love the moment I saw him."
Pecs and paws – that's what the soon-to-be-released Charleston Firefighter Calendar is serving up for 2016.

One of the paw-some stars of the latest edition, which benefits abused animals, is Caitlyn, the South Carolina dog who made headlines in May when she was found with her muzzle taped shut.

As these photos show, this courageous pooch has clearly bounced back from the brink – surgery to reconstruct her lips, cheeks and tongue was successful – and, more than a month after her story came to light, she has moved in with a medical foster family, where a veterinary employee is currently caring for her, ABC News 13 reports.
We hope you can swim – because soon you'll be sitting in a pool of your own tears.

Kleenex's new ad featuring a man and his dog is designed to make you cry like a baby, and we think you'll agree that they've succeeded.

Chance and his owner Mike Williams have a lot in common, and the first thing is obvious: they both get around in wheelchairs.
A dog allegedly stolen from her owner at a New York park has been found dead.

The beloved cocker spaniel was stolen right before owner Lora Panossian's eyes at Crocheron park in Queens on Sunday, after two men allegedly punched her in the stomach.

The New York Daily News, who first identified the woman as 29-year-old Lora Panossian, said the thieves stopped her on a walk around 10 p.m. to talk with her about the dog.
It took two and a half hours to remove a seemingly infinite amount of dirty, matted fur. It was hardened and heavy, weighing five pounds.

But the horrific circumstances of Harry's rescue by a shelter in Kansas City, Missouri, don't end there. The Chow Chow is missing most of his nose and he's partially blind due to scarred corneas from his eyelashes growing into his eyes, reports FOX 4 KC.

Underneath all that fur, staff at the KC Pet Project found a sweet but emaciated dog, who suffered like this for far too long.
Pet News
Get PEOPLE Pets Everywhere
Photo Special
Top Pets Category