Hero Pets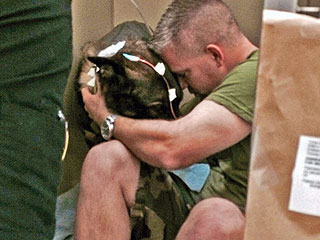 Credit: Courtesy CBS
A police dog named Bruno is recovering after being shot during a parole check in Anaheim, Calif.

The 7-year-old German Shepherd had emergency surgery to remove a bullet from his lung and repair his jaw after a man began shooting at police officers on March 20. Bruno was injured after guiding officers to where Robert Moreno Jr., a known gang member, was hiding.

"The dog alerted that the suspect was hiding behind a trash can. As they went up, the suspect stood up and started shooting at the direction of the officers and purposely aimed at the dog, shooting the dog," Anaheim Police Lt. Tim Schmidt told CBS Los Angeles.
Ashley Ransley says she owes her life, in part, to a cat named Riley. It was back in 2008 when Ransley, who had battled anorexia while in high school and college, had left yet another treatment center and resigned herself to the idea that her disorder would ultimately kill her.

"She was dying," recalls her mom, Nancy Day, 66. "There was nothing we could do to reach her."
Hunter the dog is more than just an adorable face.

Just two weeks after finding a forever home, the husky-mix puppy thanked his adoptive family by rescuing them right back.
Before he was even 2 years old, toddler Dylan Lipton-Lesser had undergone 15 brain surgeries due to a condition known as hydrocephalus, an excessive buildup of fluid inside the brain. But there's an upside – he's been able to find comfort in a friend who's experienced something similar: puppy Frank, a Chihuahua-dachshund mix with the same condition.

"As a very young puppy Frank clearly had a really big head," Amy McCracken, executive director of the no-kill shelter Richmond Animal League told TODAY.com. "We transfer animals from municipal shelters that are in danger of being euthanized, and that's how we got Frank."

Frank was placed with a foster family, and aside from suffering a seizure at 8 weeks old, thrived under their care and with regular doses of a seizure-controlling drug. When it became clear that concerns over his medical care were preventing potential adopters from signing on the dotted line, Frank's foster parents were prepared to make him their forever pet – until Stacy Metz stepped in.
The Taliban said Friday that they have captured a military dog belonging to NATO forces in Afghanistan, releasing a video of the canine wearing a high-tech harness.


Cecil Williams, whose life was saved by his guide dog after he fell on New York City subway tracks, will get to keep his pooch after animal lovers donated money to pay for the retiring pup's expenses.

Williams, 61, faced finding a new home for Orlando, the Labrador who jumped on the tracks to revive him after he fainted, because the 11-year-old pooch is getting to be too old to be a guide dog and the owner's insurance plan doesn't cover the expenses of nonworking dogs, the New York Post reports.

Guiding Eyes for the Blind, which trained Orlando, created a fund to help Williams keep his brave pup, and animals lovers have also donated more than $55,000 on the crowd-funding site Indiegogo so that the pair can stay together. "The spirit of giving, Christmas and all that – it exists here. It's in New York," a tearful Williams said from his hospital bed on Wednesday.
A blind man and his guide dog were struck by a subway train in Manhattan on Tuesday after the man lost consciousness and they tumbled on to the tracks, but both escaped without serious injury.

Cecil Williams, 61, told The Associated Press from his hospital bed that he was on his way to the dentist during the morning rush hour when he felt faint on the 125th Street platform. His guide dog, a black Labrador named Orlando, is trained to protect him from going over the edge.

"He tried to hold me up," Williams said.

Witnesses said the dog was barking frantically and tried to stop Williams from falling, but they both fell to the tracks when Williams fainted.
Rescued dogs have found their poster pup!

A once-homeless dog named Rupee is believed to be the first canine to make it to the base camp of Mount Everest at 17,000 feet.

Rescued by Joanne Lefson from a garbage dump in Northern India, Rupee was malnourished, dehydrated and on the verge of death when she found him.

"When I saw him on that dumpsite, he couldn't have had more than an hour to live. He couldn't even walk 10 meters without collapsing," Lefson, an animal activist, said in the U.K.'s Daily Mail.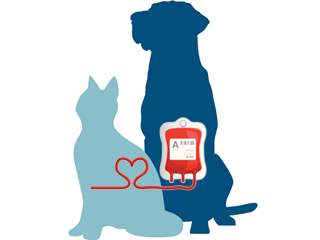 There's no furry rivalry here. When New Zealand resident Kim Edwards realized her cat Rory had ingested rat poison last week, she turned to a risky paws-ibility to save her pet's life: dog blood.

After bringing Rory to her local veterinary clinic, Edwards was informed the cat needed an immediate blood transfusion to save its life. With not enough time to send a blood sample to the lab to determine Rory's blood type, Edwards called upon her friend Michelle Whitmore for help.

The vet retrieved blood from Whitmore's black Labrador retriever, Macy. The risk at hand: Giving Rory the wrong blood type would lead to instant death.
Plymouth, Mass. officers lined the sidewalks Friday to bid farewell – and pay their respects – to their beloved police dog Kaiser as handler Jamie LeBretton walked his four-legged sidekick past the saluting crowd and into Court Street Animal Hospital.

The solemn sendoff came following Wednesday's announcement that Kaiser would be retiring from the force – and ultimately laid to rest to end his suffering after his recent diagnosis of severe liver and kidney disease.

"I could not have asked for a better partner or friend. May you rest easy and wait for me at that sacred bridge. I will be there my friend," LeBretton wrote on Facebook Friday, sharing a photo of his devoted dog.
Hero Pets
Get PEOPLE Pets Everywhere
Advertisement
Photo Special
Top Pets Category