Hero Pets
As with the mythological Greek heroes of yore, the legendary feats of our nation's feline champions will echo down through generations. Today's epic purr-etry tells the tale of Tara, a California tabby that saved its young owner from a vicious dog mauling.

But in the annals of history lies another hero cat, Mugsy the Gatorbane. Though the bards do not sing of Mugsy as they once did, back in the ancient Internet age of 2010 his story was shouted from the hilltops of Jezebel to the valley of the Telegraph.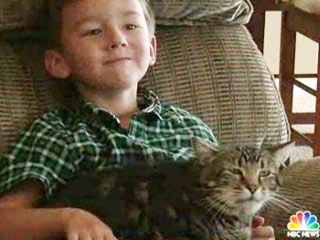 When Tara the cat came to the rescue of a young boy in California this week, pouncing on a dog that was attacking the child, the Internet was captivated. The whole unbelievable episode was caught on camera – and around 8 million people have watched the video on YouTube so far.

Tara is just one of many pets who has gone the distance for a human, stepping in to save a life when sensing something is wrong. Below, find six of our favorite stories of animal bravery – and be sure to give your pets a little extra love tonight: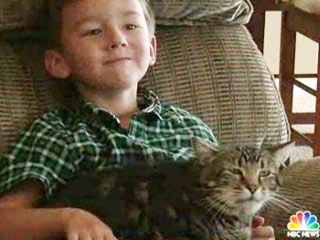 Erika Triantafilo says that while Tara the hero cat had never been quite so heroic before this week – famously body slamming a neighbor's dog who viciously attacked her 4-year-old son Jeremy – she was not completely surprised by Tara's protective actions.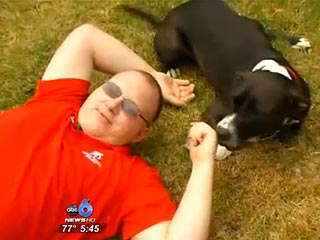 Now this is one smart dog!

When Terry McGlade collapsed from a seizure, his rescue dog Major knew just what to do – he grabbed the phone out of McGlade's pockets with his teeth and stepped on the screen for several seconds, automatically dialing 911.

"I probably would have been in severe trouble if he wouldn't have called," says McGlade, who told ABC6 that the dog had actually never been trained to call 911.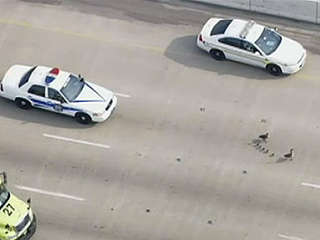 Most of the time, traffic jams are frustrating, inconvenient and redeeming only in the sense that you can sit in your car and listen to Beyoncé.

The bumper-to-bumper grind is almost never described as adorable – though it is when a family of Canada geese is trying to cross the interstate.

Seven geese – two adults and five goslings – disrupted traffic for more than one hour on an Illinois interstate Tuesday night as police escorted them to safety, reports NBC Chicago. (Watch the so-sweet video below.)
Buddy wasn't a service dog, but he served his owner until the day he died.

The golden retriever was found in Colorado, guarding his 81-year-old owner's body from coyotes after Robert Blake had perished during a cross-country skiing trip Friday afternoon.
A police dog named Bruno is recovering after being shot during a parole check in Anaheim, Calif.

The 7-year-old German Shepherd had emergency surgery to remove a bullet from his lung and repair his jaw after a man began shooting at police officers on March 20. Bruno was injured after guiding officers to where Robert Moreno Jr., a known gang member, was hiding.

"The dog alerted that the suspect was hiding behind a trash can. As they went up, the suspect stood up and started shooting at the direction of the officers and purposely aimed at the dog, shooting the dog," Anaheim Police Lt. Tim Schmidt told CBS Los Angeles.
Ashley Ransley says she owes her life, in part, to a cat named Riley. It was back in 2008 when Ransley, who had battled anorexia while in high school and college, had left yet another treatment center and resigned herself to the idea that her disorder would ultimately kill her.

"She was dying," recalls her mom, Nancy Day, 66. "There was nothing we could do to reach her."
Hunter the dog is more than just an adorable face.

Just two weeks after finding a forever home, the husky-mix puppy thanked his adoptive family by rescuing them right back.
Before he was even 2 years old, toddler Dylan Lipton-Lesser had undergone 15 brain surgeries due to a condition known as hydrocephalus, an excessive buildup of fluid inside the brain. But there's an upside – he's been able to find comfort in a friend who's experienced something similar: puppy Frank, a Chihuahua-dachshund mix with the same condition.

"As a very young puppy Frank clearly had a really big head," Amy McCracken, executive director of the no-kill shelter Richmond Animal League told TODAY.com. "We transfer animals from municipal shelters that are in danger of being euthanized, and that's how we got Frank."

Frank was placed with a foster family, and aside from suffering a seizure at 8 weeks old, thrived under their care and with regular doses of a seizure-controlling drug. When it became clear that concerns over his medical care were preventing potential adopters from signing on the dotted line, Frank's foster parents were prepared to make him their forever pet – until Stacy Metz stepped in.
Hero Pets
Get PEOPLE Pets Everywhere
Photo Special
Top Pets Category