Hero Pets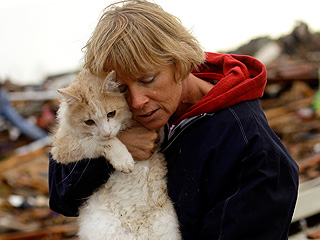 Credit: Joshua Lott/AFP/Getty
Amid the heartbreak, there was hope – thanks to some furry friends, and a few big-hearted humans.

Despite the devastation in Oklahoma Monday after a deadly tornado tore through the state, readers found joy in the heartfelt images of shell-shocked residents reuniting with their beloved pets, and shared the heartwarming pictures in droves. (See them all here.)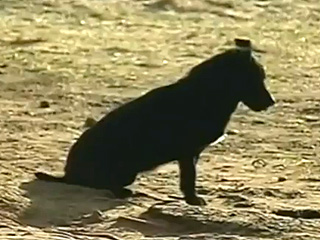 Forget diamonds – a dog in Poland proved to be a girl's best friend.

Rescue workers were able to find a 3-year-old girl, named Julia, who went missing overnight in Pierzwin, Poland, thanks to the barks of her "best friend," a stray black dog who often accompanies her.

The toddler wandered into the forest near her home after playing in her backyard with the pooch Friday evening. While members of the community searched for her, the dog stayed by her side and kept her warm throughout the freezing cold night. She was discovered Saturday morning in the marshes.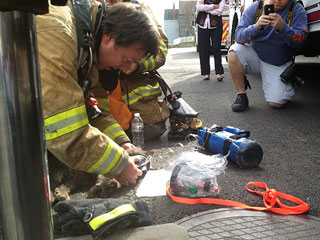 A fire blazed through a Portsmouth, N.H., couple's home Tuesday, damaging their historical home dating back to 1742. But there was a glimmer of hope for Dave Adams and his wife, whose 17-year-old cat survived the devastation – with some serious help from firefighters.

To the cheers of onlookers, firefighters carried Tiki Bear out of the house, which Adams, a carpenter, had spent the last 25 years renovating, reports local news outlet WMUR. The firefighters then administered oxygen and the cat began breathing again.

Tiki Bear was later checked into a veterinary clinic to seek treatment for smoke inhalation.
When 10-year-old Kyle Camp disappeared from his home in Hackleburg, Ala., he took four very special companions with him: his dogs.

And it was those furry friends who ultimately helped lead volunteers to his location.

More than 18 hours passed between the time Camp, who has Down syndrome, went missing in the woods Tuesday and was back home safe and sound Wednesday morning.

"I heard the dogs barking again and followed him down there and started hollering for the puppies," Jamie Swinney, one of the two searchers who found Kyle at about 9:30 a.m., told the local Fox affiliate. "I hollered for him and he hollered back."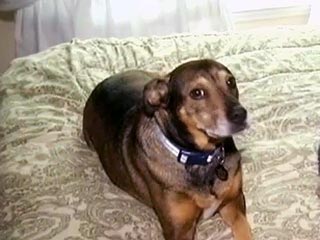 Nearly six years ago, a Connecticut family rescued a dog named Duke from a shelter, arguably saving his life.

Last week, he returned the favor.

Jenna Brousseau and her husband were asleep on Oct. 7 when Duke burst into their room, jumped on the bed and began shaking uncontrollably. They decided to check on their 9-week-old daughter in her bassinet and discovered the unthinkable: she wasn't breathing.
In his final days, 14-year-old Bingo went on walks with his best friend and enjoyed treats sent to him from around the world.

But all that might not compare to this: "Bingo will go to heaven on a marshmallow cloud that will have a chocolate water slide for dogs," Bingo's owner, 11-year-old Cole Hein, said in a statement announcing the Jack Russell terrier's death.

The dog made headlines earlier this year when Cole created a "lick it list" for the loyal pooch, a service dog who had been given to him to help combat a medical condition that causes him to stop breathing.
On a good day, Peanut the orangutan greets visitors at Miami's Jungle Island zoo as they pass by her enclosure. If she likes them or finds them particularly interesting – yes, even great apes have discerning taste when it comes to people – she'll go out of her way to earn their attention with what her primary caregiver Linda Jacobs describes as "this twinkle in her eye – this sparkle."

On a bad day, and there are bad days sometimes, Peanut is tired. Since she was diagnosed with non-Hodgkin lymphoma in June, she's undergone two installments of chemotherapy treatment in hopes that the 8½-year-old is young enough, strong enough, to overcome her cancer.

"She has days where she's just fatigued," Jacobs tells PEOPLE.com, "and that twinkle's still there – it's just not so bright."
Three weeks ago, Star the pit bull was lying on the street in Manhattan's East Village, her cries barely heard over the voices of onlookers, who shouted, "Why'd you do that?"

It's a scene that unfolds in a graphic video: Star is barking and distressed trying to protect her owner, who's seemingly passed out on the ground. She runs toward a policeman. Then he shoots her.

But Star survived. Now, she's getting ready to find a new home.
Earlier this week, the Merriam-Webster added the term "bucket list" to its vocabulary, describing it as "a list of things that one has not done before but wants to do before dying."

Already, the word is being redefined.

One 11-year-old boy from Canada is thanking his service dog in a very special way during the final days of the Jack Russell terrier's life.

Cole Hein set up a "Lick It List" for his 14-year-old dog Bingo, who was given to his family in 2005 by the Ontario-based National Service Dogs due to an undiagnosed medical condition that causes Cole to stop breathing.
Cats are known to be fiercely protective of their young, but one new mother didn't realize her own instinct – until it hit her in the head.

A Los Angeles County-based animal rescuer spotted a dirty, malnourished cat hovering over her five kittens last week, and didn't suspect that there was anything seriously wrong when the cat hissed as she approached. The cat was just behaving the way mothers do.

When the cat and her weeks-old litter were taken to the Helen Woodward Animal Center in Rancho Santa Fe, Calif., however, doctors noticed something out of the ordinary: the mother cat had been shot in the head with a BB gun. The BB entered through the top of her head and ended up behind her ear; her matted hair had covered up the wound.
Hero Pets
Get PEOPLE Pets Everywhere
Advertisement
Photo Special
Top Pets Category