Hero Pets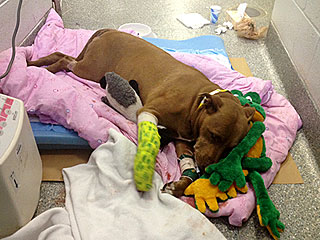 Credit: Angell Animal Medical Center
When her owner was in trouble, an 8-year-old pit bull named Lilly immediately stepped in to save her, pulling her unconscious body off of train tracks in Shirley, Mass., on May 4 as an oncoming train approached, and instead, taking the hit for her.

The train's conductor, who couldn't slow the freight train in time, initially thought he had struck and killed the woman, named Christine Spain, and her dog, but when he surveyed the scene, he saw that Spain had been dragged to the side, while Lilly had sustained severe injuries as a result of the collision. The pit bull's right front leg was de-gloved, meaning all of the skin and muscle had been removed, and X-Rays would later show she had sustained multiple fractures in her pelvis.

When Spain's son, police officer David Lanteigne, arrived on site, he helped tend to Lilly, and later stayed by her side as she was transported to Boston's Angell Animal Medical Center, where she is now in recovery.
They are the red and blue teams, six pairs of canine disaster search teams trained to find survivors in the rubble. Red and blue, called upon by the USAID and deployed to help with reconnaissance and primary searches in Japan.
The first time Pat Kaynaroglu met one of her pupils, she was taken aback by his instant proclamation.

"I hate you!" he said.

Undeterred, Kaynaroglu asked the boy what he did like. He said he liked dogs. She promised him that they would become experts on dogs together.
Like many 13-year-olds, Ashley Bogdan loves to be social. She hangs out with her girlfriends, meanders through her local mall and relishes taking a dip in the pool any chance she gets. But this California girl is not like most middle-schoolers in one respect: Ashley is diabetic and must test her blood-glucose levels multiple times a day to prevent them from becoming dangerously low.
In the summer of 2008, as the housing market collapsed and families found themselves dealing with banks foreclosing on their homes, Laura Pople heard that animal shelters were overwhelmed with the unwitting victims of the real estate crisis: pets.

"I thought, 'There's got to be someone doing something about foreclosure pets,'" Pople tells PEOPLE. "As an animal owner myself, the thought that I would have to give up my animals was devastating to me."
Mitch is a Steppe eagle that cannot fly. His brown wings, permanently injured, no longer soar through the air. Still, Mitch is about to head from Afghanistan to New York, thanks to the help of a few caring soldiers.

The bird will travel on a military flight with one of his rescuers, a U.S. Navy SEAL operator, as well as with Maj. Eileen Jenkins, the veterinarian who has cared for him in recent weeks. He will likely meet staff members from the office of Senator Charles Schumer, who were instrumental in coordinating the efforts to find him a home outside of Afghanistan, and then he will finally arrive at his new digs, the Berkshire Bird Paradise Sanctuary in Petersburgh, N.Y.
When Craig Grant first moved to a remote tree farm in 2003 to set up a sanctuary for cats, he was taking care of 11 felines. Now his Caboodle Ranch, located just 50 miles outside Tallahassee, Fla., is home to almost 500 of them.

Over the last seven years, Grant has taken in more than 660 unwanted cats from around the country. This past week alone he welcomed castoffs from Michigan, Ohio, New York and his home state of Florida. But while he continues to keep his ranch open for felines in need, that growing population does not come without its own set of challenges. Grant works 14-hour days, seven days a week; and he only recently gave himself two days off during Labor Day weekend – his first "vacation" in four years.
When Coweta County, Ga., firefighter Jim Cadenhead got a call on June 29, he didn't realize it would end up changing his life. Animal Control was dealing with a cat stuck in a 40-foot well, and Cadenhead had been deployed to help.

"We took the roof off of the well house and hooked up a little system to go down into the well," the La Grange, Ga., resident tells PEOPLEPets.com. "Then I grabbed the cat. It was very simple."


Ric O'Barry spent a decade of his life capturing and training dolphins that he would work with in the 1960s TV series Flipper. But he has spent the rest of his life trying to do exactly the opposite, and has for 40 years been fighting for dolphins' lives.
Hero Pets
Get PEOPLE Pets Everywhere
Advertisement
Photo Special
Top Pets Category