Pet Treats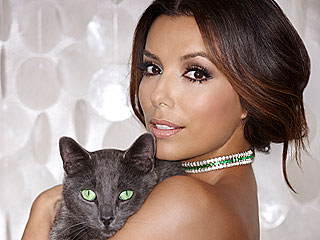 Credit: Lorenzo Aguis/AP
With Desperate Housewives wrapping up, Eva Longoria is moving on to new projects, some cuddlier than others.

The actress is the new spokesmodel for British cat food company Sheba, starring in the brand's seductive new ad campaign alongside a gray cat named Nick.

"[He's the] best costar I've ever had," Longoria says of her feline friend in a behind-the-scenes video. "He's really cute and cuddly and loving. Of course, having cat food in my hand helps."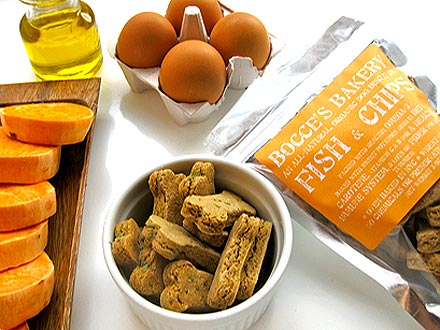 Beer-battered, flaky white fish, served hot with fries and a cold drink. Sounds like the perfect summer meal to enjoy by the beach (or at the bar).

Happily, your dogs can have a taste of that epicurean pleasure with the new Fish & Chip Biscuits ($9.50) from NYC-based Bocce's Bakery.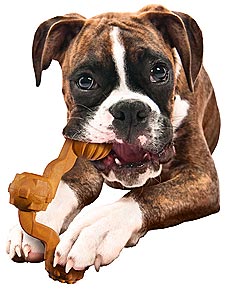 We can think of a lot of things we'd rather do than clean our dog's teeth: Wash the dishes, clean the car, mop the floor. We'd gladly tackle any of these chores before zeroing in on that smelly set of canines. Thankfully, there's a new interactive chew toy that can make the task a little less scary.

Precision Pet's new Spinz toy contains all-natural ingredients that promote good dental hygiene. Injection molded with parsley, the 100-percent edible toy helps freshen the stinkiest doggie breath. And the bone-shaped bumpy surface rotates, scraping and cleaning your pup's teeth as he plays, helping to prevent gum disease.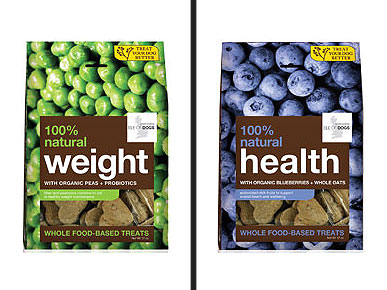 Many of us are looking for whole, natural, locally-sourced ingredients in our food - why shouldn't we extend the practice all the way to the snacks we give our dogs?

The new line of treats from Isle of Dogs includes 100 percent natural fruit and vegetable-based ingredients, and the treats don't come with any added fillers or synthetic vitamins.
Ice cream for dogs: too indulgent, or a pet owner's saving grace? Perhaps a bit of both, but when you meet Schwan's Doggie Sundaes, you'll be glad that someone thought up this treat.

Schwan's Home Service delivers all manner of frozen foods to its customers, and its menu now includes something for the canine in the house. The Doggie Sundae ($4.97 for a pack of four cups) is a frozen treat that looks just like a human ice cream cup, but is actually a beef-flavored protein treat that's filled with vitamins and minerals.
Jennifer Sunshine loves bringing her rat terrier Eddie to dinner. But she'd often run into problems at New York City restaurants that didn't allow dogs. "We tried to find places that he could go eat with us, and we couldn't find anywhere," she tells PEOPLEPets.com.

Instead of leaving Eddie at home when she dined out – "He got very upset that he couldn't come with us," she shares – she and pal Ady Schneider decided to start a website dedicated to listing bars and eateries that were open to pets. Appropriately titled Eddie Eats Out, the site features restaurant reviews written from the pup's point of view, plus a blog about pet-related news and fashion.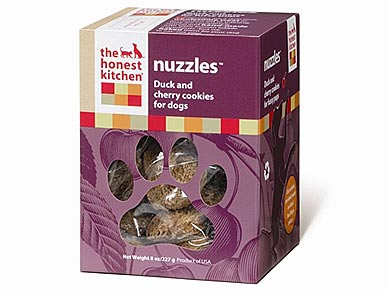 Dogs have an uncanny way to nuzzle us into happiness, so why not return the favor with something they'll really appreciate?
Nuzzles from The Honest Kitchen, a natural pet food company, are artisan duck and cherry cookies "for fussy pups," which means they're likely to be delicious to every dog. Made from human-grade barley flour, duck, molasses – and even some aged parmesan cheese – these gourmet treats ($8 for an 8-oz. box) are healthy and high on a pooch's cravings list.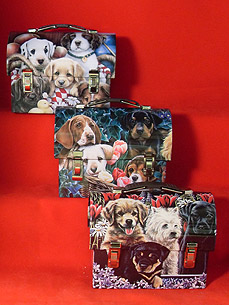 What do you do when you finish a bag of dog treats? Do you save the crinkly plastic packet in your box of mementos?

We suspect that your answer is no, because most people discard treat packages when the snacks have been gobbled up.

Howie's Hearts offers an alternative to the toss-it monopoly – its treats are packaged in reusable containers that are gifts all on their own. The collection includes bone-shaped tins, mugs and lunch pails covered in pretty painted puppies, all of them perfect to keep for yourself or to present to someone else.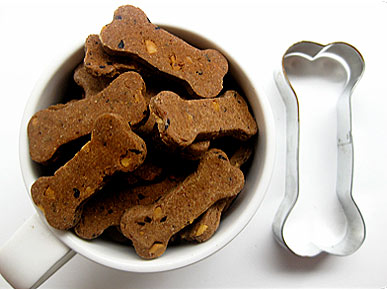 We check out a lot of pet products here at PEOPLEPets.com, and – particularly when it comes to treats – few of them stop us in our tracks (or pass our own pups' often finicky taste test).

The all-natural biscuits from Bocce's Bakery did both. Many pet-food makers are concerned with weight maintenance these days (who isn't!), but Bocce's is unique in that its treats are so mouth-watering (and preservative-free) we're pretty sure we could substitute them for our own human cookies – and we'd look and feel better too! That's because owner Andrea Tovar bakes every batch of the bite-sized biscuits by hand, using the oven at her home in New York City's West Village. And with her dutiful quality inspector, Bocce, a 3-year-old mutt, overseeing the operation, Tovar makes sure every last treat exceeds expectations.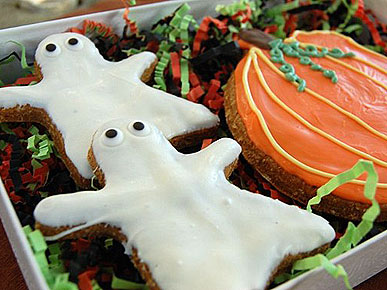 Halloween might be an acceptable time for us humans to devour handfuls of sugary confections, but we definitely don't want our pets to get their paws on these goodies, since chocolate can be toxic for dogs.

So we trolled through Etsy and found a much healthier alternate -- Nicole Poch's pet-friendly Halloween treats.
Pet Treats
Get PEOPLE Pets Everywhere
Photo Special
Top Pets Category