Zoo Animals
How does an elephant party hard? With cake, of course.

Raju the Asian elephant, who was rescued last July by Wildlife SOS after 50 years of submission and exploitation in India, celebrated his first full year of happiness at The Wildlife SOS Elephant Conservation and Care Center in India on Wednesday, and PEOPLE has the exclusive video of his delicious celebration!
Please consider this my official motion to make tiger cub pictures a mandatory part of everyone's Tuesday.

The stunners above are Sumatran tiger triplets Dari, Indah and Kirana with their mom Jaya, making their debut at the Point Defiance Zoo's new "waterfall exhibit."
Makaia doesn't know it, but he's a walking, er, hopping history maker.

The kangaroo is the first of his kind to be raised by a surrogate wallaby, according to Australia's Adelaide Zoo.

At just five weeks old, the Goodfellow's tree kangaroo's mother died suddenly when she was crushed by a falling branch at the zoo.

"Acting on pure adrenaline," according to the zoo's website, zookeepers decided to try something that had never been done with a tree kangaroo before: cross-fostering. The staff placed the joey (who was too young to hand raise) with a surrogate wallaby mother.

"We've had great success over the years' cross-fostering between wallaby species, but the specialized breeding technique has never been used on a tree kangaroo," said Adelaide Zoo veterinarian, Dr. David McLelland. "We had no idea if the yellow-foot would accept the tree kangaroo joey, but if we wanted to save the joey we had to try our luck."
On Tuesday, June 9, a star was born: Chick #23, a teacup-sized rockhopper penguin (Eudyptes chrysocome) who's the fluffiest thing you'll see all week.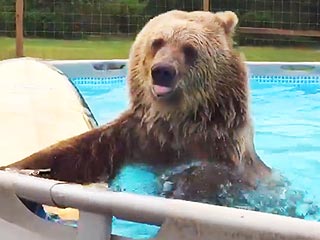 Grizzly bears get hot, too.


Speed's slow but epic journey on Earth has come to an end.

According to Fox News, the Galapagos tortoise died at the San Diego Zoo on Friday. He was 150.

The tortoise spent eight decades at the California facility, moving to San Diego from Volcan Cerro Azul Island in 1933 as part of an effort to preserve the endangered species.

Over the decades, Speed was known for entertaining countless visitors and starting rumbles with the other male tortoises in his enclosure.
The zoo-escape chaos in Tbilisi, Georgia continued Wednesday when a man was killed by a tiger still on the loose after hundreds of animals escaped during a massive flood in the area over the weekend.


An adorable 1-year-old rescued seal pup named Poppy was released back into the ocean Thursday morning after months of rehabilitation.

Picked by the International Fund for Animal Welfare in Provincetown, Massachusetts on Mar. 26, Poppy was found suffering from severe hydration, multiple stab wounds and a penetrating gash through her skull. She was immediately taken to the Mystic Aquarium's Animal Rescue Clinic, where she was treated for three months.


Clearly, people aren't the only ones who are self-obsessed.

Thanks to a project by a French photographer, we've learned that leopards, gorillas and apes are narcissists, too – they enjoy gazing at themselves in the mirror.

Xavier Hubert Brierre and his wife travelled to Gabon and set up mirrors in various locations to capture wild animals looking at themselves. Their reactions are really something to see.
She was deemed a "non-human person" by an Argentinian court in December, but more than five months later, Sandra the orangutan's freedom still hangs in the balance.

According to Reuters, a different court will soon decide the fate of the 29-year-old animal, who currently lives at the Buenos Aires Zoo.
Zoo Animals
Get PEOPLE Pets Everywhere
Photo Special
Top Pets Category