Zoo Animals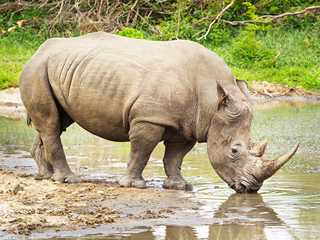 Credit: Getty
The death of a Northern white rhinoceros at a Czech Republic zoo on Monday has left only four members of the critically endangered subspecies alive.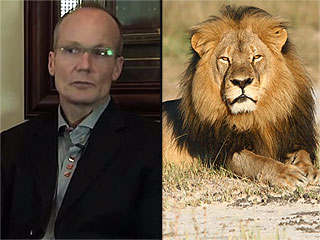 You're looking at one of the most hated people on the Internet right now.

On Tuesday morning, a Minnesota dentist named Walter Palmer woke up a relative unknown – until it came to light that he had killed one of Zimbabwe's most beloved lions, Cecil. The animal was allegedly illegally lured from the Hwange National Park in July and killed by Palmer's gun. (In a statement, Palmer said that to his knowledge, everything about his hunt had been legal.)

Throughout the Twitterverse and beyond, his name evoked wrath – from celebrities to animal lovers and beyond. As the news spread, Palmer, 55, spoke with regret for "my pursuit of an activity I love and practice responsibly and legally resulted in the taking of this lion."

Palmer said he "relied on the expertise of my local professional guides to ensure a legal hunt." The Associated Press reported that two Zimbabweans, Theo Bronkhorst and Honest Trymore Ndlovu, were arrested for illegally hunting a lion and appeared in court on Wednesday.

But who is Walter Palmer? Here's what we know.
For humans, turning 37 isn't an especially significant milestone. For pandas, however? It's reason to celebrate.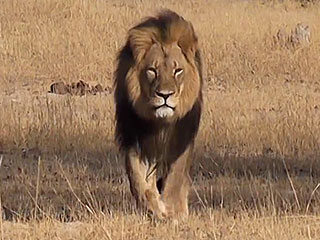 Dr. Walter J. Palmer, the Minnesota dentist who admitted to killing Cecil the lion during a hunting trip to Zimbabwe, has become a hot topic of conversation on social media.


Cielo's got the mermaid thing down, now if she could just sing.

In this YouTube video, a baby jaguar – just one of the beautiful charges living with Eduardo Serio at the Black Jaguar White Tiger Foundation – dives into a swimming pool with as much grace as we have when we're sliding on a Slip 'N Slide (yeah, we still Slip 'N Slide, so?).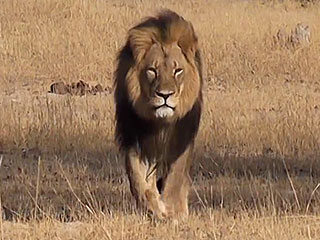 Authorities in Zimbabwe say a dentist from Minnesota paid $55,000 to illegally kill one of the country's most famous lions.
Although initial reports said the killer was a Spaniard,
The Telegraph
named
American dentist
Dr. Walter J. Palmer as the hunter responsible for firing at Cecil with a bow and arrow and then later shooting the animal with a gun. Following this report, Palmer, 55, released a statement on Tuesday afternoon admitting he killed Cecil.
In his statement, the dentist from Eden Prairie, Minnesota, says he regrets killing Cecil, and he blames his hired guides for allowing the death to occur.
"I hired several professional guides, and they secured all proper permits. To my knowledge, everything about this trip was legal and properly handled and conducted," reads the statement.
"I had no idea that the lion I took was a known, local favorite, was collared and part of a study until the end of the hunt. I relied on the expertise of my local professional guides to ensure a legal hunt."
Cecil the lion was part of an Oxford University research project and wore a GPS collar. The 13-year-old animal, a fixture on safaris there, was lured out of the Hwange National Park with food, shot with a crossbow, tracked for 40 hours and finally killed with a gun on July 6, Johnny Rodrigues, head of the Zimbabwe Conservation Task Force,
told CNN
.
They may be king of the jungle, but on this particular day on the Serengeti, these lions reacted to insects just like we do (insert GIF of Macaulay Culkin's "aah" face in Home Alone).

Rather than stick around for the pests to nip at them, this pride of lions – 15 of them to be exact – retreated to a sausage tree. Fortunately, their flight was captured on camera for all of us to gawk at.
How does an elephant party hard? With cake, of course.

Raju the Asian elephant, who was rescued last July by Wildlife SOS after 50 years of submission and exploitation in India, celebrated his first full year of happiness at The Wildlife SOS Elephant Conservation and Care Center in India on Wednesday, and PEOPLE has the exclusive video of his delicious celebration!
Please consider this my official motion to make tiger cub pictures a mandatory part of everyone's Tuesday.

The stunners above are Sumatran tiger triplets Dari, Indah and Kirana with their mom Jaya, making their debut at the Point Defiance Zoo's new "waterfall exhibit."
Makaia doesn't know it, but he's a walking, er, hopping history maker.

The kangaroo is the first of his kind to be raised by a surrogate wallaby, according to Australia's Adelaide Zoo.

At just five weeks old, the Goodfellow's tree kangaroo's mother died suddenly when she was crushed by a falling branch at the zoo.

"Acting on pure adrenaline," according to the zoo's website, zookeepers decided to try something that had never been done with a tree kangaroo before: cross-fostering. The staff placed the joey (who was too young to hand raise) with a surrogate wallaby mother.

"We've had great success over the years' cross-fostering between wallaby species, but the specialized breeding technique has never been used on a tree kangaroo," said Adelaide Zoo veterinarian, Dr. David McLelland. "We had no idea if the yellow-foot would accept the tree kangaroo joey, but if we wanted to save the joey we had to try our luck."
Zoo Animals
Get PEOPLE Pets Everywhere
Photo Special
Top Pets Category