Zoo Animals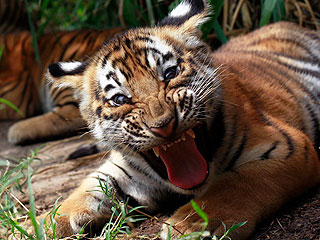 Credit: Ulises Rodriguez/Reuters/Landov
Robert Pattinson, Justin Bieber and more stars have taken to the press to voice their ire with the paparazzi – and this little guy knows just how they feel.

Tily, a 2-month-old Bengal tiger cub, was just looking to enjoy an afternoon to himself in his enclosure at the Fundación Refugio Salvaje animal refuge in San Salvador on Thursday. Instead, he had to spend it fending off photographers looking to snap shots of his adorable mug.

While we have to admit, we'd be tempted to click some mementos of our own if we got anywhere near Tily and that purr-recious face, the cub had its own ideas about how to best handle the impromptu photo shoot – with his teeth.
A happy Mother's Day, indeed.

A week after giving birth, Sumatran orangutan Sarah was snapped giving her newborn a sweet peck inside their enclosure at the ABQ BioPark Zoo in Albuquerque, N.M. Just like a human mother, she gingerly cradled her little one before leaning in – and judging from that smile on her face, the babe's already lapping up the attention!

The pair were fêted with a Saturday baby shower – just in time for Mother's Day. During the festivities, the park revealed that the tyke is a female.
We've all been there.

Your mom's nagging you to hop into the tub and clean up, but what do you really want to do? Make a mess – and that's exactly what this 18-month-old elephant did.

A resident of the ZSL Whipsnade Zoo in England, Asian elephant Scott promptly returned to his enclosure's sand pit after being hosed down. The mischievous pachyderm rolled around in the pit, covering his entire body in sand, before taking it one step further and splattering sand all over himself with his trunk.

Though we're sure his keepers were none too pleased, we have to admit: how could something that makes someone look so happy be wrong?
They don't agree on everything, and it's not always easy finding time in their busy schedules to hang out. They can't even, like, share the same clothes.

But someway, somehow, this baby monkey, tiger and lion have secured BFF – best friends fur-ever! – status in Shenyang, China, where they met in a zoo's kindergarten class.

Sure, they have their differences. But they snuggle through them. Brunch recipes, workout tips, crushes – we bet these buddies talk about it all. And, to top it all off, they don't even get jealous of each other's cuteness.
Dogs, you're off the hook.

Months after we first started calling out canines around the world for their most indecent (and repeated) indiscretions in the online phenomenon that is dogshaming, it looks like it's someone else's turn to take a little Internet heat.

Introducing bunny shaming, an increasingly popular way for rabbit owners to air out their dirty laundry (often literally) on Facebook and Tumblr.
This red panda is totally grounded as soon as his mom sees this.

While indulging in a meal of bamboo leaves, a red panda in Krefeld, Germany, got a little overzealous with his favorite tasty treat on Monday and completely forgot the cardinal rule at the dinner table. Despite a fully-formed, uneaten leaf still protruding from his mouth, the cute critter couldn't help but go in for another lick, chewing with his mouth open (gasp!).

Though we're normally partial to proper etiquette, we're inclined to let this red panda's behavior go on account of his un-bear-able cuteness.
We've all been there, fella.

While climbing a tree at a Ya'an panda refuge in the Sichuan province of China, a giant panda decided he needed a bit of a breather. And what better place to take a nap than ... right here?

Like an Olympic gymnast on a balance beam, the adorable creature managed to hang out – and hang on – after plopping down for a quick break.
One, two, three, four – hit it!

A quartet of white tiger cubs born on March 16 at Japan's Tobu Zoo Park is gearing up to make their public debut in May. And from the looks of it, they're already in perfect harmony.

In a photo taken last Wednesday, the foursome is seen breaking into a simultaneous roar – to the delight of their audience, most likely. While it remains to be seen if the group can equally impress American Idol judges Randy Jackson, Mariah Carey, Nicki Minaj and Keith Urban, they've certainly got our vote.
The bigger you are, the harder you fall!

An adorable 32-day-old lion club learned that the hard way on Friday while enjoying playtime with a mini-marsupial at China's Guaipo Manchurian Tiger Park. Though the monkey, only 16-days-old, might be much smaller in stature than his big cat companion, that hasn't stopped the two from becoming fast friends.

Both baby beasts share a need to be fed by a keeper after their mothers were unable to breastfeed them – and isn't that the secret to friendship? This calls for a dinner date with your BFF.
You're probably already hard at work catching up on all those nitty-gritty things you didn't do over the weekend.

But if you have a minute, this rare Sumatran tiger cub would love to play with you.

The San Francisco Zoo's 2-month-old unnamed addition is a bundle of fun – and quite a paw-ful for her mom, a tiger named Leanne, now that she's allowed out of her cage.
Zoo Animals
Get PEOPLE Pets Everywhere
Advertisement
Photo Special
Top Pets Category
Photo Special