Zoo Animals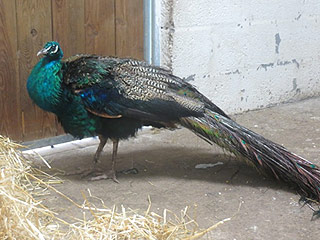 Credit: Scottish SPCA
Would the owner of this curious peacock please step forward?

The Scottish SPCA would like to a have a word with you about the bird's recent behavior.

According to a press release from the rescue group, the feathered creature tried to squeeze his way through a cat flap at a residence in Aberdeen, Scotland, on Monday. The peacock – who has since been named Felix – is now in the care of their animal rescue team in Drumoak.
Getting stuck on Highway 101 is definitely something to hoot about.

That's what one owl learned last Friday when it was apparently hit by a vehicle and found itself injured near the center divider of the California highway, The Press Democrat reports.

California Highway Patrolman Justin Fetterly responded to the call about the barn owl, and when he arrived at the scene, he cornered the bird with fellow officer Brian Wood. Fetterly used an emergency blanket to scoop up the bird and then drove with it in his lap to a nearby emergency animal hospital in Santa Rosa.
You thought pandas were sweet, innocent, altruistic sweeties, right? Well, these black-and-white bears have a dark side.
In case you doubted the power of Princess Charlotte of Cambridge, consider yourself warned. (For the record, we never questioned the authority of Her Royal Highness, we are not worthy, et cetera.)


Tuttle, Oklahoma, had to worry about tornadoes and tigers this week.

According to Newsweek, the city's interactive zoo, Tiger Safari, was hit by a tornado Wednesday night. The damage from the storm led to the escape of several exotic animals, tigers included.
A stranded sea lion pup has been spotted wandering a San Francisco sidewalk in a scene that marine rescuers warn could become commonplace as the ocean heats up.

Video from the Marine Mammal Center in nearby Sausalito shows the male sea lion nicknamed Rubbish hiding under a car Thursday and waddling away from rescuers. They eventually got a net around the pup, moved it into a crate and took it to the center.
As the royal baby name game continues to leave us guessing, we can all sleep a little more soundly knowing at least one adorable newborn finally has her moniker.


Air travel can be unbearable, but not for these koalas.

A quartet of the fuzzy Australian natives were pampered by Qantas Airways' first-class treatment before their upcoming flight to Singapore, reports Today.com.

Chan, Idalia, Paddle and Pellita enjoyed big seats, fresh eucalyptus and hot towels before jet-setting to their new home. The koalas are on loan from Australia to the Singapore Zoo as part of an effort to strengthen the diplomatic relations between the two countries.
Zoo Animals
Get PEOPLE Pets Everywhere
Advertisement
Photo Special
Top Pets Category