Zoo Animals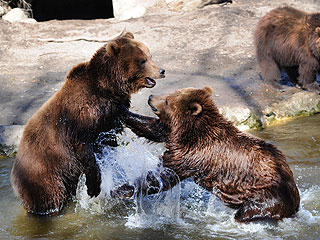 Credit: Angelika Warmuth/DPA/Zuma
Watch out!

A pair of brown bears got a little overly excited during a dip in the water in their enclosure at Germany's Tierpark Hagenbeck, a zoo in the town of Hamburg, on Tuesday.

As a second bear attempted to wade its way into the running stream, his furry pal decided this was as good a time as any to start a water fight and swatted at his companion. The ensuing swift paw sent water flying but failed to get the jump on the fast-footed animal.
What's in a name?

Great significance for the rare baby Rothschild giraffe that was born to the Leo Zoological Conservation Center in Connecticut last month.

After a public appeal that elicited nearly 7,000 entries, the center has chosen Sandy Hope, a reference to the December shooting that occurred at Newtown, Conn., elementary school Sandy Hook.
Sure, these two have their differences. For starters, one is a monkey and the other is an iguana.

But they've clearly overcome them. That's right: Leave it to a common marmoset and a green iguana to teach us the true meaning of friendship. (Congress, we're looking at you.)

This wild pair of pals were spotted hanging out and, we can only presume, catching up at a zoo in Straubing, Germany, on Monday.
Do you think the koala knew who it was talking to?

During some downtime from her talk show, Ellen DeGeneres and wife Portia de Rossi jetted to Sydney, Australia, for a little R&R, and paid a visit to the city's Taronga Zoo.

While touring Friday, DeGeneres made nice with a koala sitting among some branches, flashing it her signature grin as de Rossi looked on.
Look who's earning his stripes!

Meet Castro Jr., the Sacramento Zoo's latest (and, dare we say, cutest) Sumatran tiger addition, who was born March 3.

"The birth of any Sumatran tiger is a great contribution to this critically endangered species," said Mary Healy, zoo director. "We are especially excited for this birth because it is the first time we have had a camera in the den, allowing zookeepers and veterinarians to keep a close eye on [mother] Bahagia and her cub."
Oh, hey there – or, should we say, oh, hey bear?

Children at Tokyo's Ueno Zoo were greeted by a very friendly (not to mention adorable) polar bear on their Wednesday visit to its exhibit.

Nearly submerged in water, the well-mannered animal then held out his paw to one of the lucky zoo visitors. High-five? The bear's attempt at shaking hands? We're not sure, but we do know this: This zoo encounter is un-bear-ably cute. And we'd be ever so pleased to meet this bear buddy, too.
Three's company for the Oakland Zoo, where a trio of meerkat pups are making their grand (read: adorable) entrance.

Meet Ayo, Rufaro and Nandi.

The zoo babies are nearly 6 weeks old, but keepers have yet to determine their sexes, reports the San Francisco Chronicle. Their birth marks the zoo's first successful litter in more than a year, and the trio are already fitting right in with the other five members of the exhibit's meerkat mob.
Well what do we have here!

As if being a baby wasn't adorable enough, a Malayan tapir, born on Feb. 9, steals the spotlight from his mom on Thursday while exploring his habitat at the Zoo Leipzig in Germany.

Malayan tapirs, which are native to Southeast Asia, are known for the large white patch that extends from their back to the backside. At the moment, this newborn has a spotted look – reportedly for camouflage – but that will eventually change as he grows.
This orangutan has plenty to smile about – and he knows it!

The 6-week-old male, a baby Sumatran orangutan, was born Jan. 14 at Georgia's Zoo Atlanta after his mother, Blaze, went into labor unexpectedly. Following an emergency C-section, the adorable ape struggled to survive – but eventually pulled through and has since made a full recovery.

Though he has yet to be named, he is getting to know his fellow orangutans at the zoo's habitat, including Mom. The baby and Blaze were reintroduced after she recovered from the procedure.
Betty White received a very special – albeit very slimy – gift for her 91st birthday.

To mark her Thursday milestone, the Lifeline Program – a company dedicated to life-settlement specialists for which she is a spokesperson – adopted a red-tailed boa from the Los Angeles Zoo and Botanical Gardens in her name.

For White, a longtime supporter and ambassador to the zoo, the snake was a familiar face.
Zoo Animals
Get PEOPLE Pets Everywhere
Advertisement
Photo Special
Top Pets Category
Photo Special