Zoo Animals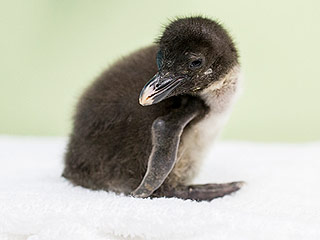 Credit: Brenna Hernandez/Shedd Aquarium
On Tuesday, June 9, a star was born: Chick #23, a teacup-sized rockhopper penguin (Eudyptes chrysocome) who's the fluffiest thing you'll see all week.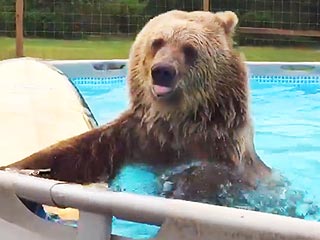 Grizzly bears get hot, too.


Speed's slow but epic journey on Earth has come to an end.

According to Fox News, the Galapagos tortoise died at the San Diego Zoo on Friday. He was 150.

The tortoise spent eight decades at the California facility, moving to San Diego from Volcan Cerro Azul Island in 1933 as part of an effort to preserve the endangered species.

Over the decades, Speed was known for entertaining countless visitors and starting rumbles with the other male tortoises in his enclosure.
The zoo-escape chaos in Tbilisi, Georgia continued Wednesday when a man was killed by a tiger still on the loose after hundreds of animals escaped during a massive flood in the area over the weekend.


An adorable 1-year-old rescued seal pup named Poppy was released back into the ocean Thursday morning after months of rehabilitation.

Picked by the International Fund for Animal Welfare in Provincetown, Massachusetts on Mar. 26, Poppy was found suffering from severe hydration, multiple stab wounds and a penetrating gash through her skull. She was immediately taken to the Mystic Aquarium's Animal Rescue Clinic, where she was treated for three months.


Clearly, people aren't the only ones who are self-obsessed.

Thanks to a project by a French photographer, we've learned that leopards, gorillas and apes are narcissists, too – they enjoy gazing at themselves in the mirror.

Xavier Hubert Brierre and his wife travelled to Gabon and set up mirrors in various locations to capture wild animals looking at themselves. Their reactions are really something to see.
She was deemed a "non-human person" by an Argentinian court in December, but more than five months later, Sandra the orangutan's freedom still hangs in the balance.

According to Reuters, a different court will soon decide the fate of the 29-year-old animal, who currently lives at the Buenos Aires Zoo.
What do you do when a leopard shark requests a belly rub?

If you're trained to do this sort thing, you do as you're told.

The professional in this YouTube video is swimming among the aquatic creatures and seemingly cleaning the tank at an aquarium, when a sizable leopard shark swims over for a look.

The staffer wraps his or her arms around the animal (described by Wikipedia as an "active-swimming predator" – yikes!) and gives it a lengthy rub on its belly, the shark rolling over with the calm of a willing dog.
Would the owner of this curious peacock please step forward?

The Scottish SPCA would like to a have a word with you about the bird's recent behavior.

According to a press release from the rescue group, the feathered creature tried to squeeze his way through a cat flap at a residence in Aberdeen, Scotland, on Monday. The peacock – who has since been named Felix – is now in the care of their animal rescue team in Drumoak.
Getting stuck on Highway 101 is definitely something to hoot about.

That's what one owl learned last Friday when it was apparently hit by a vehicle and found itself injured near the center divider of the California highway, The Press Democrat reports.

California Highway Patrolman Justin Fetterly responded to the call about the barn owl, and when he arrived at the scene, he cornered the bird with fellow officer Brian Wood. Fetterly used an emergency blanket to scoop up the bird and then drove with it in his lap to a nearby emergency animal hospital in Santa Rosa.
Zoo Animals
Get PEOPLE Pets Everywhere
Photo Special
Top Pets Category