Zoo Animals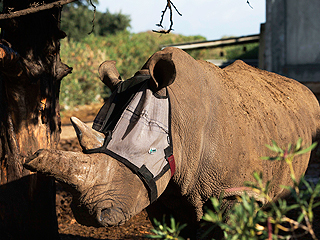 Credit: Ariel Schalit/AP
Israeli specialists are easing the suffering of a two-ton rhinoceros with a chronic eye infection by creating a "no-fly zone" using a custom mask.

Neta Gueta of the Zoological Center of Tel Aviv-Ramat Gan helped design the mask that stops flies from laying eggs in the eye of the rhino named Tanda. Gueta said Tanda sometimes grew so frustrated with the infection and she rubbed her eye on rough tree bark, only exacerbating the problem.
The world's only surviving giant panda triplets were doing well as they turned 100 days old on Wednesday.

Each weighs more than 5 kilograms (11 lbs.), up from just over 100 grams (3½ oz.) at birth. They started teething at around 80 days old and have two small teeth each.

The cubs were born on July 29 within four hours, the female cub first and then her brothers.
There's something wheel-y different about this penguin.

He's fluffy and black and white, but doesn't march like other emperor penguins – because he's a remote-controlled robot.

In a YouTube video from the International Business Times, watch this fluffy robo-penguin infiltrate an emperor penguin colony to help a group of scientists study the shy birds who reside in Adélie Land, Antarctica.
It's that time of year again. You know, when people use Halloween as a blanket excuse to scare the, uh, bamboo out of everyone.


The Hattiesburg Zoo of Hattiesburg, Mississippi, is mourning the lost of two flamingos after a fraternity prank took a sad turn.




You've seen the bumper stickers, "Who rescued who?" – and sometimes it's really hard to decide.

In Bob Miner's view, the rescuing credit goes to his army of pets – lions, tigers, hyenas, kangaroos, black bears and the more than 200 other species of animals who reside at his animal sanctuary in Mount Vernon, Maine.

When Miner came home after he was injured in the Vietnam War, he suffered a series of strokes and was confined to a wheelchair. As a form of therapy, he began taking care of abused and abandoned animals and gradually built his own world with them. With their help – and the help of his wife Julie – Miner learned to walk again and eventually, with his own two hands, built the DEW Animal Kingdom & Sanctuary on 42 acres of land.
A white tiger killed a young man who climbed over a fence at the New Delhi zoo and jumped into the animal's enclosure Tuesday, a spokesman said.


Napoleon is now back with his Antosia.


Bai Yun, the San Diego Zoo's giant female panda, has been known to chew on bamboo for up to 12 hours a day, so when she chipped a lower tooth, veterinarians had to fix it.

The 23-year-old panda went to the dentist Wednesday, got a shot to make her numb and got the chip repaired, a cleaning and X-rays.
This tiger cub is only 25 days old, but the squirmy cutie has already figured out how to work the camera.

The unnamed newborn joined in on an adorable photo shoot in Hangzhou, China, according to Pix 11. During the session, the cub tried to strike some ferocious poses, but turned out looking more darling than dangerous. The rare black tiger was also joined by a dog, who allowed the wild animal to nurse from her when needed.
Zoo Animals
Get PEOPLE Pets Everywhere
Advertisement
Photo Special
Top Pets Category