Zoo Animals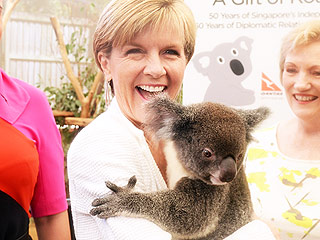 Credit: Bradley Kanaris/Getty
Air travel can be unbearable, but not for these koalas.

A quartet of the fuzzy Australian natives were pampered by Qantas Airways' first-class treatment before their upcoming flight to Singapore, reports Today.com.

Chan, Idalia, Paddle and Pellita enjoyed big seats, fresh eucalyptus and hot towels before jet-setting to their new home. The koalas are on loan from Australia to the Singapore Zoo as part of an effort to strengthen the diplomatic relations between the two countries.
A 2-year-old boy visiting the Cleveland Metroparks Zoo fell almost 12-feet into a cheetah pit and broke his leg after his mother dangled him over the ledge of the enclosure and lost her grasp on him, according to authorities.

The toddler was rescued by his parents, who went in after him, and then taken to the hospital for treatment. The cheetahs, the fastest land mammals on earth, did not interact with either the child or adults in any way, the zoo said.
Update on Sunday, April 12: It's a girl!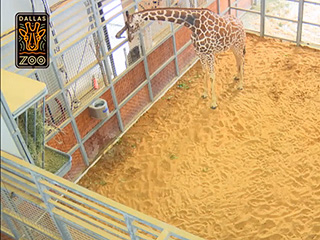 On a scale of 1-10, how excited are you for Katie's new addition?


The Phoenix Zoo has something "em-bear-assing" to confess. For the past two years, the Andean bear keepers have been calling a boy ... is actually a girl, reports azcentral.com.

The zoo recently admitted online that they made a mistake when determining Luka the bear's sex. Keepers discovered their error while doing a check-up on two-year-old Luka before moving her to a new home at a zoo in Nashville, Tennessee.


Three panda cubs at China's Chimelong Safari Park, in Guangzhou, are the only surviving panda triplets on Earth, and they are definitely the cutest pandas, period.

A recent video shows the three kids – two boys, one girl – together with their mom, Ju Xiao.
If pandas are anything like humans, Bao Bao will soon ask for the keys to the car.

For more than six months, zookeepers at the Smithsonian's National Zoo in Washington, D.C., have been working toward weaning the giant panda from her mother Mei Xiang, just as she would in the wild, and now, well, the 18-month-old is basically like your typical American teenager: taking lots of time apart from her parent.
It's furry, with a long tail, and has big ears … if you guessed monkey, we'd make great teammates!

A new app called TailsUp! tests your animal knowledge with a Charades-like game, using verbal and physical clues to help your teammate guess the right animal.

The game, created by the Association of Zoos and Aquariums to help kids and families learn more about animals, will give proceeds from in-app purchases to the AZA's animal conservation.
Citizens of Phoenix can now rest easy: two escaped llamas previously terrorizing (and most likely fertilizing) the streets have been captured.


We like snow … mainly because it gives us the perfect excuse to wear blankets as clothes.


Zoo Animals
Get PEOPLE Pets Everywhere
Photo Special
Top Pets Category